[The following passage comes from the Project Gutenberg online edition of Trollope's Thackeray prepared by Barbara Tozier, Bill Tozier, Lisa Reigel, and the Project Gutenberg proofreading team. The decorated initial 'H' is based on a Thackeray illustration for Vanity Fair. — George P. Landow]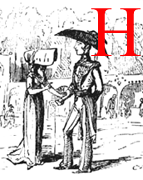 e took upon himself the functions of a lecturer, being moved to do so by a hope that he might thus provide a sum of money for the future sustenance of his children. No doubt he had been advised to this course, though I do not know from whom specially the advice may have come. Dickens had already considered the subject, but had not yet consented to read in public for money on his own account. John Forster, writing of the year 1846, says of Dickens and the then only thought-of exercise of a new profession; "I continued to oppose, for reasons to be stated in their place, that which he had set his heart upon too strongly to abandon, and which I still can wish he had preferred to surrender with all that seemed to be its enormous gain." And again he says, speaking of a proposition which had been made to Dickens from the town of Bradford; "At first this was entertained, but was abandoned, with some reluctance, upon the argument that to become publicly a reader must alter, without improving, his position publicly as a writer, and that it was a change to be justified only when the higher calling should have failed of the old success." The meaning of this was that the money to be made would be sweet, but that the descent to a profession which was considered to be lower than that of literature itself would carry with it something that was bitter. It was as though one who had sat on the woolsack as Lord Chancellor should raise the question whether for the sake of the income attached to it, he might, without disgrace, occupy a seat on a lower bench; as though an architect should consider with himself the propriety of making his fortune as a contractor; or the head of a college lower his dignity, while he increased his finances, by taking pupils.
When such discussions arise, money generally carries the day,—and should do so. When convinced that money may be earned without disgrace, we ought to allow money to carry the day. When we talk of sordid gain and filthy lucre, we are generally hypocrites. If gains be sordid and lucre filthy, where is the priest, the lawyer, the doctor, or the man of literature, who does not wish for dirty hands? An income, and the power of putting by something for old age, something for those who are to come after, is the wholesome and acknowledged desire of all professional men. Thackeray having children, and being gifted with no power of making his money go very far, was anxious enough on the subject. We may say now, that had he confined himself to his pen, he would not have wanted while he lived, but would have left but little behind him. The people who heard him, and who paid for their seats, were satisfied with their bargain,—as they were also in the case of Dickens; and I venture to say that in becoming publicly a reader, neither did Dickens or Thackeray "alter his position as a writer," and "that it was a change to be justified," though the success of the old calling had in no degree waned. What Thackeray did enabled him to leave a comfortable income for his children, and one earned honestly, with the full approval of the world around him. [44-45]
. . . . .
I myself never heard him lecture, and can therefore give no opinion of the performance. That which I have heard from others has been very various. It is, I think, certain that he had none of those wonderful gifts of elocution which made it a pleasure to listen to Dickens, whatever he read or whatever he said; nor had he that power of application by using which his rival taught himself with accuracy the exact effect to be given to every word. The rendering of a piece by Dickens was composed as an oratorio is composed, and was then studied by heart as music is studied. And the piece was all given by memory, without any looking at the notes or words. There was nothing of this with Thackeray. But the thing read was in itself of great interest to educated people. The words were given clearly, with sufficient intonation for easy understanding, so that they who were willing to hear something from him felt on hearing that they had received full value for their money. At any rate, the lectures were successful. The money was made,—and was kept.
[46-47]
References
Trollope, Anthony. Thackeray. "English Men of Letters series." London: Macmillan, 1879. Web. Project Gutenberg. E-text prepared by Barbara Tozier, Bill Tozier, Lisa Reigel. 4 August 2013
---
Last modified 4 August 2013