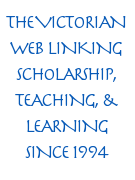 Estación de tren de St. Pancras y el Midland Grand Hotel. Londres. Arquitecto: Sir George Gilbert Scott. 1868-77. La fotografía y texto por George P. Landow. [Esta imagen se puede usar sin autorización previa para cualquier propósito académico o educativo, siempre y cuando mencione (1) el nombre del fotógrafo y (2) enlace el documento a esta dirección URL.]
Comentario victoriano
St. Pancras,the terminus of the Midland Railway, is, with the exception of the Gt. Eastern terminus at Liverpool-st, the largest and handsomest railway-station in England. It is built of iron and glass, in a single span. The girders of the roof do not, as in most cases, extend from side to side, supported by abut. ments at either end, like the girders of an ordinary house, but spring straight from the groupd, in pairs from either side of the building, the upper ends curving over, and meeting in the middle. Each girder is broad at the base, tapering gradually as it bends over to meet its fellow, and the whole station is thus simply a vast roof springing directly from the ground, the brick walls at the side being in fact mere screens of no structural value in the way of support. This peculiar form of girder, giving the arch of the roof a somewhat pointed instead of the usual rounded contour, has a quaintly Gothic effect, which harmonises well with the gorgeous architecture of the huge hotel . . . which forms the Euston-rd faŤade of the structure. The station entrance for cabs and carriages is on the west side of the station from Euston-rd, whence also on the east side a subway for foot passengers only leads at a sharp incline up to the end platform, connecting the departure with the arrival side. The booking offices are all on the west side, opening direct from the carriageway. NEAREST Ry. Stns., King's + (Met. & G. N.) — Omnibus Rte., Euston-rd; CabFares, to Bank, 1/6; to Charing +, 1/. — Dickens's Dictionary of London 1888, pp. 220-21.
Moderno Comentario
Matching his ability to think and design on a cathedral scale was Scott's capacity for complex planing in his secular commissions. Althoough his gothic Foreign Office proved abortive, he rivalled its conception with the Midland Grand Hotel (1868-77) for London's St. Pancras Station. Red brick, with terracotta and buff yellow stone, it spectactularly unites thirteenth-century French gothic with the latest iron construction, the asymmetrical elevations sweeping round to the grant entrance at one end, and pivoting brilliantly on the clock tower at the other." — Brooks, pp. 334-35.
Referencias
Brooks, Chris. The Gothic Revival. London: Phaidon, 1999.
Crook, J. Mordaunt. The Dilemma of Style: Architectural Ideas from the Picturesque to the Post-Modern. Chicago: University of Chicago Press, 1987.
Dickens, Charles. Dickens's Dictionary of London 1888. Moretonhampstead, Devon: Old House Books, 2001. [La información de esta reedición de la guía de Londres, escrito por el hijo del novelista.]
Meeks, Carol L. V. The Victorian Railroad Station: An Architectural History. New Haven: Yale UP, 1956.
Modificado por última vez 10 de diciembre de 2009