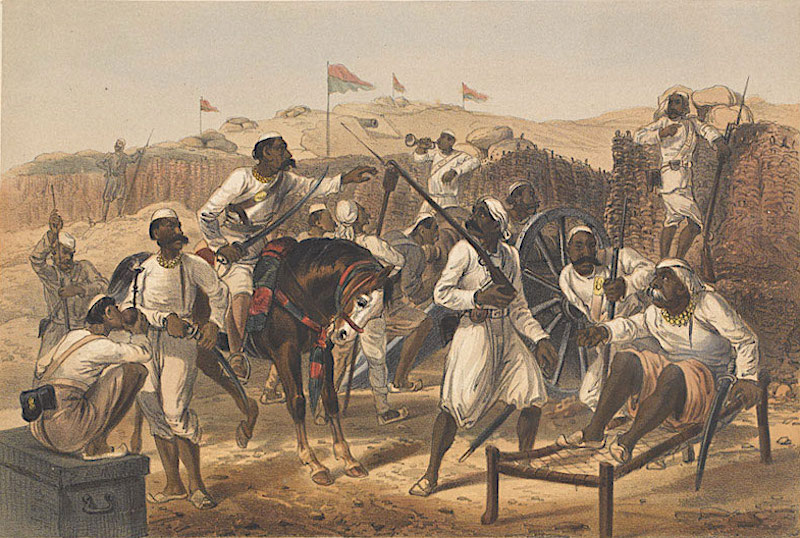 Mutinous Sepoys, c. 1857. Courtesy of the National Army Museum, London. Accession no. NAM 1971-02-33-495-22. Described on the museum website as "Coloured lithograph from 'The Campaign in India 1857-58,' a series of 26 coloured lithographs by William Simpson, E. Walker and others, after G. F. Atkinson, published by Day and Son, 1857-1858."
The museum site points out that many others joined the mutinous sepoys to fight the British during the 1857 uprising, and that in fact these "Jihadis and other non-sepoys made up at least half of the Indian forces during the siege of Delhi" (see also Dalrymple 189-90). At any rate, whatever the composition of this group, it is seen at a dramatic moment. The look-out, high on the right-hand side, is alerting them to something, no doubt an attack, and the rest are rousing themselves for action. One, at top centre, blows his horn, an older sepoy rises from his charpoy, a young one crouched on a whicker storage box, looks up from his hookah. The scene is that of the hilly Ridge to the north of Delhi, on which the Indian colours are now flying. The horse, pawing the ground, is draped in the same colours.
Text by Jacqueline Banerjee. You may use this image without prior permission for any scholarly or educational purpose as long as you (1) credit the National Army Museum and (2) mention this site. Click on the image to enlarge it.
Related Material
Bibliography
Dalrymple, William. The Last Mughal: The Fall of a Dynasty, Delhi, 1857. New Delhi: Penguin, 2007. [Review]
"Mutinous Sepoys, c. 1857." National Army Museum. Web. 30 May 2020
---
Created 30 May 2020