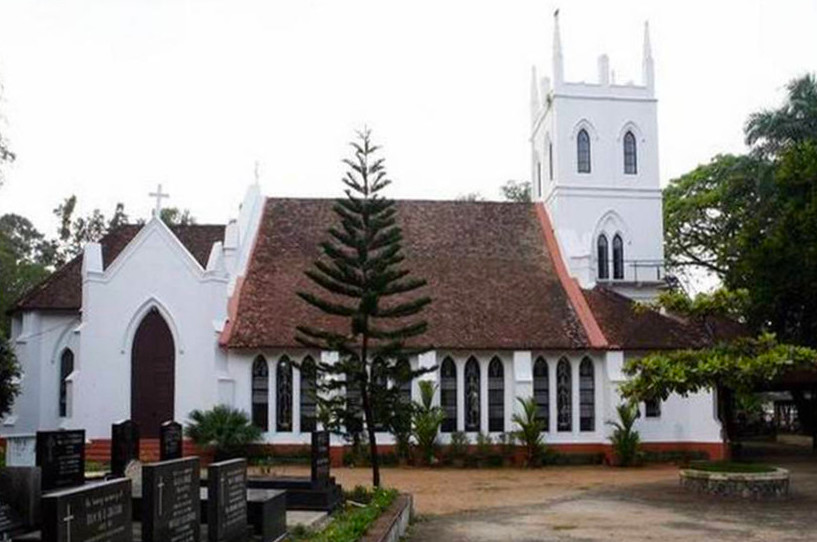 Christ Church, Palayam, Thiruvananthapuram. 1859. This very attractive church, the first to be built within the city, was the result of the Anglicans deciding to leave the cantonment chapel in Trivandrum — which was then completely taken over by the London Missionary Society — and building their own house of worship. The foundation stone was laid on 13 December 1858, and it was dedicated on 15 November 1859 by Bishop Dealtry of Madras. Later additions, as conservation architect Sharat Sunder Rajeev points out, have not spoilt the look of the church in this pleasantly shaded spot.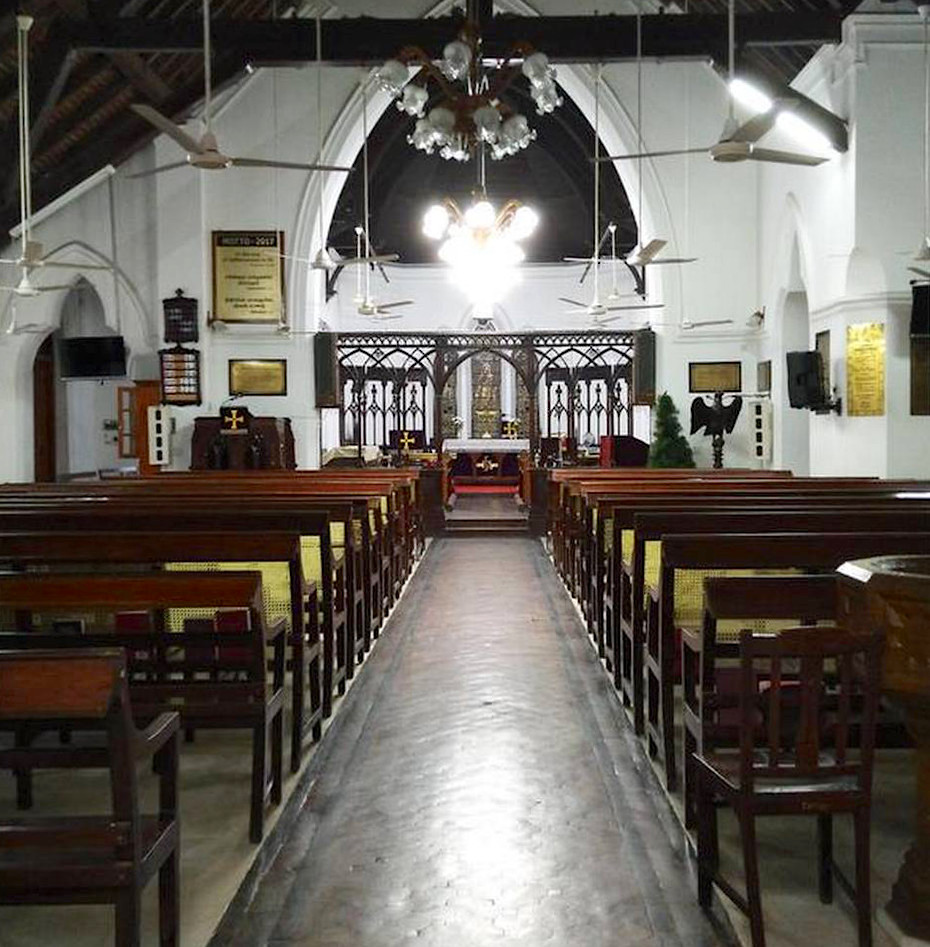 Left: The interior of the church. Right: The altar, with the Good Shepherd east window.
In 1901, Gordon MacKenzie explained, in discussing the Christian element in Travancore (modern Kerala), that in addition to the Syrian Christians and the Roman Catholics, "[t]here are also numerous Protestants who are converts made in the last century by missionaries of the Anglican Church Mission Society, of the London Mission Society and of the Salvation Army" (1). Here then was the city's Anglican congregation. Since 1956, the church has been part of the Church of South India.
First photograph by "Special arrangement"; the other two by Liza George (all slightly adjusted for perspective), with thanks to the Hindu newspaper and THG PUBLISHING PRIVATE LIMITED. Text by Jacqueline Banerjee. [Click on the images to enlarge them.]
Bibliography
"Church of South India, Christ Church: History" (the church's own website). Web. 6 May 2019.
MacKenzie, Gordon T. Christianity in Travancore. Trivandrum: Trivandrum Government Press, 1901. Internet Archive. Contributed by Harvard College. Web. 6 May 2019.
Rajeev, Sharat Sunder. "Vintage Charm." The Hindu. 21 December 2017. Web. 6 May 2019.
Travancore Almanac, 1900. Government of Travancore, 1899. Internet Archive. Contributed by Kerala State Library. Web. 6 May 2019.
---
Created 6 May 2019