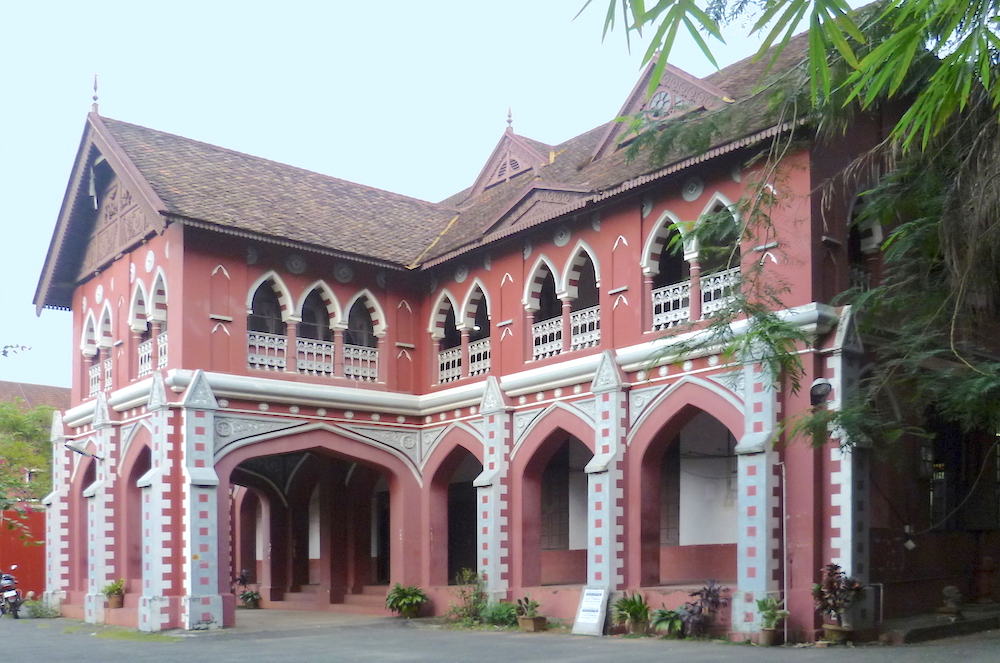 College of Fine Arts, Kerala. Close to the State Central Library, this was founded at about the same time: the metal arch over the gateposts bears the date 1888. It is also in a similarly decorative style of architecture, its rich red sandstone pointed up with contrasting white stone dressings and ornamentation, and enlivened with painted ironwork balconies. Here, there is more of an oriental touch to the arches of the portico, and there are fine wooden carvings on the gables, especially the central one.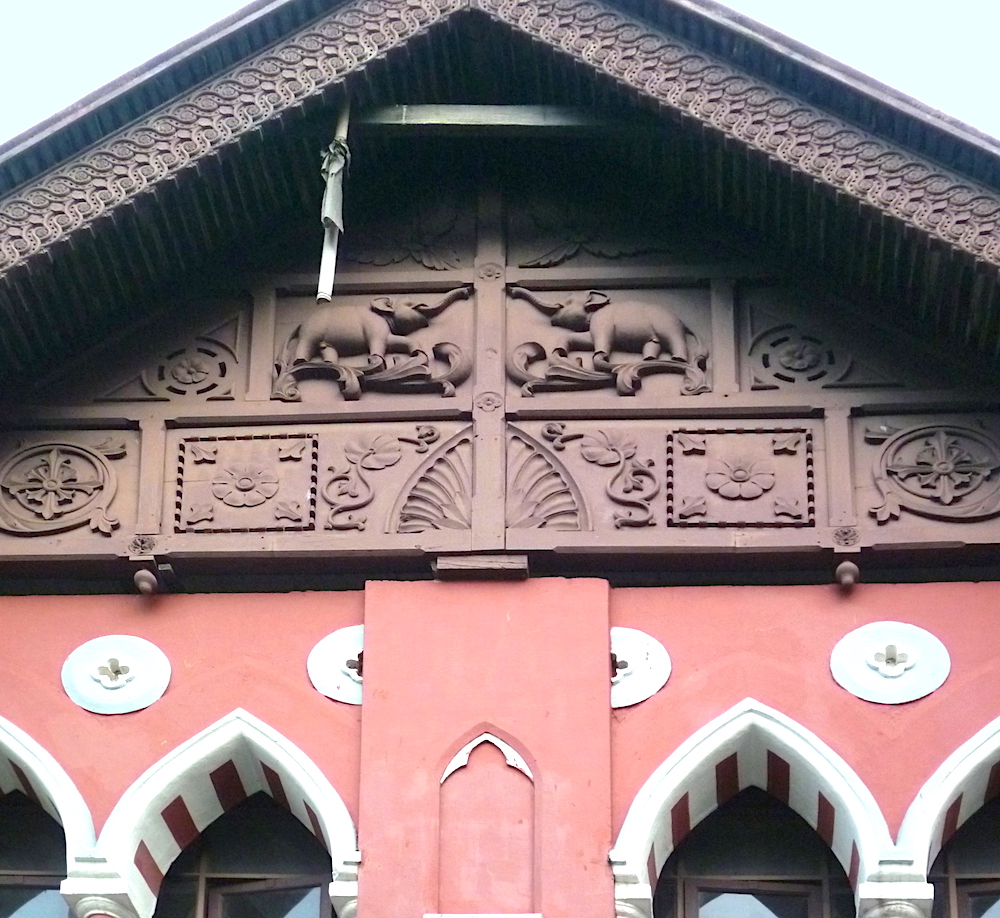 Left: Closer view of the ornamented façade. Right: Elephant and floral carvings below the central gable.
Thanks to the Travencore Almanac, we know that the institution was first envisaged as an industrial school of art, and that under its first "Superintendent," K. Narayana Iyer, all branches of the arts and crafts were taught here, from freehand drawing to model drawing and geometrical drawing, to painting of all kinds, mural decoration, carving and carpentry, and to silversmith's work, pottery, carpet weaving and stained glass (see p. 110). According to Edgar Thurston, who was in charge of the Madras Government Museum, ivory was also carved under Iyer's superintendence, and it seems likely that what Thurston observed in that particular specialism may have happened in the others: "At one time English designs were partially followed," he noted, "but, since the institution of the school, a reversion has been made to good old Indian designs, the excellence of which in decorative art is now thoroughly appreciated" (6).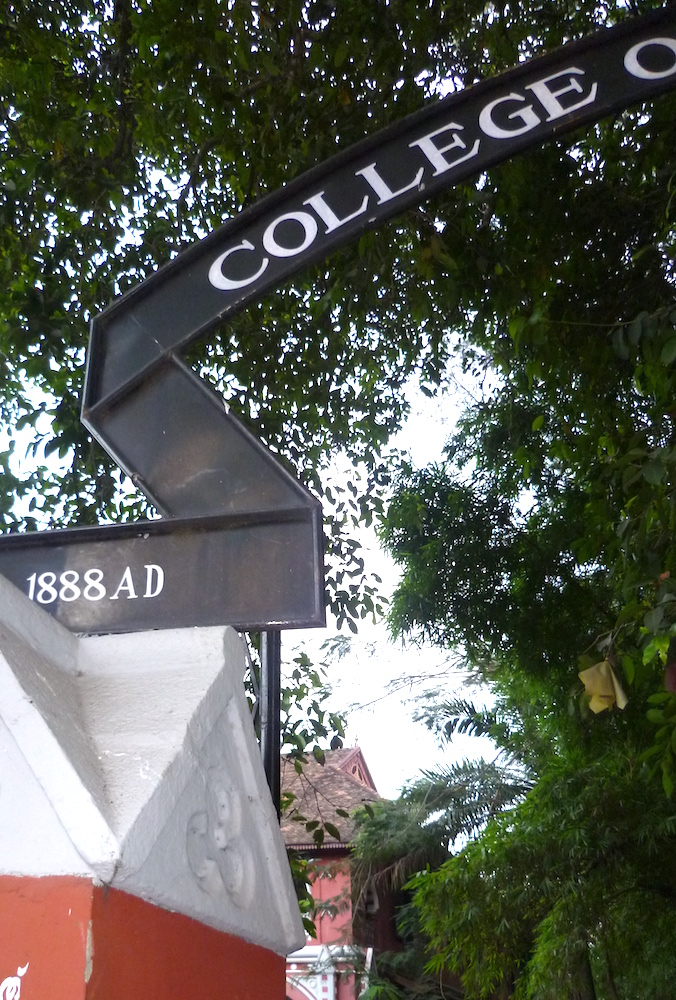 Date of the School's establishment here, at the side of the gatepost.
Although he had moved on by now, the original initiative for this and other educational institutions is credited to the celebrated Dewan or Prime Minister Madhava Rao, whose statue stands outside the Secretariat, as well as to the Maharaja himself:
The cause of Education was dear to Sir Madava Row [sic], and it made rapid strides during his administration. A fully equipped Arts College at Trivandrum, scores of English and Vernacular schools all over the country. Girls' schools, and a Book-Committee for the preparation of tba necessary text-books, are so many beacon-lights that mark his career in Travancore. [Travencore State Manual, 548-49]
In fact, by the time this building was completed, Sir Madhava Rao had moved on, but the present Diwan of Travencore (from 1887-92) was T. Rama Rao, not only a relative of his, but the man who had been "the first and foremost" of his assistants (qtd. in the State Manual, 626). The state's educational programme was clearly continuing along the tracks that Sir Madhava Rao had laid out for it.
Photographs and text by Jacqueline Banerjee. You may use these images too without prior permission for any scholarly or educational purpose as long as you (1) credit the photographer and (2) link your document to this URL in a web document or cite the Victorian Web in a print one. [Click on the images to enlarge them.]
Bibliography
Thurston, Edgar. Monograph on the Ivory Carving Industry of Southern India. Madras: Government Press, 1901. Internet Archive, in the "opensource" collection. Web. 1 May 2019.
Travancore Almanac, 1900. Government of Travancore, 1899. Internet Archive. Contributed by Kerala State Library. Web. 1 May 2019.
Travancore State Manual. Trivandrum: Travancore Government, 1906. Internet Archive. Contributed by Harvard University. Web. 1 May 2019.
---
Created 1 May 2019