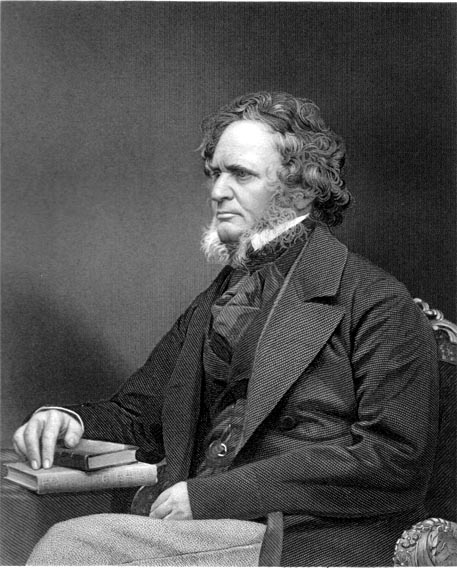 Edward Geoffrey Smith Stanley, Earl of Derby, was born at Knowsley Park, Lancashire, in 1799. He was educated at Eton and Christ Church, Oxford, and in 1822 entered the House of Commons as member for Stockbridge in Hampshire. He seems to have been in no hurry to take a part in the discussions of the House. His maiden speech was not delivered until the 30th of March, 1824, when he was hailed as a prominent supporter of Liberal principles. Mr. Stanley's second parliamentary speech was on the question of the Irish Church Establishment, which he defended with conservative energy from an assault formally made upon it by Mr. Joseph Hume.
In Lord Grey's Ministry he was appointed, with a seat in the Cabinet, to the then very important and trying post of Chief Secretary for Ireland, one which brought him into contact and collision with O'Connell and his followers. In March, 1833, he became Secretary of State for the Colonies, and had in that capacity to propose and conduct through the House the celebrated Act for the emancipation of the slaves. He had brought to a successful issue, about the same time the Church Temporalities Act; but in the summer of the following year he took umbrage at the further concessions of his colleagues in the direction of reducing the Irish Church Establishment, and resigned office.
He gradually found himself in steady opposition to the Whigs, and on the formation of Sir Robert Peel's second administration in 1841 he became once more Secretary of State for the Colonies. He held this post until December, 1845, when he resigned from an inability to assent to the policy of Corn-Law Repeal. In September 1844, he had been raised to the Upper House, during his father's lifetime, as Lord Stanley, nominally to augment the debating strength of the Conservative party in the Lords by the addition of his polished, vivid, and trenchant oratory. On the break-up of the Conservative party and deposition of Sir Robert Peel, which followed the repeal of the Corn Laws, Lord Stanley became its acknowledged leader; and, succeeding his father as Earl of Derby in 1851, he was called on by the Queen to form his first Conservative Administration in February, 1852, on the resignation of Lord John Russell. In 1866,on the defeat of the Reform Bill introduced by Mr. Gladstone, he again became Prime Minister; and in the following year, under the "educating" influence of Mr. Disraeli, passed a more radical measure that granted household suffrage. He died at Knowsley on the 23rd October, 1869.
Related Material
Recommended reading
Ewald, Alexander Charles, F. S. A. The and Times of William Ewart Gladstone. 5 vols. London: William Mackenzie, n.d. I, 58-59.
---
Last modified 20 March 2002; link added 3 May 2007