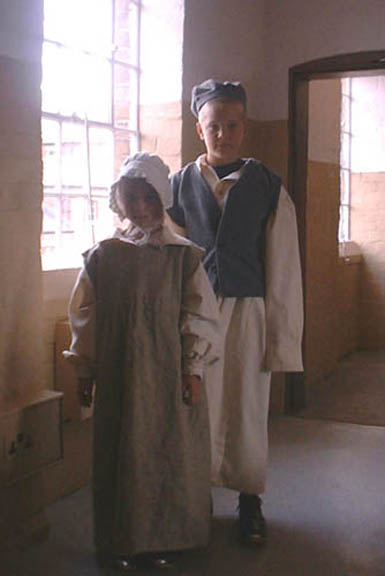 Sophie and Edward from Nottingham, dressed in re-created workhouse uniforms at Southwell workhouse. During the period when the 1834 Poor Law Amendment Act was in force, they would not have been together since males and females were separated at the age of 7.
They are standing in one of the workhouse rooms. It can be seen that the walls are of painted brick: none of the rooms used by the inmates had plastered walls. The colour scheme is cream and beige although different rooms were found to have at least 34 layers of paint on the walls. Inmates had to work in order to "earn" their food. Painting walls appears to have been one of the on-going jobs at Southwell.
It can be seen here that the workhouse uniforms are made of coarse fabric and are as shapeless, drab and unattractive as possible. Edward's hairstyle is appropriate to his uniform; Sophie's hair is covered, as was the requirement. Their footwear is wooden clogs.
The walls in this room originally would have been like the others in the workhouse: painted brick with no decoration.
My thanks to Sophie and Edward for posing for these photographs — with appropriate expressions — and to their parents for permission to use the photos on the Victorian Web.
See also the separate photographs of Sophie and Edward.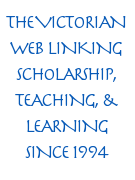 ---
Last modified 16 November 2002