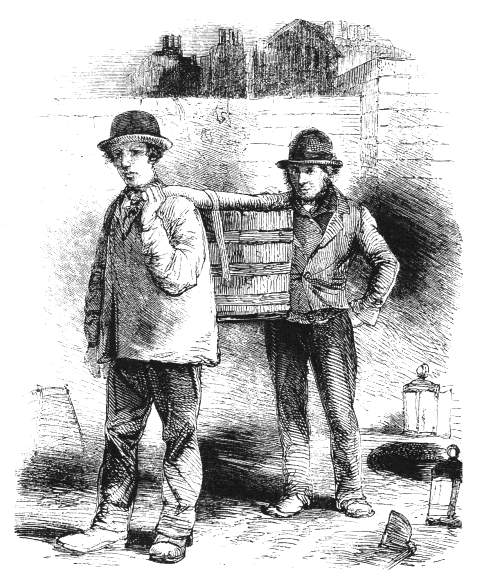 London Nightmen
From Cleansing the City, p. 28; (originally from Mayhew).
In his 1842 Report on the Sanitary Condition of the Labouring Population of Great Britain, Edwin Chadwick inveighs against the cesspool on these and other grounds: "It is proved that the present mode of retaining refuse in the house in cesspools and privies is injurious to the health and often extremely dangerous. The process of emptying them by hand labour, and removing the contents by cartage, is very offensive, and often the occasion of serious accidents." Add to these drawbacks the fact that cleaning cesspools was expensive (and so, in poorer quarters, rarely done), and Chadwick's case against the cesspool is complete.
In Mayhew's sketch of the nightmen at work, however, he minimizes or omits altogether the more grim details of cesspool labor. . . . The filthiness of the cesspool, while acknowledged, is offset bv the hushed atmosphere and the contrast of light and dark, which evoke a sense ot mystery more than revulsion. [Michelle Allen, Cleansing the City, 26-27]
Related Material
Bibliography
Allen, Michelle. Cleansing the City: Sanitary Geographers in Victorian London. Athens, Ohio: Ohio University Press, 2008. [review]
Mayhew, Henry. London Labour and the London Poor. 4 vols. 1861-62, Reprint. New York: Dover, 1968.
---

Victorian
Web

Social
History

Economics

Henry
Mayhew

Work

Next
Last modified 24 February 2009