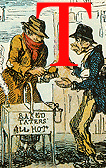 he Anglo-Irish dramatist Dionysius "Dion" Lardner Boucicault achieved his first great success when he was just twenty. Born in Dublin in late December 1820, Boucicault had been sent to England to complete his education. At Dr. Jamieson's Academy, Brentford, he began writing dramatic sketches. Shortly afterward, he took up a stage career under the pseudonym Lee Moreton, playing in his own Legend of Devil's Dyke at Brighton in October 1838. Then, through a lucky error occasioned by his stage name, Boucicault managed to get Charles Matthews, manager of Covent Garden, to read an unsolicited manuscript of what (with the editing and assistance of the actor-manager team of Matthews and Madame Vestris) became London Assurance. When the comedy opened on 4 March, 1841, the young dramatist's future seemed assured. The play established him as "the cleverest, raciest, and most theatrically inventive playwright of his age," as Andrew Parkin remarks in Victorian Britain, An Encyclopedia. Over his career, the wittiest dramatist between Sheridan and Wilde produced some 200 plays, including the highly popular Smike; or, Nicholas Nickleby, which premiered from 1 to 24 November 1859 at New York City's Winter Garden Theatre.
However, extravagant and generous -- and burdened by his mother and brother, who had moved to London to cash in on the playwright's success, twenty-four-year-old Dion Boucicault found himself in debt. Used Up(1844) and Don Caesar de Bazan (1844) were not as popular as Boucicault had hoped, given the popular and critical acclaim of London Assurance. At this moment in Boucicault's career, theatre manager Benjamin Webster steered the young writer in the direction of adapting from the French by sending Boucicault over to Paris in December, 1844.
On 9 July, 1845, Boucicault married Anne Guiot, a French widow with income and property. She apparently died in March 1848, when the couple were away on the Continent. Despite the consequent inheritance, on his return Boucicault found himself once again in Debtors' Court. Although the actual writing of Dot, his adaptation of Charles Dickens's The Cricket on the Hearth, was still a decade away, the play's history may be said to begin with Ben Webster's bailing Boucicault out of debt at that time. His indebtedness to the manager of the Adelphi and the founder of Acting National Drama (a rival series to Dicks' Standard Plays) increased when in 1853 Boucicault borrowed two fares to New York City.
That phase of the Anglo-Irish dramatist's career had begun in 1850, when he engaged with Charles Kean, the new lessee of the Princess's Theatre, to provide popular melodramas to complement Kean's Shakespearean revivals. At that theatre in 1852 he performed in his own piece The Vampire alongside Kean's nineteen-year-old ward, Agnes Robertson. When she began living with the playwright the following year, Kean broke with them both. Lured to New York City by the prospect of greater remuneration for his craft, Boucicault arranged for Agnes to playa season at Burton's. In 1856 Boucicault agitated for new legislation to protect the rights of American dramatists, then settled down to a steady dramatic output: The Poor of New York (1857), Dot and The Octoroon (1859), and the highly-successful Colleen Bawn. His son, Darley George, Boucicault nicknamed "Dot" after the Winter Garden play of September, 1859. Certain Americanisms such as "jail" (p. 21), "color" (p. 34) and possibly "furrin" (p. 30) point to the play's having been written in the United States. In the summer of 1860 the Boucicaults returned to London, where Agnes had engaged with Webster to open in the title role of Colleen in September at the New Adelphi. The play had a then-record run of two hundred seventy-eight performances, providing the theatrical couple enough money to take over the lease of Drury Lane in 1862, and begin refurbishing Astley's Amphitheatre as The Theatre Royal, Westminster.
Boucicault after 1859
The Corsican Brothers (1852) had already established Boucicault as the master of stage spectacle and construction of melodrama The Poor of New York, which Boucicault wrote and first staged in America, was one of the first dramatic pieces by a foreigner to receive full protection under the new 1856 American copyright law that Boucicault had been instrumental in getting through Congress. From the controversial subject of urban blight and poverty Boucicault moved to the equally contentious ante bellum topic of abolition in The Octoroon; or, Life in Louisiana (1859), which again used spectacular effects such as "the brilliant slave auction scene, the exploding river boat, and the up-to-the-minute device of using photography to solve a crime" [Parkin 89] to enthral the audience. Hartnoll credits Boucicault with being "the first dramatist to treat the American Negro seriously on the stage" (65). The success of the American production of Dot, starring comedian Joseph Jefferson in his first serious role (that of Caleb Plummer) has already been noted.
Returning from America a truly trans-Atlantic figure thanks to his many triumphs on the New York stage, Boucicault capped his London stage record with The Colleen Bawn (1860: six months after its New York premiere), which ran for an extraordinary 278 performances at The Adelphi Theatre. He may be, according to Hartnoll, the first British dramatist "to receive a royalty for his plays instead of a lump sum" (65) from an English theatre management. In The Shaughran (1875), perhaps in imitation of fellow Anglo-Irish writer Charles Lever in Barrington, Boucicault invited "the audience . . . to take sides with the impoverished but noble-minded Irish aristocracy and their devil-may-care peasantry against an unprincipled squireen who dares to aspire to a lady's hand" (Davies, p. 261).
As late as 1884, six years before his death, Boucicault was still demonstrating his mastery of the comic and sensational elements of melodrama in Robert Emmet, but his reputation thereafter dwindled as a consequence of changing fin de siècle tastes. However, his London Assurance (1841) has been revived a number of times (1913, 1932), most recently at the Aldwych in 1970 by the Royal Shakespeare Company in a very stylish production reminiscent of Goldsmith's She Stoops to Conquer and featuring change of sets via revolving stage. Ironically, Boucicault died in the very year that Ireland's literary renaissance began. Parkin credits him with perpetuating into the modern period the stereotype of "the imbibing, garrulous, merry, hot-tempered Irishman familiar from Elizabethan and Restoration plays" (p. 404).
Bibliography
Bolton, Philip. Dickens Dramatized. Boston: G. K. Hall, 1987.
Booth, Michael. English Plays of the Nineteenth Century. Oxford: Clarendon, 1969. Vol. 1.
Boucicault, Dion. Dot. A Drama in Three Acts. 10 April 1862. Add. MS. 53013 (E). Licensed 11/04/1859. The Lord Chamberlain's Manuscript Collection, The British Library, London.
Boucicault, Dion. Selected Plays of Dion Boucicault, ed. Andrew Parkin. Washington, D. C.: Catholic University Press of America, 1987.
Colby, Robert A. "Thackeray and Dickens on the Boards." Dramatic Dickens, ed. Carol Hanbery MacKay. Basingstoke and London: Macmillan, 1989. Pp. 139-151.
Davies, Robertson. "Playwrights and Plays," The Revels History of Drama in English, Volume VI: 1750-1880.
Davis, Paul. Charles Dickens A to Z: The Essential Reference to His Life and Work. New York: Facts on File, 1998.
Fawcett, F. Dubrez. Dickens the Dramatist. London: Allen, 1952.
Hartnoll, Phyllis, ed. The Concise Oxford Companion to the Theatre. Oxford and New York: Oxford University Press, 1972.
Leech, Clifford, and T. W. Craik, eds. The Revels History of Drama in English, Vol. VI: 1750-1880. London: Methuen, 1975.
Lemon, Mark, and Gilbert Abbott à Beckett. The Chimes; or, Some Bells That Rang an Old Year Out and a New Year In. London: John Dicks [1845?].
MacKay, Carol Hanbery. "'Before the Curtain': Entrances to the Dickens Theatre." Dramatic Dickens, ed. Carol Hanbery MacKay. Basingstoke and London: Macmillan, 1989. Pp. 1-10.
Morley, Malcolm. "'The Cricket' on the Stage." Dickensian 48 (1952): 17-24.
Parkin, Andrew. "Boucicault, Dion." Victorian Britain, An Encyclopedia, ed. Sally Mitchell. London: Garland, 1987.
Pemberton, T. Edgar. Dickens and the Stage: A Record of His Connection with the Drama as Playwright, Actor and Critic. London: George Redway, 1888.
---
Last modified 17 December 2002