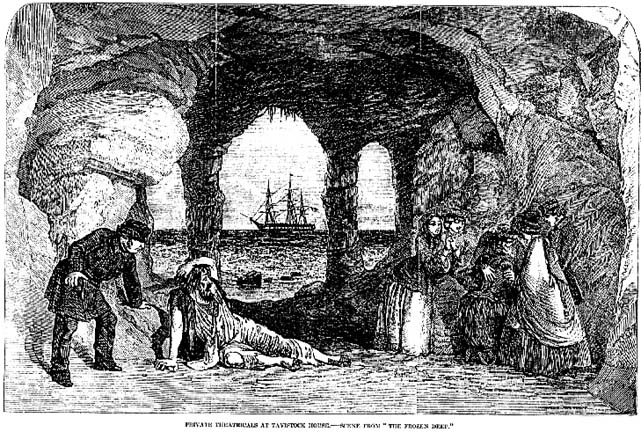 The scene from Dickens's Tavistock House Twelfth Night production of "The Frozen Deep" on the stage of "The Smallest Theatre in the World" is from The Illustrated London News for 17 January 1857, pages 51-52. "Wardour [played by Dickens] in rags, wild as a maniac, rushes into the cave [on the Newfoundland coast]. He claims food and drink, part of which he takes, and carefully preserves the rest in a wallet. Crayford at last recognises him--endeavours to seize him--but the madman dashes away, soon to return, with poor exhausted Aldersley in his arms. He had become the preserver of the man whom he had seduced to the most desolate spots on the Arctic snows for the purpose of destroying. He makes full reparation for his intended crime; and, ere his death [pictured here], blesses the union of Clara Burnham and Frank Aldersley. The reader will perceive that Mr. Charles Dickens had in such a character as this a part that required the consummate acting of a well-practised performer" (p. 52).
In a subsequent performance, Dickens was praised by Queen Victoria for his acting skills. When the play was taken on the road, one of the professional actresses engaged to replaced members of Dickens's family was young Ellen Ternan, probably his mistress and the prototype of Lucie Manette in A Tale of Two Cities and Estella in Great Expectations. Certainly Wardour's rescuing his rival from the Arctic elements is reflected in Sydney Carton's substituting himself for Charles Darnay as the guillotine's victim at the conclusion of A Tale of Two Cities in 1859.
Other pieces in which Dickens, Lemon, Augustus Egg, and Miss Hogarth appeared at the time were Inchbald's farce "Animal Magnetism," and Buckstone's farce "Uncle John."
---
Created 2005

Last modified 16 January 2020