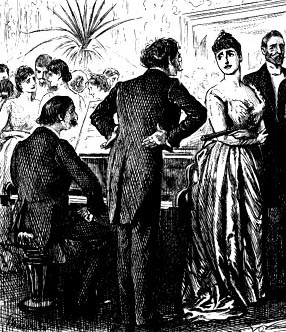 Click on arrow to hear the song performed by Derek B. Scott, Professor of Critical Musicology, University of Leeds, to his own piano accompaniment c. 1980.
According to Professor Scott, the publisher John Boosey selected tactfully from Tennyson's lengthy monodrama Maud (1855) and sent the verses to Balfe, who composed this song for the celebrated tenor Sims Reeves. (The present recording is at baritone pitch.) Those familiar with the poem will notice that, in order to create a refrain, Balfe repeats words from the first stanza of what is described in the context of Tennyson's larger poem as "A Night-Song of Love." Furthermore, he is prepared to add a few words of his own ("my own, my sweet") to provide a more decorous conclusion for the drawing room than do the closing lines of the original.
Bibliography
Scott, Derek B. The Singing Bourgeois: Songs of the Victorian Drawing Room and Parlour. 2nd ed. Aldershot, Hampshire; Burlington, VT: Ashgate, 2001.
---
Last modified 10 September 2007