Two Patrons, or Nasal Opposites Delineated by Sir Edward Coley Burne-Jones, Bt ARA (1833-1898). Pen and sepia ink on writing paper: 8 1/4 x 7 inches, 22 x 18 centimetres. Provenance: Sir John and Lady Witt.
Commentary by Peter Nahum
But also it was with Edward [then aged fourteen], as it continued to be throughout his life, that between work and work he felt as actual a necessity for "fun" as he did for food and drink. I can find no other word to describe a characteristic of his which will be recognized by evoy one who knew him. Gentle and lambent at times, wild enough and noisy at others, whimsical in words, ominous in silence whilst some swiftly conceived Puck-like scheme of mischief took shape, carrying all things before it, compelling the least likely to join in it, always ending in the laugh that we remember; the cloud-scattering laugh! -- Georgina Burne-Jones, Memorials of Burne Jones. London: Macmillan, 1904. I, 19.
Georgiana, the artist's wife, looking back from 1904, thus recalls with affection her husband's sense of fun which only rarely (and then often secretly) invades his art. But his phenomenal talent for drawing, developed from an early age as a virtual therapy from a lonely childhood, carried with it the capacity for satirical observation which manifests itself within the comic drawings made throughout his entire life. His intelligence and perception of human psychology -- its weaknesses, poses and posturings -- impelled him to create a series of caricatures ranging from self-ridicule to farcical, even cruel observations of social conventions. He parodies falsity and ugliness, be it manifest in Rubens' preference for fat women or social artifice prevalent amongst the Victorian middle-classes.
What first appears as an ambivalence between the comic drawings and the profundities of the serious works are, in fact, two manifestations of an acute intelligence trying to understand the mysteries of the human condition.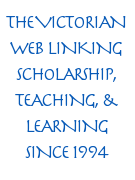 Peter Nahum Ltd, London has most generously given its permission to use in the Victorian Web information, images, and text from its catalogues, and this generosity has led to the creation of hundreds of the site's most valuable documents on painting, drawing, and sculpture. The copyright on text and images from their catalogues remains, of course, with Peter Nahum Ltd.
Readers should consult the website of Peter Nahum at the Leicester Galleries to obtain information about recent exhibitions and to order their catalogues. [GPL]
Bibliography
A Century of of Master Drawings, Watercolours, & Works in Egg Tempera. London: Peter Nahum, nd. Catalogue number 58.
---
Last modified 5 June 2020