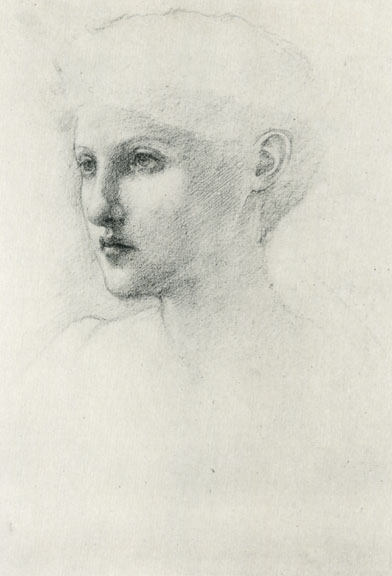 Head of a girl
Sir Edward Coley Burne-Jones, Bt ARA (1833-1898)
circa 1894
Pencil on white paper
13 1/8 x 9 7/8 inches, 33.3 x 25 cm.
During the 1890s Burne-Jones and William Morris returned to those books which had inspired them as young men: Malory's Morte d'Arthur and Geoffrey Chaucer. The Australian mining millionaire W.K.D'Arcy commissioned Morris and Company to design 'The Quest of the Holy Grail' tapestries for his house, Stanmore Hall, near Harrow. This consisted of five tapestries based upon the legend of the Holy Grail, culminating in 'The Achievement of Sir Galahad' (exhibited at the New Gallery, 1898-99 in Central Hall). Morris asked Burne-jones to draw cartoons for the series, and the present drawing is a study of the head of the right-hand angel of a group of three guarding the Grail in the chapel on the right of the composition.
Provenance: Lady Eleanor Leighton, Oliver and Cicely Rossetti.