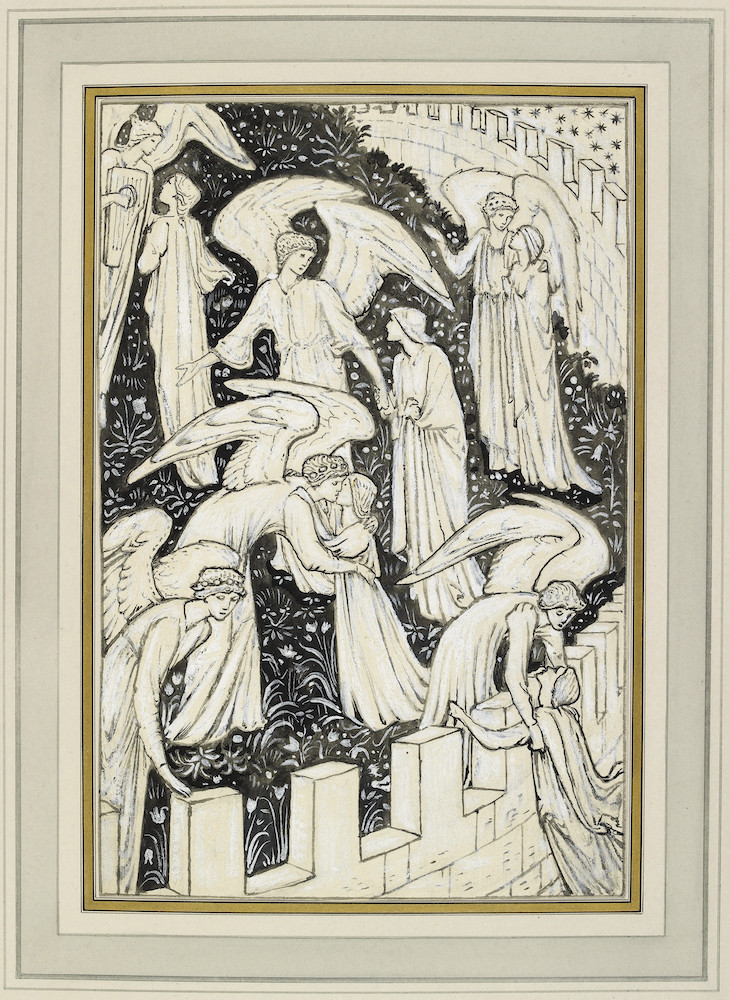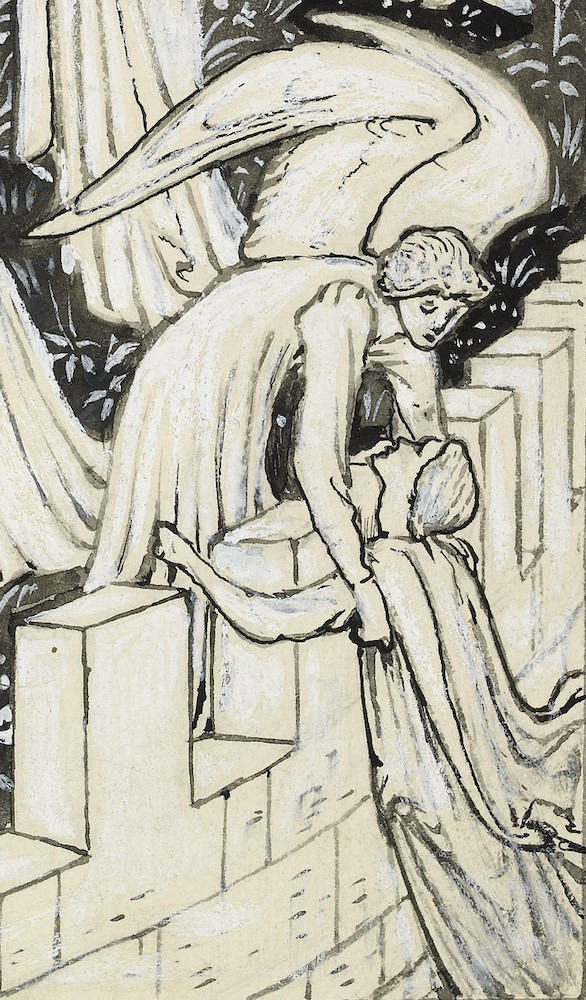 Left: Whole page. Right: Detail of an angel welcoming one of the souls.
The Golden Legend by Sir Edward Coley Burne-Jones, Bt ARA (1833-1898), from a leather-bound album of 1884-88. Pen and ink, watercolour and bodycolour on paper, 37.1 x 27.7 x 4.5 cm (open at fol.29). This is one of 48 drawings in the album, in the collection of the Ashmolean Museum, Oxford. Source: Image sheet from the Watts Gallery, Compton on the occasion of its appearance in the "Pre-Raphaelite Treasures" exhibition, 8 March-12 June 2022. [Review.] Image transfer and comment by Jacqueline Banerjee. [Click on the images to enlarge them.]
According to Christiana Payne, this was a design for the frontispiece of the Kelmscott Press's edition of the thirteenth-century book, The Golden Legend, by Jacobus de Voragine — "one of the first books printed in English by William Caxton, who translated the text from Latin," and the drawing "shows angels receiving souls into heaven" (162). Heaven is imagined in earthly terms, as a fair field dotted with typically detailed Pre-Raphaelite tulips and other flowers, and the divison from earth is represented by a stout wall with battlements. In the top right-hand corner, stars shine above the battlements, even though the heavens seem bright. The souls get a warm welcome, one near the centre being embraced like a child by its mother. The general effect is one of welcome, and of joy on both sides.
Bibliography
Payne, Christiana, with essays by Fiona Mann and Robert Wilkes. Pre-Raphaelite Drawings & Watercolours. Oxford: Ashmolean Museum, 2021.
---
Created 26 March 2022