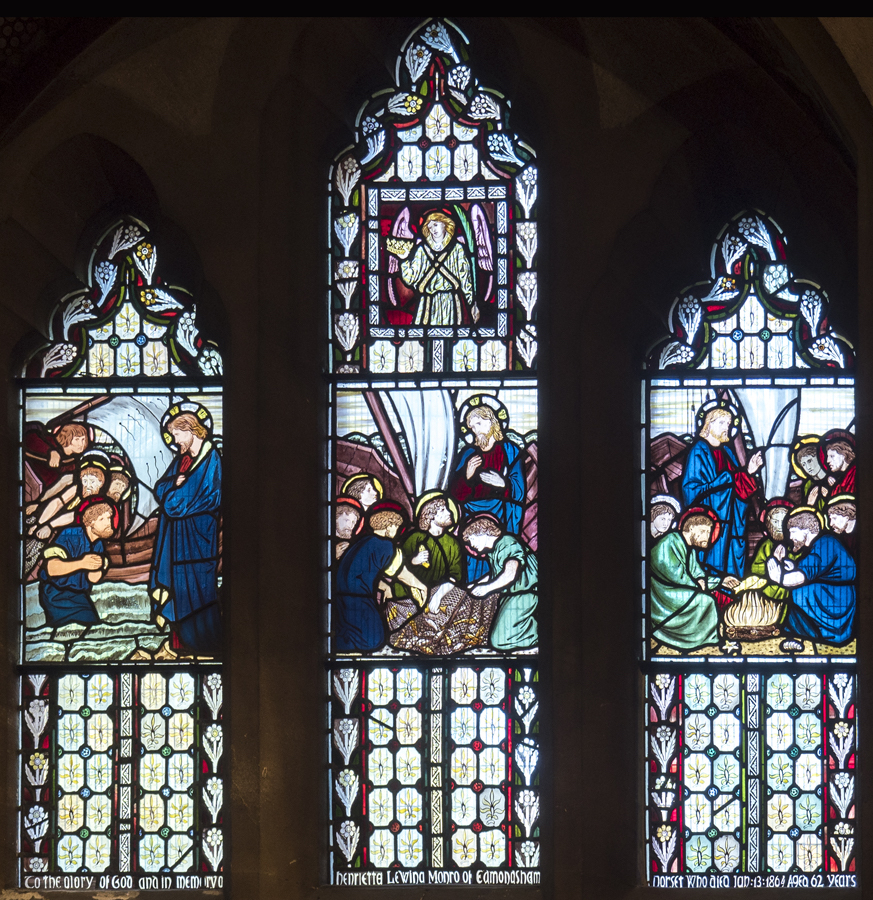 Jesus on the Sea of Tiberias, by Edward Burne-Jones, executed by Morris & Co. and installed in 1864. It is on the south wall of the south chapel (the Keble Chapel) of St Peter's, Bournemouth. The first panel on the left shows Peter sinking as he moves towards Jesus, who has appeared to them on the water, and who brings him back to the boat. The middle panel shows another miracle of a huge catch of fish, and the panel on the right shows the sharing of fish and bread that follows. After this, Jesus commands Peter to "feed my sheep," so this is a very fitting prelude to one of the paintings on the wall of the chapel. Above these episodes, an angel holds a crown and a palm frond, and every scene is framed by delicately hand-painted green-tinted quarries. These are an attractive and distinctive hallmark of Morris stained-glass windows, here set off by borders featuring individual flowers picked out by red backgrounds and bars. No wonder Simon Jenkins found the chapel as a whole so impressive (174).
Photograph by John Salmon. Text and formatting by Jacqueline Banerjee. [Click on the images to enlarge them.]
Related Material
Bibliography
Eberhard, Robert. "Stained Glass Windows at St Peter, Bournemouth" (recorded by Brian Woodruffe). Church Stained Glass Windows. Web. 1 May 2020.
Jenkins, Simon. England's Thousand Best Churches. Rev. ed. London: Penguin, 2009.
---
Created 2 May 2020