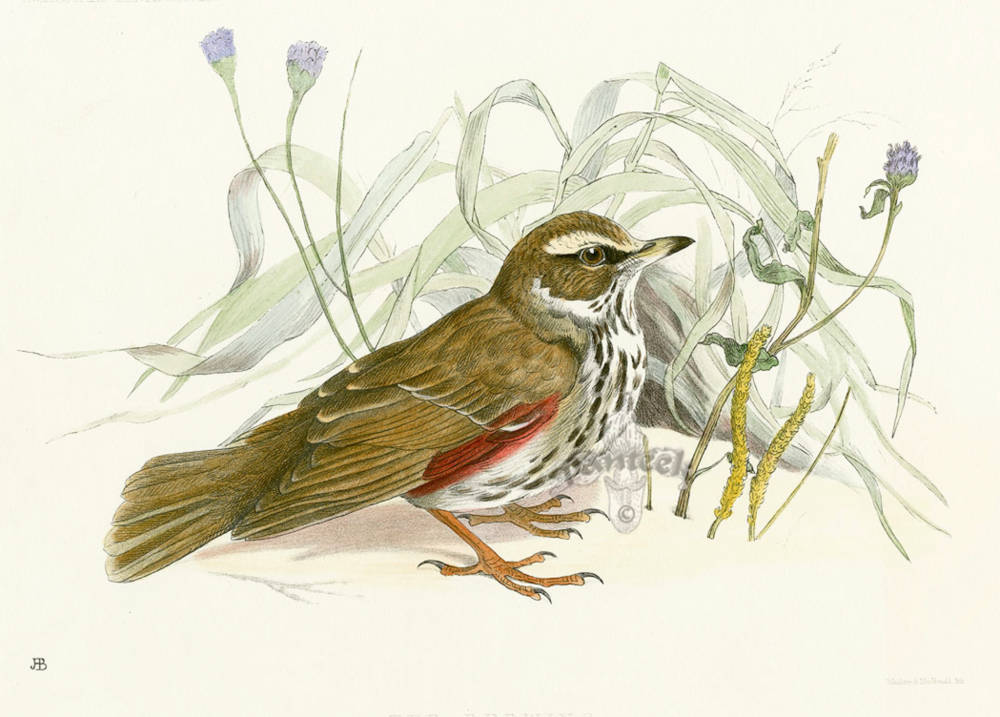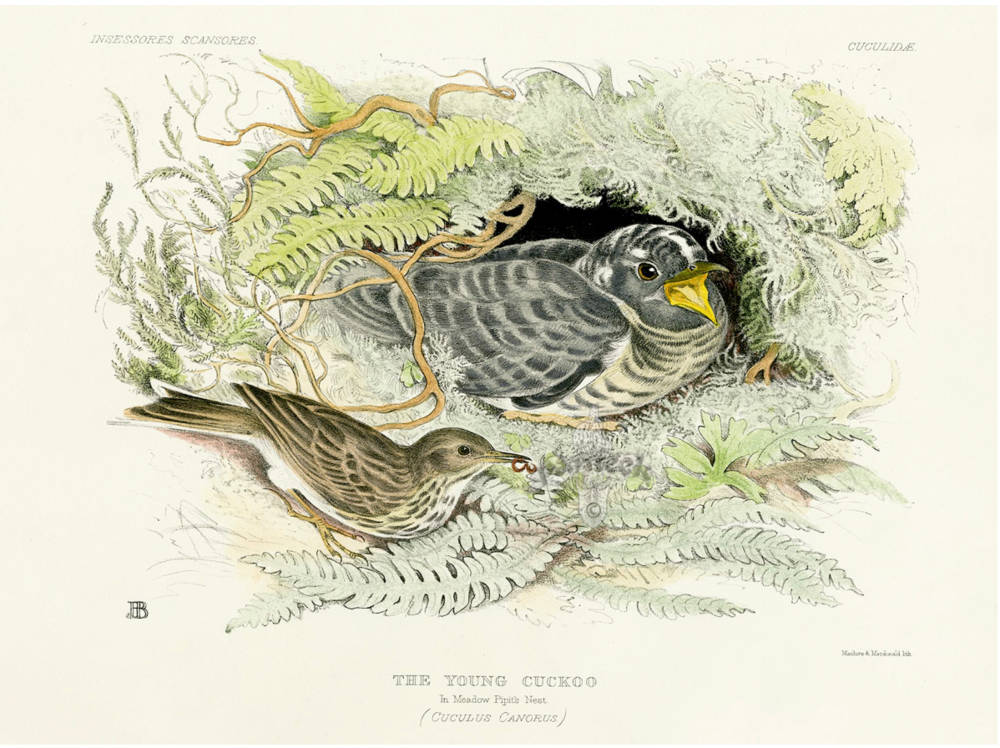 Left: The Redwing (Turdus Iliacus). Right: The Water Rail (Rallus Aquatus). [Click on images to enlarge them.]
Blackburn's birds in color are exquisite in their truthfulness to nature. Thus, I concur with the observations of Fairley and leading Victorian naturalist Joseph Wolf who, in a congratulatory note to Blackburn after the publication of Birds Drawn from Nature, tells her: "'In birds most people look for the colours, few see the actual form, and this leads me to think that for a longer sale of your book coloured copies would perhaps be more suitable than plain ones'" (qtd. in Fairley 59). Blackburn's skill as a colorist shines, for example, in the hand-colored rendering of the common redwing included in both versions of Birds Drawn from Nature and in Birds from Moidart. The tail feathers in various shades of brown make the bird's plumage look lifelike, as does the glimmer in its dark eye with a creamy white stripe above it, the angle of its beak, the puff of its feathered chest with dark spots on its white underparts, and the red plumage of its flanks and underwing, a characteristic from which the bird derives its name. The same bird reproduced in black and white shows remarkable detail in the bird's feathers, beak, and belly. The layers of feathering are arguably more precise in black and white than in color, but in contrast to the hand-colored version, the overall effect of the bird is more muted than its vivid and vibrant hand-colored counterpart.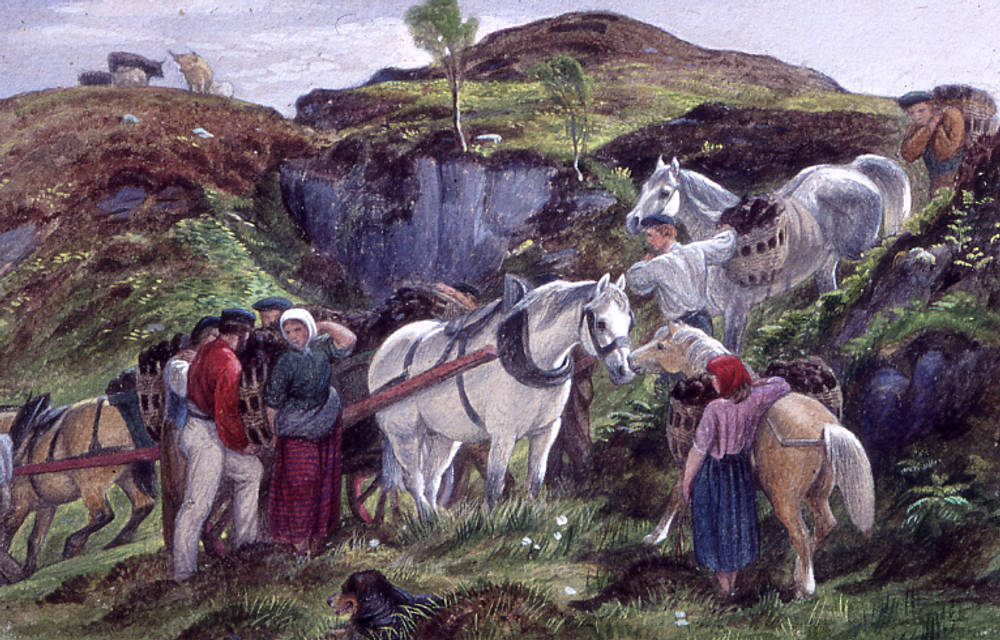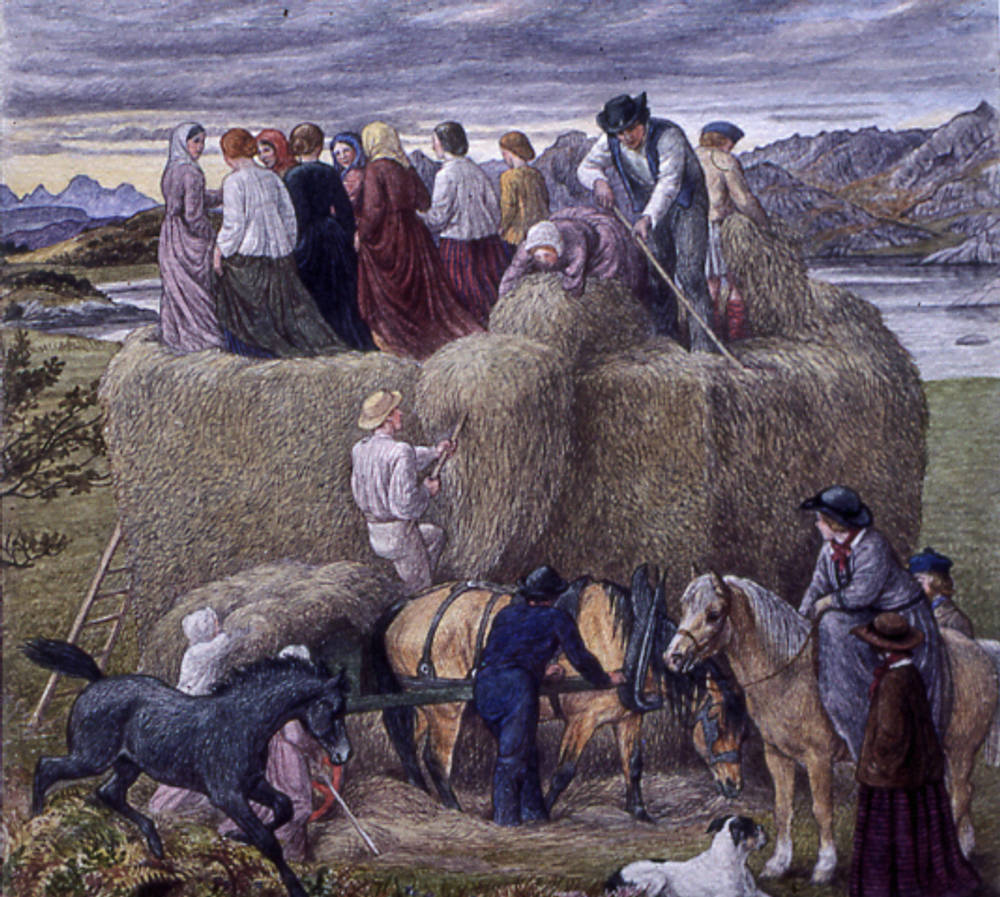 Left: Carting peat at Roshven. 1865. Right: Building a haystack at Irine, Roshven. 1865.
The colors in Blackburn's paintings of Scotland and her travels also illuminate her talent in mixing colors, the very topic she corresponded about with Ruskin. The vivid and varying hues of greens of an 1865 watercolor painting entitled Carting the Peats sets the stage for her well-executed plow horses and laborers caught as if in motion and in conversation with each other. The blue watercolor wash over pencil in an 1878 sketch of a visit to a geyser in Iceland entitled "Expectation" captures the mood of the tourists appreciating a country associated with ice and blue-white glaciers. A range of blue tones and white cliffs and clouds form the basis of an 1885 watercolor of a singing outing with the MacLeod family. The musical notes and lyrics of "Skye Boat Song" are inscribed on the bottom of this watercolor. In this painting, Blackburn's color palette and the position of her figures—some singing and others, including a canine, listening intently—reveal her ability to make a moment in time seem very much alive.
---
Last modified 14 January 2021