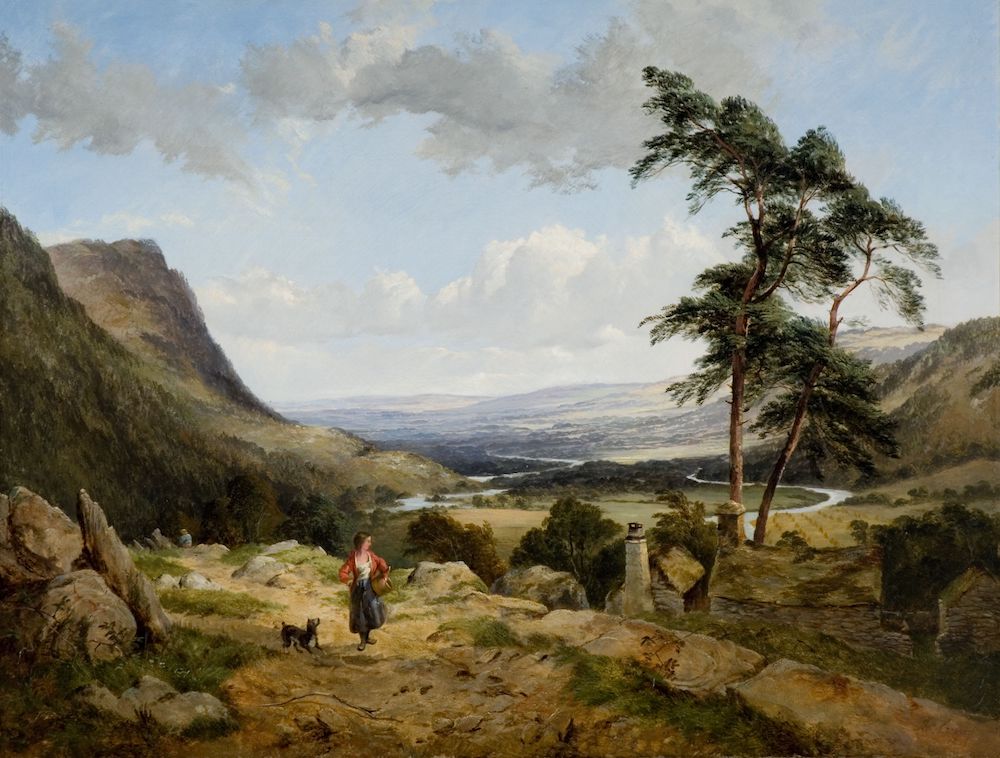 The Valley of Llangollen, North Wales (1856), by Thomas Creswick, RA (1811–69). Oil on canvas. Birmingham Museums and Art Gallery, UK.
Creswick painted a large number of subjects in Wales, which was a favourite among early and mid-Victorian painters, largely because it offered mountainous and varied landscapes but was more accessible and nearer to London and the south-east than Scotland. Llangollen, Snowdonia and the Conwy area were especially popular and became the location of several artistic coteries.
This painting is a lucid, luminous example of Creswick's reading of the Welsh natural scene: the foreground with the space mapped by a girl and dog is matched with a vast recession into the far distance, and there is the usual balance between forms (contrasting the tree on the right hand side with the mountain and an standing boulder), architectural features, and the wildness of an only semi-domesticated landscape. The play of blues and greys is used to unite the whole, and the effect, as usual, is one of serene contemplation. Llangollen was a favourite tourist spot for the English, accessible by rail, and Creswick's painting is in part a sensitive interpretation of the scene and in part a souvenir. He did many similar subjects, claiming Wales for English consumption at a time when the country was both tantalisingly foreign and familiar.
Image reproduced under the terms of Creative Commons. Text by Simon Cooke. [Click on the image to enlarge it.]
---
Created 21 March 2021