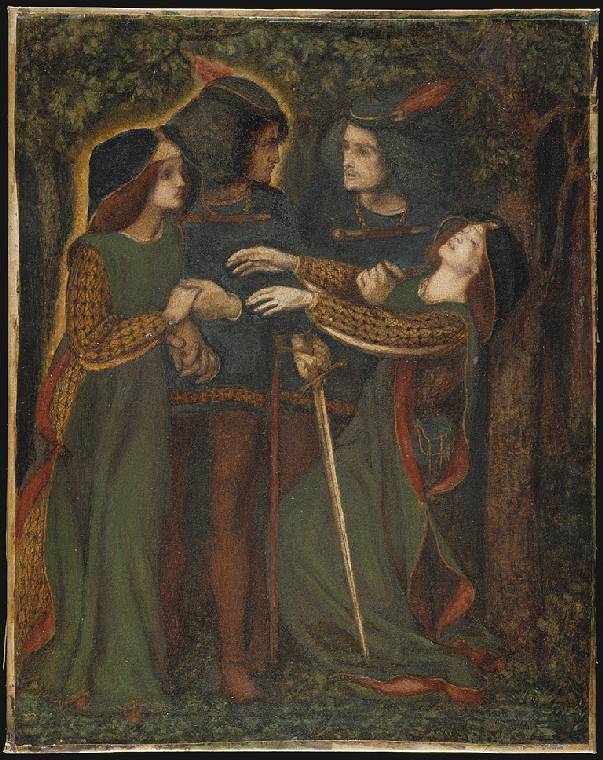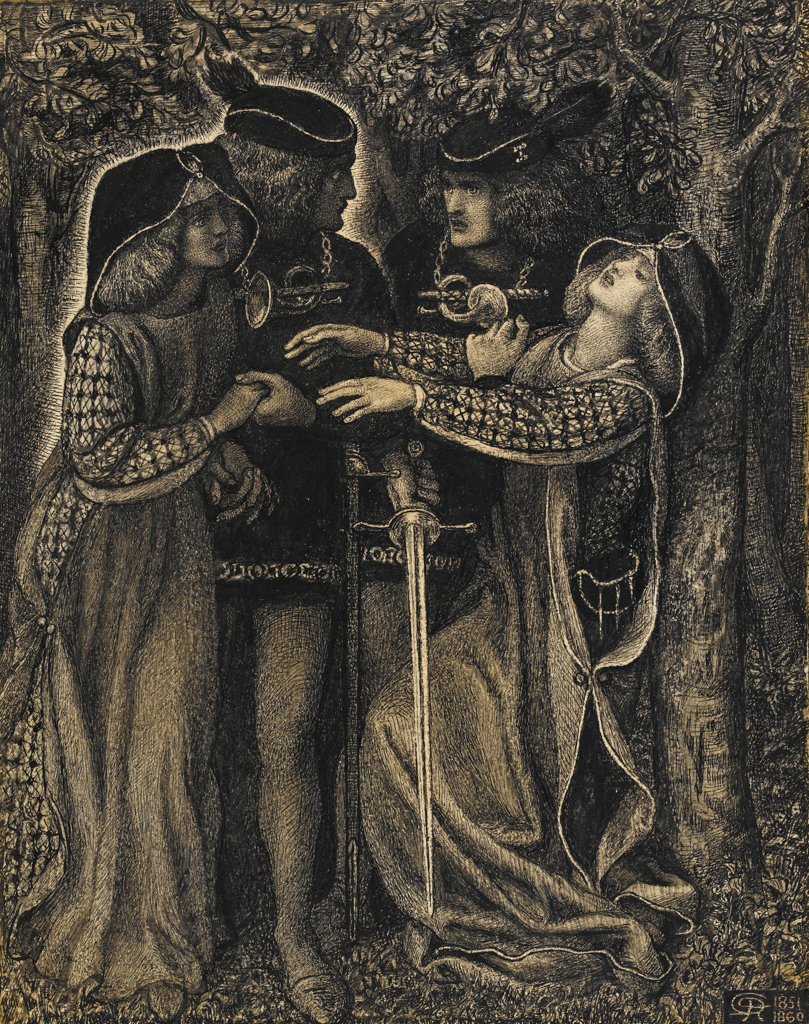 Two versions of Dante Gabriel Rossetti's How They Met Themselves, in the collection of the Fitzwilliam Museum, Cambridge. On the left is the 1864 version in bodycolour on paper (object/13398), 339 mm x 273 mm; on the right is the pen and ink wash on paper version, 270 mm x 213 mm., accession no, 1424. Photo copyright, © Fitzwilliam Museum, Cambridge (taken by Andrew Norman), kindly released on the Creative Commons License (BY-NC-ND).
Ford Madox Hueffer draws attention to this work, of which there had been an earlier version in 1851, saying that it "shows Rossetti's strong liking for subjects connected with the supernatural — his strong liking, because so very much of Rossetti's most fervent individuality is thrown into, and expressed in, this drawing of two lovers, who, walking in a wood, meet their doppel-gaengers and are lamentably stricken by the presage of approaching disaster. It is one of Rossetti's best designs" (54).
According to Virginia Surtees, the 1851 drawing was "either lost or destroyed", so the ink and wash version on the right must have been the one executed "during the artist's honeymoon in Paris (1860)" to replace that. It seems odd to have worked on this on a honeymoon. Whatever the particular context, it is clear that the concept had some special meaning for Rossetti: "Called by Rossetti the 'Bogie drawing', it illustrates the legend of the Doppelgänger which had fascinated him since childhood" (Surtees). — Jacqueline Banerjee.
Bibliography
"How They Met Themselves: 2300." Fitzwilliam Museum. Web. 11 July 2022.
How They Met Themselves, by Rossetti." Fitzwilliam Museum. Web. 11 July 2022.
Hueffer, Ford Madox. Rossetti: A Crical Essay on His Art. London: Duckworth, 1914. Internet Archive. Million Books Project. Web. 11 July 2022.
Surtees, Virginia, qtd. in "How They Met Themselves." Rossetti Archive. Web. 11 July 2022.
---
Created 11 July 2022