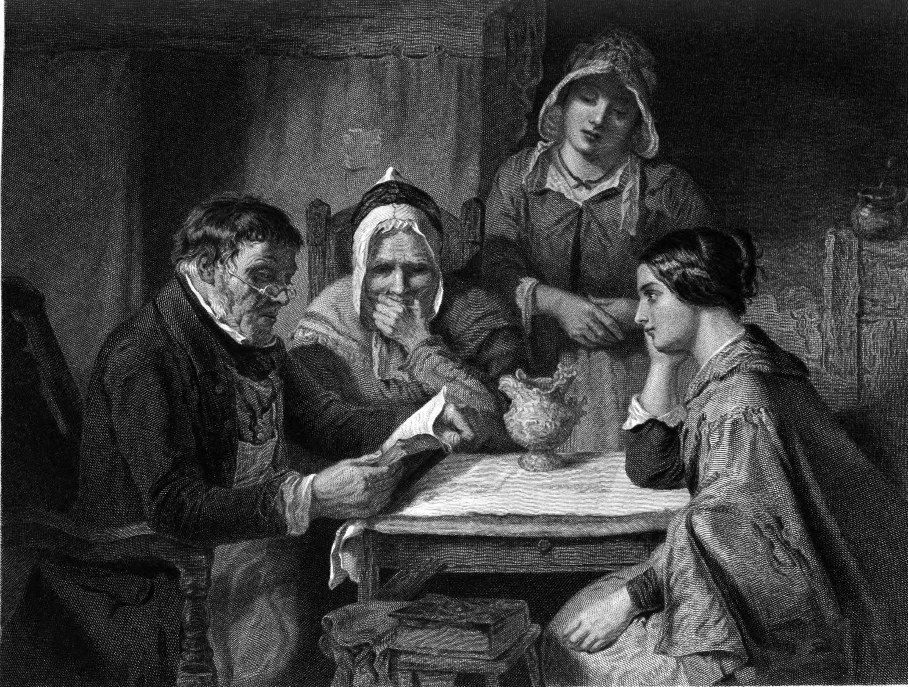 Words of Comfort by Thomas Faed RA, 1826-1900. R. C. Bell, Engraver. Image capture and formatting by George P. Landow. [You may use this image without prior permission for any scholarly or educational purpose as long as you (1) credit the Hathi Trust Digital Library and the University of Michigan and (2) link your document to this URL in a web document or cite the Victorian Web in a print one.]
Commentary from the
Art Journal
One of the earliest pictures exhibited in London by Mr. Faed, in 1851, under the title of 'Cottage Piety.' He had already acquired a reputation in his native country, Scotland, where he was then living, when he sent to the Royal Academy this and two other works of a domestic character, one entitled 'The First Step,' the other an illustration of the popular ballad, "Auld Robin Gray." These works gained considerable notice, so much so as to induce tho artist to continue his contributions to our chief metropolitan exhibition, and, in the following year, to take up his abode in London: they were, in fact, the advanced guard, so to speak, of a series of pictures of a somewhat similar description, which have placed the artist in the foremost rank of genre painters.
Whether it be true or not that the Scots, as a people, have a higher regard than their Southern neighbours for moral and religious obligations, and aro, therefore, more attentive to the duties which such obligations involve, it is certain that both Scottish poets and painters uphold what may bo called a popular idea on the amrmatory side of the question, by describing and representing scenes in accordance with it. And it is well that, at least, the semblance of good should be made apparent, even if the reality does not exist; it serves as an example worthy of imitation, though it may not be followed; it is seed sown, at random perhaps, but the grain may take root and bring forth an abundant harvest. Sacred Art—or that which bore such a character —was in olden time the great medium of instruction whereby the people were taught the truths of the Christian faith; the artists of those days were almost, if not quite, as successful spiritual teachers as the surpliced priesthood; and though the age of Saints, and Madonnas, and 'Immaculate Conceptions,' and 'Holy Families' has passed away, the painter of a simple devotional subject, like that Mr. Faed has placed on canvas, may effect as much good by compelling somo thoughtless mind to reflect, as did Raffaelle, La Vinci, Correggio, and other great painters centuries ago, by their grander and more ambitious works.
It may or may not be the eye of the Sabbath, as Burns describes that prelude to tho day of rest in his "Cotter's Saturday Night:" at any rate, the occupants of the cottage have assembled to hear "Words of Comfort" out of the sacred volume, which the master of the family—a blacksmith, as appears by his apron—reads; he reminds us of a couplet, all wo now remember, of a poem learned in childhood:—
"Then the good father. with spectacled nose.
Reads the Bible aloud ere they take their repose."
Tho head of the old man, with his white hair peeping below a brown scratch-wig. is a capital study, well lighted up, and free from any exaggerated expression: beside him is his wife, listening attentively to the narrative: the two younger females may be their daughters, but there is a refinement in the general character of the nearer girl especially which does not agree with such a supposition: she seems, in fact, to be "out of harmony," in personal appearance, with the other members of the family.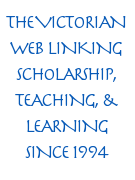 Bibliography
"Selected Pictures in the Collection of W. Holdsworth, Esq., Halifa: Words of Comfort." Art Journal (1855): 200-201. Hathi Trust Digital Library version of a copy in the University of Michigan Library. Web. 31 July 2013.
---
Last modified 10 August 2013