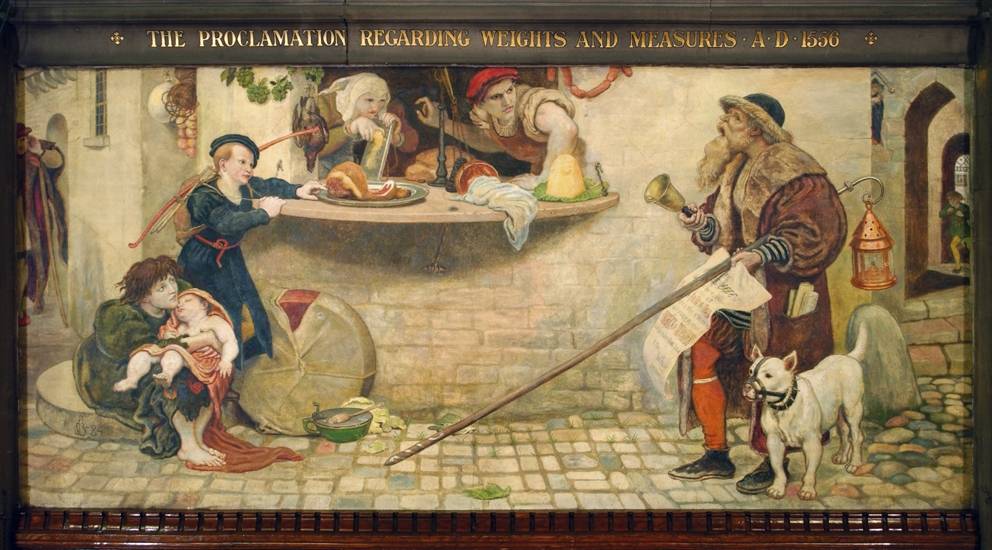 The Proclamation Regarding Weights and Measures. Completed 1884. Ford Madox Brown (1821-1893). Gambier Parry method (see Introduction to the Manchester Murals). Downloaded and reproduced here from "Ford Madox Brown Murals" by kind permission of Manchester City Council. Commentary and formatting by Jacqueline Banerjee. [Click on the image for a larger picture.]
This is the sixth in the historical sequence of the Manchester Town Hall murals, and the sixth to have been completed. If Frederic Shields had performed his part of the original commission, it would also have been the last on Brown's side of the hall, and Shields would have taken over for the remaining six. Following on spatially from the powerful and dramatic one about Wycliffe's trial, this mural would have been a bit of an anti-climax for Brown's set, since it was evidently one of the "safe" themes chosen at the beginning of the project: "6. Weights and measures noted and legalised" (Ford 331). But there is more to it than meets the eye. Indeed, the town councillors might have been unpleasantly surprised by the way the theme was treated. Amusingly, it shows an elderly blind town crier announcing the new regulations, accompanied by a muzzled dog. In other words, Brown has a dig at the lack of vision and "teeth" in municipal government.
The composition itself reflects the meaning. There is no dramatically gesturing figure here to link together the two sides of the picture, as there is in The Trial of Wycliffe. On the contrary, the town crier's long stick, by which he feels his own way forward, divides him from the ordinary citizens whom he is addressing. They in turn betray different degrees of indifference (the beggar's sleeping child), suspicion (the grocer's wife with the cheese grater) and hostility (the grocer with his apron and red cap).
As Julian Teurherz observes, "Brown seems to have used Netherlandish and Italian Mannerist sources for the figures" (295), and the big round cheese would seem to confirm the former source, in particular. In that case, Brown's subversive comment on the inefficacy of the authorities seems more universal than specific to Manchester. Dutch paintings were, of course, popular at the time, and especially for this sort of subject, witness George Eliot's famous predilection for art that shows "old women scraping carrots" and so forth, expressed in Adam Bede (162). Thus the mural can be seen as an example of Brown's universality and inclusiveness of vision, as well as simply of his satire on local government, and his humour.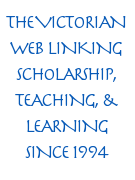 Related Material
Eliot, George. Adam Bede. Oxford: Oxford University Press (World's Classics), 2008.

Ford, Ford Madox. Ford Madox Brown: A Record of His Life and Work. London: Longmans, 1896. Internet Archive. Web. 23 April 2012.

Treuherz, Julian, with contributions by Kenneth Bendiner and Angela Thirlwell. Ford Madox Brown: Pre-Raphaelite Pioneer. London: Philip Wilson, 2011.

---

Last modified 25 April 2012