[This passage from Pre-Raphaelitism and the Pre-Raphaelite Brotherhood takes the form of a single paragraph, which I have divided, adding subtitles. George P. Landow.]
Brown rebukes the Members of the R.A.
A banquet was given to art and literature by the Lord Mayor at the Mansion House; Millais, representing Sir F. Leighton, was seated at the high table next to the host, and Madox Brown was exactly on the opposite side of the table, facing Millais and a bevy of other Academicians. There were many vacant places between him and me, and I asked him to come and take the chair next to me, explaining that he would meet friends whose conversation would interest him. "Thank you," he said, "I would rather sit here." I left him alone, severely frowning at his diplomaed brothers of the brush, where he remained all the evening, silent. A mutual friend told me that Brown had said he wished particularly to draw the attention of the Academicians to the fact, that although he was not a member of the Academy, he had been conspicuously honoured by the civic authorities with a central place at the high table. It is possible that many of the Academicians went home without benefiting by the reproof that dear old "Bruno" felt to be so necessary for them. [II, 382-83]
The sadness of Brown's last years
He had now lived beyond the full term of threescore years and ten, and his days had become sad. His only son Oliver, a youth of great promise both as painter and writer, had died, and this bitterness was followed soon after by the death of his wife. While still struggling manfully with ever-continuing money difficulties, he could not repress complaint to a friend at his evil fortune. His health was fast failing, and he was seven hundred pounds in debt, which was indeed a disgrace to his country. The profession of an artist is an expensive one; a writer needs but his pens, ink and paper with a little space to write in, but an artist must have large rooms with many appliances, as necessary to him as scaffolding to a builder in his operations. He must have money at all stages of figure subjects to pay models and to buy materials; during the probationary period of his career he may bear many discomforts with patience, but when he has the full responsibilities of life; he must have the opportunity of repose away from sight of his work, that he may not miss refreshment of mind and body. Brown had always been most studious, industrious, and frugal, and had produced many noble works of which the country must eventually be proud; yet here he was in his last years suffering in mind as though he had been a profitless ne'er-do-well.
His friends raise money to pay his debts
A few of his friends met together and agreed to raise a subscription to purchase some of his works without his knowledge, and the contributions had accumulated although without public appeal to a sum handsomely covering his liabilities. Unfortunately, just as all was prepared for approaching him, a newspaper stated the fact in its gossip column, which Brown saw. He was inflamed to great anger, and went off to Frederick Shields, who was acting as secretary to the fund, and expressed his indignation at the insult that had been done him; he denounced it as an attempt to impose charity upon him and left the house in hot temper. Shields discreetly kept silence and trusted to time to appease the artist's ruffled feelings. Within a week Brown communicated to him that he was sorry for his outbreak of displeasure, that he now recognised all had been done in thoughtful kindness, and hoped his friends would not think him so ungrateful as he allowed himself to appear at first.[II, 384-85]
Christ washing the Disciples

hung in the National Gallery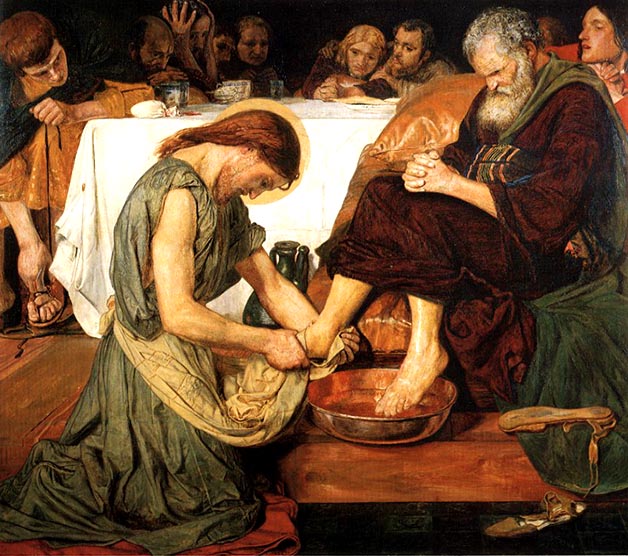 The possessor of the picture of "Christ washing the Disciples' Feet," who had offered it at Christie's a few months before, and had bought it in at £80, consented to take for it a portion of the sum in hand, and the Council of the National Gallery expressed themselves pleased to receive this tardily appreciated and yet truly noble picture. Since it has been hung in the Gallery the work has ever grown in reputation. The painter's strength was now fast failing, he took up his daily work each morning, but increasing weakness interrupted his application, and on the 6th of October 1893 he breathed his last. I attended his funeral at Finchley Cemetery, and left feeling profoundly how his death would be to me a never-ending loss. [II, 385]
Related Material
References
Hunt, William Holman. Pre-Raphaelitism and the Pre-Raphaelite Brotherhood. 2 vols. New York: Macmillan, 1905.
---
Last modified 27 October 2012