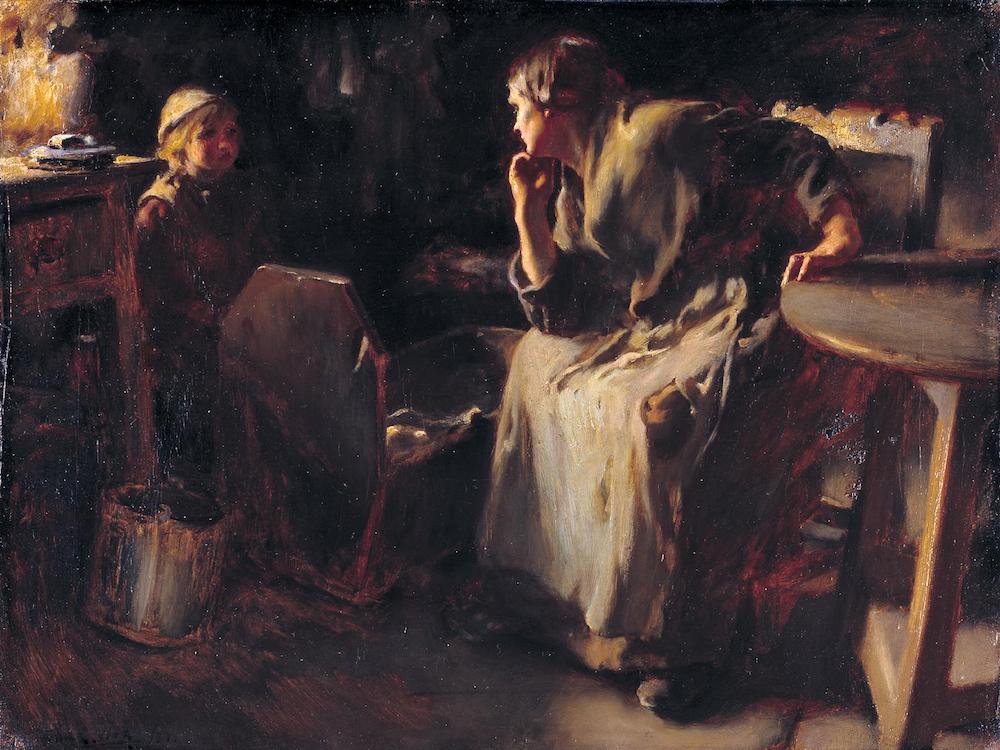 Hush!. Frank Holl (1845-1888). 1877. Oil on canvas. Support: 343 x 445 mm / frame: 674 x 775 x 135 mm. Tate Gallery. Presented by Sir Henry Tate in 1894. Reference N01535. Kindly released by the Tate Gallery on the Creative Commons CC-BY-NC-ND (3.0 Unported) license. [Close-up of the older child.] Click on the image to enlarge it.
As the gallery label of July 2007 points out, infant death was very common in Victorian times, and, contrary to what we might suppose, the infant mortality rate was not making a steady improvement: "The death-rate of infants [under 1 year of age] in England and Wales, in 1875, was 158 per 1,000, or 4 per 1,000 above the average rate in the 10 years 1861-70. This implies that the mortality among infants is increasing" (Farr, Part IV, 190). Here, in the first of a pair of paintings on the theme, is a mother in poor circumstances anxiously watching over her baby in its cradle. An older child looks on, clearly troubled by her mother's expression and demeanour. The gallery label says that "Holl confronts his subject directly, without sentimentality. The sombre colouring and the strong contrasts between light and shade serve to heighten the grim mood." But perhaps the most touching part of the picture is the older child's concern. — Jacqueline Banerjee
Related Material
Bibliography
Farr, William. Vital Statistics: A Memorial Volume of Selections from the Reports and Writings of William Farr. Ed. Noel A. Humphreys. London: Offices of the Sanitary Institute, 1885. Internet Archive. Contributed by Robarts Library, University of Toronto. Web. 31 May 2018.
---
Last modified 28 June 2018