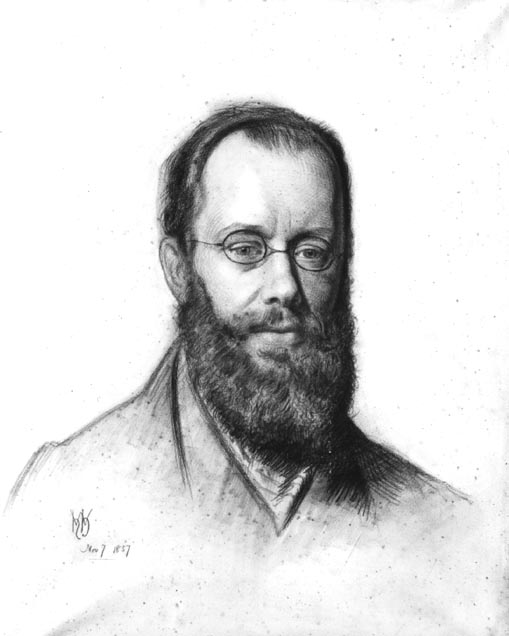 W. Holman Hunt's portrait drawing of Lear, from Pre-Raphaelitism and the Pre-Raphaelite Brotherhood; original in Walker Art Gallery, Liverpool. [Click on image to enlarge it.]
Edward Lear was one of the most remarkable British landscape painters of the nineteenth century; in addition he was the author of his famous nonsense poetry and of accounts of his travels. From about 1837 Lear adopted a peripatetic pattern of life; his visits to England only briefly interrupted his explorations of southern Europe, the eastern Mediterranean and the Middle East. Vast numbers of topographical drawings and a series of volumes of lithographed plates record these travels. In the years 1873-75 he visited India. Lear was to a large extent self-taught as an artist; his technique of topographical draughtsmanship, where colour washes are laid over pencil lines with colour annotations and other elaborate inscriptions, and then worked over in ink, is peculiar to him. These drawings were made the basis of oil paintings and lithographs alike.
In 1852 Lear was introduced to William Holman Hunt that Lear might learn an improved technique from the Pre-Raphaelite. A long association between the two followed; despite Lear's sixteen years seniority to Hunt he was aware of the advances that the younger generation had made in terms of the use of colour and the understanding of light; he shared their reverence for the detail of nature, and was determined to learn from them.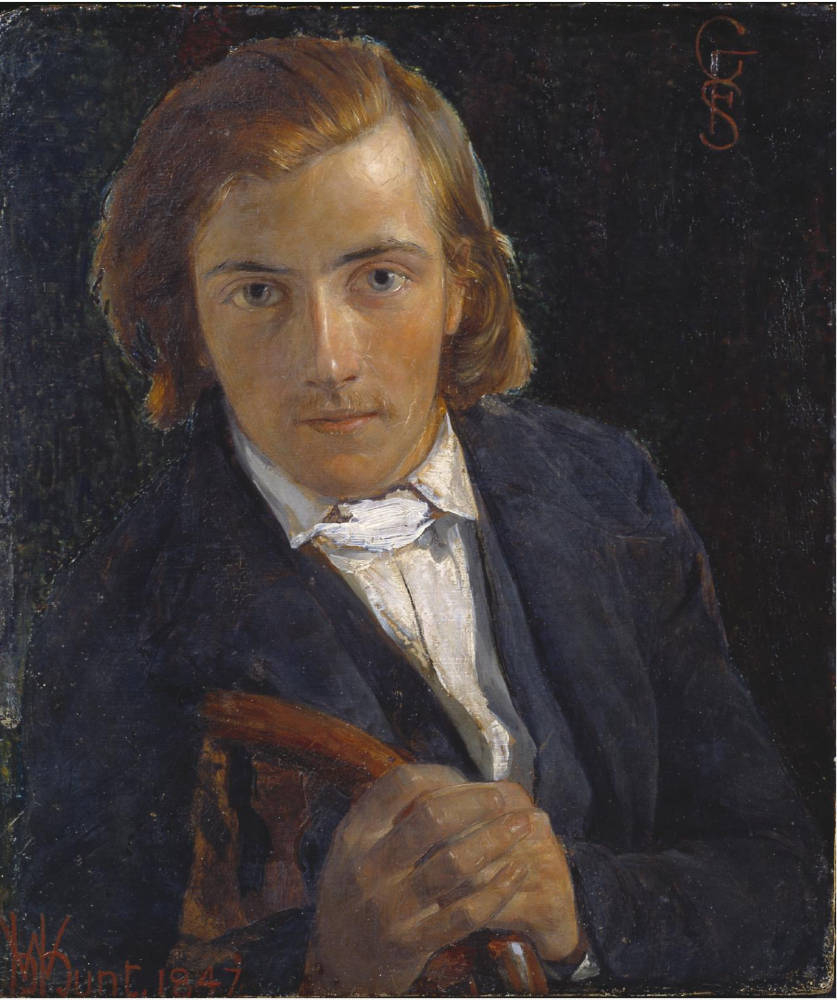 Lear and Hunt spent part of the summer and autumn of 1852 together at Fairlight on the coast near Hastings. During this time Hunt was painting his two landscape masterpieces: Our English Coasts 1852 Strayed Sheep (Tate Gallery) and Fairlight Downs -- Sunlight on the Sea (see image at right). Lear's subsequent oil paintings, in their treatment of clear sunlight and use of prismatic colour, demonstrate the importance of this experience. In the autumn of 1852 Lear wrote to Hunt: "I really cannot help again expressing my thanks to you for the progress I have made this autumn . . . I am now beginning to have a perfect faith in the means employed, and if the Thermopylae turn out right I am a P.R.B. for ever." Lear lived for periods of time in Rome, Corfu, and finally at San Remo on the Italian Riviera to which place he moved during the winter of 1870-71.
Bibliography
Newall, Christopher. A Celebration of British and European Painting of the 19th and 20th Centuries. London: Peter Nahum, nd [1999?].
---
Last modified 9 August 2001