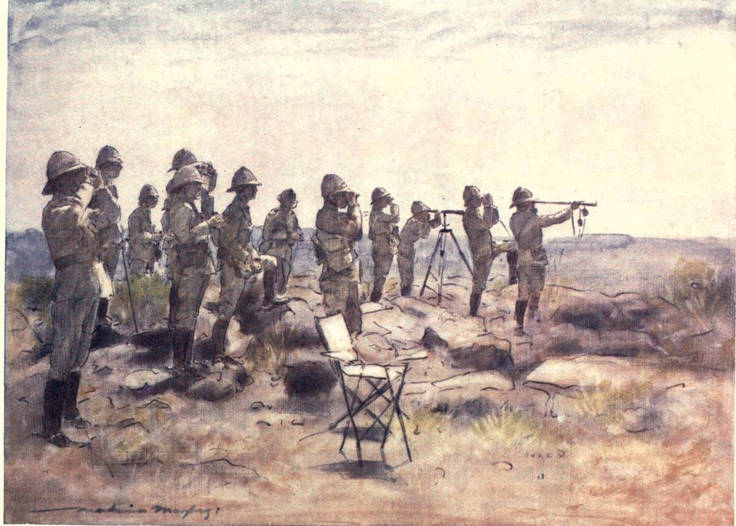 Lord Roberts and staff watching the Battle of Osfontein by Mortimer Menpes. 1901. Watercolor. Source: War Impressions, facing 74. Click on image to enlarge it.
[Lord Roberts asked Menpes,] "how long have we had you with us?" I said that I had marched with the troops from Klip Drift to Bloemfontein. "Ah," exclaimed Lord Roberts with interest, "then you were with us at Osfontein? Wasn't that a magnificent view one got looking down from the top of the kopje there? The battle must have been of great interest to you, and would surely have made a splendid picture!" And it did make a splendid picture, with Lord Roberts as central figure! There was this little man, surrounded by stafF officers and foreign attaches the smallest man on the kopje ordering thousands of troops in all directions the centre of a network of wires running in every direction and keeping him in touch with his entire force. It was then that I had the opportunity of listening to his crisp, clean-cut words of command for the first time, and the power of the man was perhaps seen at its best. It was an ideal position to view a battle from, this kopje: you could see in a clear circle for miles round; and it was an ideal day. The top where we were all gathered together officers, foreign attaches, correspondents (I noticed that on this occasion there were very few correspondents) was not much larger than a fair-sized room, so that I had an opportunity of studying these men near. . . .
I was led shyly up by an officer to look through the famous instrument [presented to Lord Roberts by the Lord Mayor of London], I quite expected to see not only a Boer but also the crisp shadows that would surely be cast on his face on such a brilliant day. It was a fine glass there was no doubt about that. It seemed to bring everything nearer; but what it did bring nearer was all pretty much of a blank to me. I thought I saw a Boer, and sketched the one I thought I saw, and sent him to Black and White. I had slung round my waist a powerful lens which I had not had an opportunity to use. Now was the moment! I should see everything! But I strained myself in vain: the landscape was as blank as ever. The conversation was now becoming too frantic for my peace of mind I beckoned to my friend. "Now, look here, what is happening?" I asked. "I feel so terribly out of it. For Heaven's sake, tell me whether it's French that's pursuing the Boers, or the Guards Brigade that are chasing them from kopje to kopje." My friend said he would see, and strode to the Lord Mayor's glass. "Why, look! there's a movement!" he shouted. I gazed and gazed blank, absolutely. This clear vision, I concluded, was a matter of habit, nothing less; one could train oneself to see Boers. I was too fresh. "No," I exclaimed, almost petulantly "it's no good: I can't see anything." "What!" roared my friend, incredulously. ""You don't see anything? Why, there's a movement!" Movement? There was a cloud of grey dust; there was a suspicion of fluff, which looked a trifle fluffier through the telescope. On an emergency it might be taken for scooting Boers; but it would not do for a picture. Greatly discouraged, I turned on my heel and gave up painting battle-pieces, to transfer my attention to Lord Roberts and his staff. [73-74]
Related Material
[You may use this image without prior permission for any scholarly or educational purpose as long as you (1) credit the University of California and the Internet Archive and (2) link your document to this URL in a web document or cite it in a print one. — George P. Landow]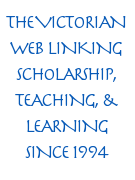 References
Menpes, Mortime. War Impressions Being A Record in Colour. London: Adam & Charles Black, 1901. Internet Archive version of a copy in the University of California Library. Web. 13 December 2014.
---
Last modified 14 December 2014