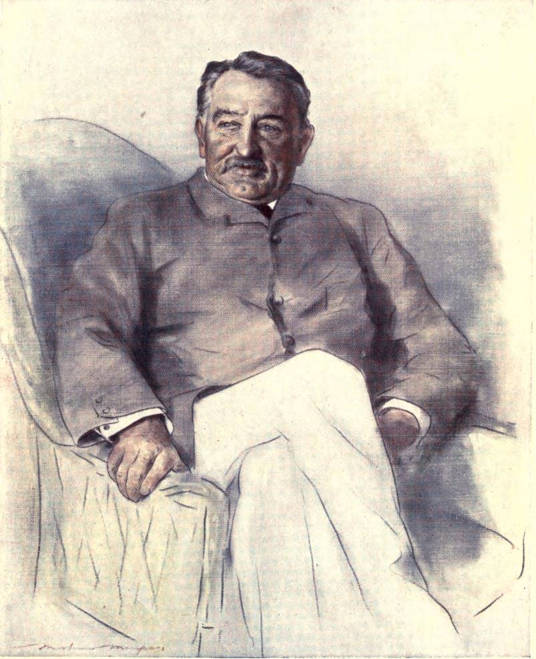 Cecil J. Rhodes
Mortimer Menpes
1901
Watercolor
Source: War Impressions, facing 102.
See below for Menpes's characterization of Rhodes
[You may use this image without prior permission for any scholarly or educational purpose as long as you (1) credit the University of California and the Internet Archive and (2) link your document to this URL in a web document or cite it in a print one.]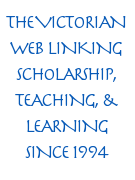 Menpes's characterization of Rhodes
It was at the Sanatorium in Kimberley that I first met Mr. Rhodes. The siege had just been raised. I had cut across-country in a Cape cart from Jacobsdal with two correspondents, and had arrived at Kimberley on the heels of General French, dirty and tired, after many unpleasant experiences, having narrowly escaped getting into the Boer lines, and having had to drag the cart along bodily by day and sleep under it by night. We went straight to the Sanatorium, an hotel that Mr. Rhodes had kept up all through the siege for the benefit of his friends, and were welcomed hospitably by Mrs. Maguire and invited to stay to luncheon. I shall never forget that meal, because we had green corn and butter; and I remember carelessly stroking my butter on my corn, just as I would in London, little realising that I was stroking on gold, for butter at that time was literally worth its weight in gold. I gathered that Mr. Rhodes himself had not suffered very severely from famine, considering that this luncheon was on the last day of the siege, when every one outside the Sanatorium was eating horseflesh, camels, and siege soup it would take a bold man indeed to venture a description of what that soup was made of: I know the man who designed it, and he could never be persuaded to divulge the recipe. I sat next Mr. Rhodes during luncheon, and had a good opportunity of studying the great man. That day he seemed bubbling over with mischief, and took a wicked pleasure in quizzing one of his guests, a well-known member of Parliament he made a regular butt of the poor man, and never seemed tired of trotting him out and making him contradict himself, especially delighting in getting him to talk of his various adventures on land and sea. On one occasion, by very dexterous questioning the poor young man was made to state that he had once ridden 500 miles in two hours. I have lunched with Mr. Rhodes many times; and he is always the same, always getting an immense amount of fun out of one or another of his guests.
When you first see Mr. Rhodes you think "What an enormous man!" He seems to tower above every one else; but, curiously enough, his stature is not over the average. It is the head that is so big, like the head of some great lion full of brain and capacity. He is all head it seems to fill the room. The face is like the face of Nero on a coin strong and determined, with a mouth like iron. In repose his expression is very severe; but when he is talking the lines of the face turn up and the eyes look down benignly upon you. One realised how those lines could tighten and the blue eyes become like burnished steel, and that at times he could be very formidable indeed. He does not care two straws about his personal appearance, and generally wears a rough tweed coat that seems to have been dragged on through sheer force with the buttons invariably hitched up to buttonholes that were never meant for them, a cobalt blue necktie, and white flannel trousers, which were so conspicuous as to be a great source of worry to his friends in Kimberley, who were in constant terror of his being sniped by the Boers so much so that they hired a man to follow him at a distance for protection. One day, while on horseback, Mr. Rhodes realised that he was being followed, and led his bodyguard such a chase (galloping all over Kimberley) that the poor man at last sank exhausted on the wayside. Then Mr. Rhodes turned round, and asked him savagely if he "had had enough."
It is difficult to gauge the character of a man like Mr. Rhodes, because there never was a man so full of violent contrast. He is the roughest man possible, and amazingly animal, yet as delicate and sensitive as a school-girl, and strongly spiritual. I have never seen a man look more angry than Mr. Rhodes, and almost at the same moment I have seen tears shining in his eyes. To know the real Rhodes, your thoughts must run parallel with his; otherwise he will close like an oyster. I have spent many days with him in Kimberley. I have seen him in all his many moods. I have learnt to know the man himself, not the rough exterior that he presents to the world; and I have learnt to like him. He is a giant, dwarfing the strongest man capable of almost any emotion capable of any mortal thing.
Mr. Rhodes is a very busy man; yet he found time to give me many sittings, both in the garden and in his study. He will never be painted other than full-face. He considers that a man looks you straight in the face; therefore paint him so no profiles for him. He is palpitating with sympathy, loves Nature and naturalness, loathes hypocrisy, and will never stand affectation in any one. Yet he is a man of many moods, and at times can be almost brutal. I learnt this on several occasions; but only one was a personal experience. It was several days after that famous luncheon that has always remained in my memory because of the butter and green corn. I had begged the privilege of sketching Mr. Rhodes, and he had very kindly consented; but, not knowing his little eccentricities, I was rather astonished when, as I took out my paint-box to begin the portrait, he rose in a very dignified way, drew himself up to his full height, and said, "Sir, do you intend to paint me fullface? If not, you don't paint me at all unless it is the back of my head." Then he flung himself back in his chair, broadside on, looked me full in the face, and growled, "Now begin." But I did not know how to begin I was so much upset. However, when I realised that Mr. Rhodes was just as embarrassed as myself, and that a great deal of this roughness was to cover an almost childish shyness, I felt less uncomfortable, and was able to go on with my work: Mr. Rhodes at heart is an exceedingly shy man. [101-04]
References
Menpes, Mortime. War Impressions Being A Record in Colour. London: Adam & Charles Black, 1901. Internet Archive version of a copy in the University of California Library. Web. 13 December 2014.
---

Victorian
Web

The Boer
War

Artists

Mortimer
Menpes

Next
Last modified 14 December 2014