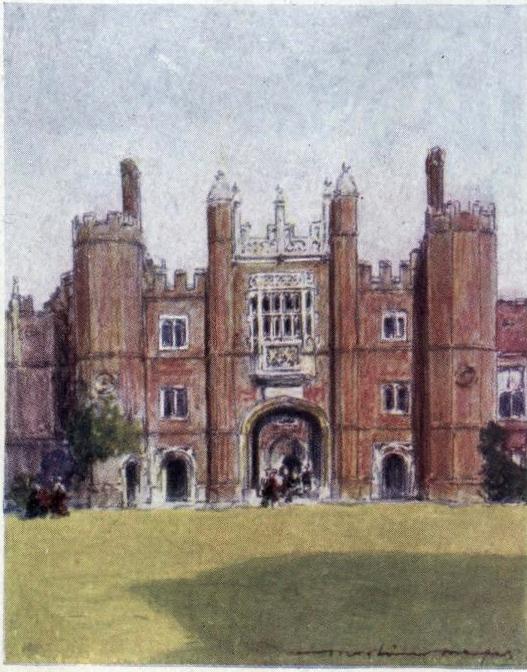 Hampton Court
Mortimer Menpes, R. I.
Watercolor
Source: The Thames, 177.
See commentary below.
Text and formatting by George P. Landow.
[You may use this image without prior permission for any scholarly or educational purpose as long as you (1) credit the University of Toronto and the Internet Archive and (2) link your document to this URL in a web document or cite it in a print one.]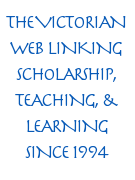 The gateway to the Palace is imposing, with its brick piers and stone heraldic animals, and the long low range of buildings on the left side makes a strip of bright colour.
The older part of the palace was built by Wolsey, but by far the greater part of it, as it now stands, is due to William III. Some parts of the entrance gateway and the great hall are all that remain to speak of Wolsey's inconceivable boldness in attempting to build a palace which should out- shine that of a jealous monarch like Henry VIII. Skelton's satire, beginning :
Why come ye not to courte?
To which courte?
To the kinge's courte,
Or to Hampton Courte ?
showed what everyone thought, and doubtless served to concentrate attention upon Wolsey's temerity. The irony of the matter lay in the fact that the palace was not seized, but that the unfortunate owner was forced to make a present of it to the King:
With turrettes and with toures,
With halls and with boures
Stretching to the starres,
With glass windows and barres;
Hanginge about their walles
Clothes of gold and palles
Fresh as floures in Maye.
Whether he gave the palace as it stood, with its " twohundred and four score beds, the furniture of most being of silk," is not recorded; but it is probable that when he had been wrought up to the pitch of terror necessary for overcoming his reluctance to part with his beautiful new possession, he would give all everything feeling that so long as his life was safe it was all he cared about. As a mark of royal favour, Henry allowed him to occupy apartments at Richmond, where he was not too far off to observe the doings of the monarch in his palace. The king was so pleased with his new establishment that he formed a mighty park, embracing all the land for miles around, including East and West Molesey, Cobham, Esher, Byfleet, and Thames Ditton, and was sorely aggrieved because his loving subjects, whose land and rights had thus been confiscated, dared to make an outcry.
Edward VI. was born at Hampton. After his death Queen Mary came here with her husband Philip, and the unhappy couple, one full of sullen hate, the other sore and bitter in her loneliness, must have strolled in the grounds many a time.
For three months King Charles I. was held prisoner here while his fate was undecided, and when he was removed it was to go up the river to Maidenhead, where he said his last farewell to his children. Oliver Cromwell, who, though he dared not take the name of king, had no dislike to the royal privileges, lived at Hampton, and one of his daughters was married from the palace. But by the time of William III., much of the build- ing had fallen into decay. The situation was pleasant, and though Henry's park had in great part reverted to its rightful owners, there was still much open ground around which made the place desirable. William had a passion for building, and loved the prim Dutch style, as was natural. The maze and the canal, and the long avenues of trees in Bushey, are all evidences of his taste. But in the palace he attempted to copy Versailles, as he had already copied it at Kensington. Poor Wren must have been as much perplexed as ever he was in his life when told to remodel a Tudor building into the copy of one of the Renaissance, and that he succeeded at all is greatly to his credit. Two out of the five courts which remained of the old palace were pulled down, and the state rooms, as we now see them, are the work of Wren under William's directions. Since then the interest and beauty of the interior has been much added to by the famous collection of pictures, which attracts at least as many visitors as the building does. [178-81]
References
Menpes, Mortimer, R.I., and G[eraldine]. E[dith]. Mitton. The Thames. London: A. & C. Black, 1906. Internet Archive version of a copy in the University of Toronto Library. Web. 18 April 2012.
---

Victorian
Web

Artists

Mortimer
Menpes

Watercolors

Next
19 April 2012