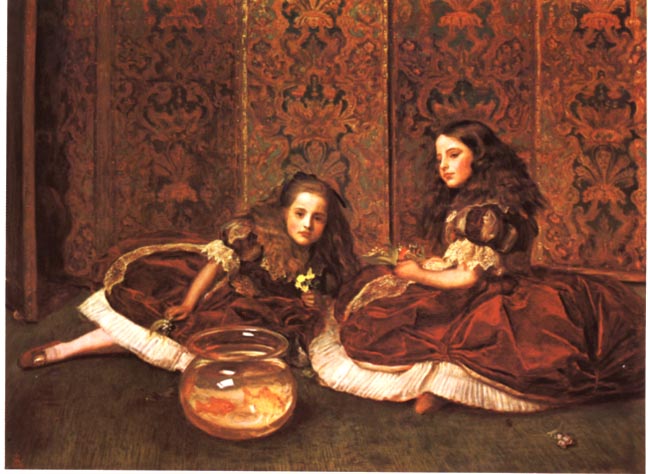 Sir John Everett Millais. Leisure Hours. Oil on canvas 33 1/2 x 45 1/2. Signed in monogram and dated 1864 lower left.
Commentary by Anthea Brooke
Leisure Hours is a portrait of Anne and Marion Pender, daughters of Sir John Pender. By 1853, the Pre-Raphaelite Brotherhood was dead and buried, as far as the Brothers were concerned. "Pre-Raphaelitism", despite this, had now become an independent self-generating force and a name to put to certain preconceptions of style. By 1856 Millais had reached a level of technical perfection and was restlessly searching for new modes of expression. He was in a mood of transition, recognising, as all the Pre-Raphaelite Brotherhood except Holman Hunt had done, that precision of detail could only be a stage in their development. The Black Brunswicker of 1860 marks the turn of Millais to direct appeal for public approval, which was sealed by My First Sermon of 1863, in which year he was elected RA. By 1857-60 Millais had developed an increasingly painterly approach, translating the high colour key of previous years into a sumptuous Venetian richness. Leisure Hours, as all the critics noted, was of the highest technical order, and the critic of the Art Journal, amidst a host of laudatory adjectives, noted that this was to be the type of portraiture that would steal back the territory encroached on by the hostile medium of photography. Spielmann, who also has almost nothing but praise, noted perceptively how fashionable Millais had made the term "Pre-Raphaelitism", and how it was affecting ambitious young artists such as George du Maurier, whose style was becoming increasingly, as he termed it, "proeraphaelising", (or, as Millais termed it, "demmed duMaurialising"). The treatment of this subject is certainly pleasingly direct in view of Millais's growing propensity to excess of sentiment, in the treatment of children.
Provenance: Sir John Pender, Middleton Hall, Linlithgow; Marian, Lady des Voeux (nee Pender); and thence by descent.
Exhibited: RA 1864 (289); Manchester, Academy of Fine Arts 'Autumn Exhibition' 1864 (702); FAS 'Exhibition of a Collection of Pictures by Mr John E. Millais RA' 1881 (15); Grosvenor Gallery 'Exhibition of Works by Sir J. E. Millais Bt RA1886 (8); RA 'Memorial Exhibition' Winter 1898 (7); RA 'PRB-Millais-PRA 1967 (66).
The Fine Art Society, London, has most generously given its permission to use information, images, and text from its catalogues in the Victorian Web. This generosity has led to the creation of hundreds and hundreds of the site's most valuable documents on painting, drawing, sculpture, furniture, textiles, ceramics, glass, metalwork, and the people who created them. The copyright on text and images from their catalogues remains, of course, with the Fine Art Society. [GPL]