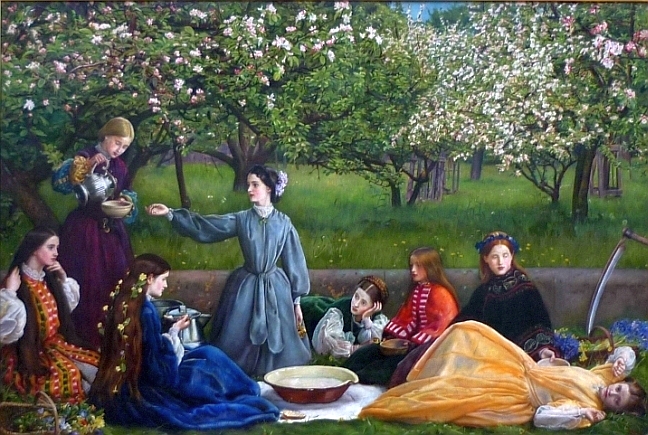 Apple Blossoms or Spring. 1858-59. Sir John Everett Millais Bt PRA (1829-96). Oil on canvas. Courtesy of the Lady Lever Art Gallery, Port Sunlight, Wirral. [Detail] Photographs 2009, text and commentary by Jacqueline Banerjee.
This work was painted around the end of Millais's youthful, full-blown Pre-Raphaelite period; it was, perhaps, intended as a partner to Autumn Leaves (see "'Spring' or 'Apple Blossoms,' 1859"). It depicts, in naturalistic detail, a party of young women taking some refreshment in front of a blossoming apple orchard. Although it speaks of the springtime of life and nature, it also suggests the passage of time — not only through the scythe in the right-hand corner of the picture (see detail), but through the blossom itself, and the baskets of picked wild flowers beside the scythe and in the other corner, and braided through some of the girls' hair. From the later 1850s, the artist's "style and aims would undergo radical changes" (Lambourne 248); according to a letter written by Gerald du Maurier in 1864, both Millais and Holman Hunt had already "seceded" from the Pre-Raphaelite Brotherhood, "spoilt so to speak by their immense popularity" (qtd. in Lambourne 440). Indeed, Valentine Prinsep recalled that when he went with Millais to see some of his work, including this painting, he noted the change — but realised that he "did like the pictures in spite of the change," adding that he did not find "any lack of imagination in them or in the subsequent work" (qtd. in Millais, II: 393).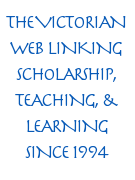 Bibliography
Lambourne, Lionel. Victorian Painting. New York & London: Phaidon (paperback), 2003.
Millais, John Guile. The Life and Letters of John Everett Millais, President of the Royal Academy. 2 vols. Vol. 2. New York: Frederick A. Stokes, 1899. Internet Archive. Web. 1 June 2011.
"'Spring' or 'Apple Blossoms,' 1859." Liverpool Museums. Web. Updated 6 October 2018.
---
Last modified 6 October 2018