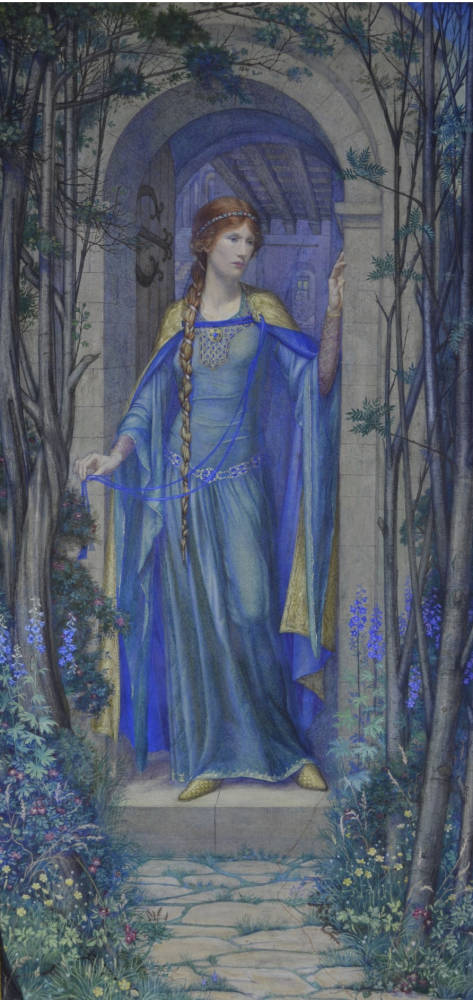 Fair Rosamond
Kate Muriel Mason Eadie
Watercolour and bodycolour
Signed, inscribed with title and the artist's address on a label attached to the backboard
73 cm (28 3/4 inches) x 35.5 cm (13 1/1inches)
Provenance: By descent in the artist's family.
Eadie is best known as a Birmingham enameller, jeweller, manuscript illuminator and Arts & Crafts designer. She exhibited enamel panels at the Royal Academy between 1905 and 1915. In 1915 she was elected an Associate of the Royal Birmingham Society of Artists which whom she exhibited jewellery and metalware. She was the Society's first female member. A fire screen by her is in the collection of the Victoria & Albert Museum.
In September 1940 she became the second wife of Birmingham Pre-Raphaelite painter and stained glass designer Sidney Harold Meteyard (1868-1947). Meteyard's first wife, Lizzie Fairfax Muckley was the sister of Birmingham artist Louis Fairfax Muckley. It seems that Eadie and her sisters lived at the same address as the Meteyards from about 1916. She had first met Meteyard when she was studying at Birmingham School of Art, she became his student and model and they are known to have worked together on various stained glass schemes.
Related Material