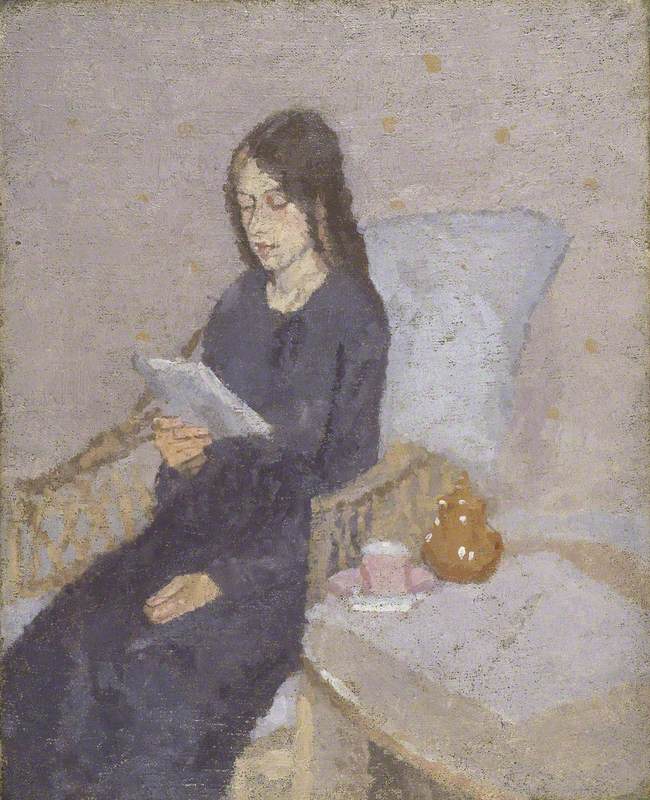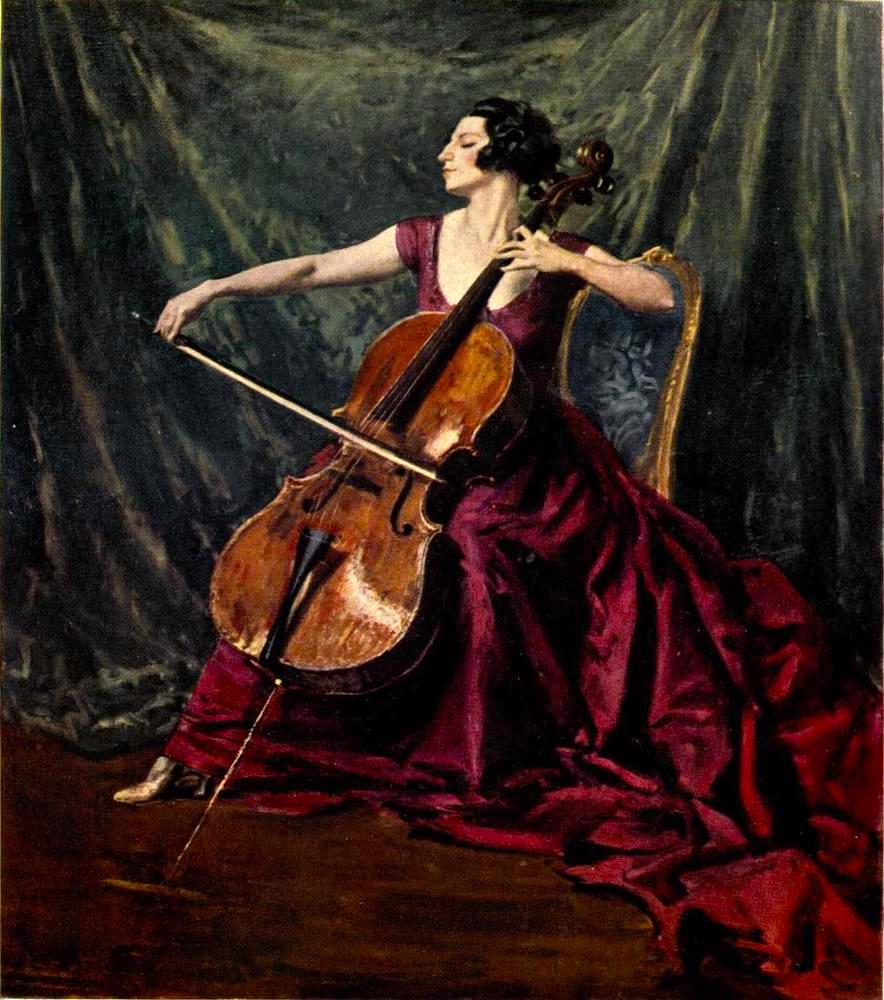 Gwen John's The Letter, 1924 (Collection: Manchester Art Gallery, kindly released on the Attribution-NonCommercial-NoDerivatives 4.0 International (CC BY-NC-ND 4.0) licence). Right: Augustus John's Madame Suggia, 1920-23). Source: Manson, pl. 23, facing p. 160.
Looking forward to a new age (which nevertheless had its roots in the past), the Welsh-born sister and brother, Gwen John (1876-1939) and Augustus John (1878-1961) were both studying at the Slade at the end of the nineteenth century. Unlike G. K. Chesterton, they applied themselves fully, and did not drift off to the English Department. Indeed, Augustus won the Slade Prize of 1898 with a typically dynamic composition, Moses and the Brazen Serpent (watercolour over pen and ink). Evidently he overshadowed his sister's more delicate style then as he would for years to come. A later portrait, of the famous Portuguese cello-soloist Guilhermina Suggia, a project that spun out over several years, is generally considered one his most successful. The Tate gallery label of September 2004 said, "This has always been thought among the best of John's portraits, for its convincing scale, the accord between design and colour, and its finish." There could hardly be more of a contrats between the two artist siblings' styles.
For all this, and it was clearly a matter of temperament as well as style, both artists had benefited from the great teachers at the Slade in what Lionel Lambourne identifies as "its heyday from 1895 to the outbreak of the First World War" (to be fair, just a little too late for Chesterton), when Henry Tonks was the Professor there (38).
In their different ways, both the Johns exemplified new trends in art. Augustus preferred large-scale canvases which could display his greater boldness and freedom with subject, composition and colour, while Gwen made much smaller studies, producing strained and restrained self-portraits and convalescents, sequences of meditative nuns, muted still-lifes, incurious cats, and so on. The 2004 joint exhibition of their work at the Tate Britain showed off the contrast dramatically, whilst suggesting in the exhibition brochure that both were "developing different solutions to a common problem" — that of finding "an alternative to everyday modern life."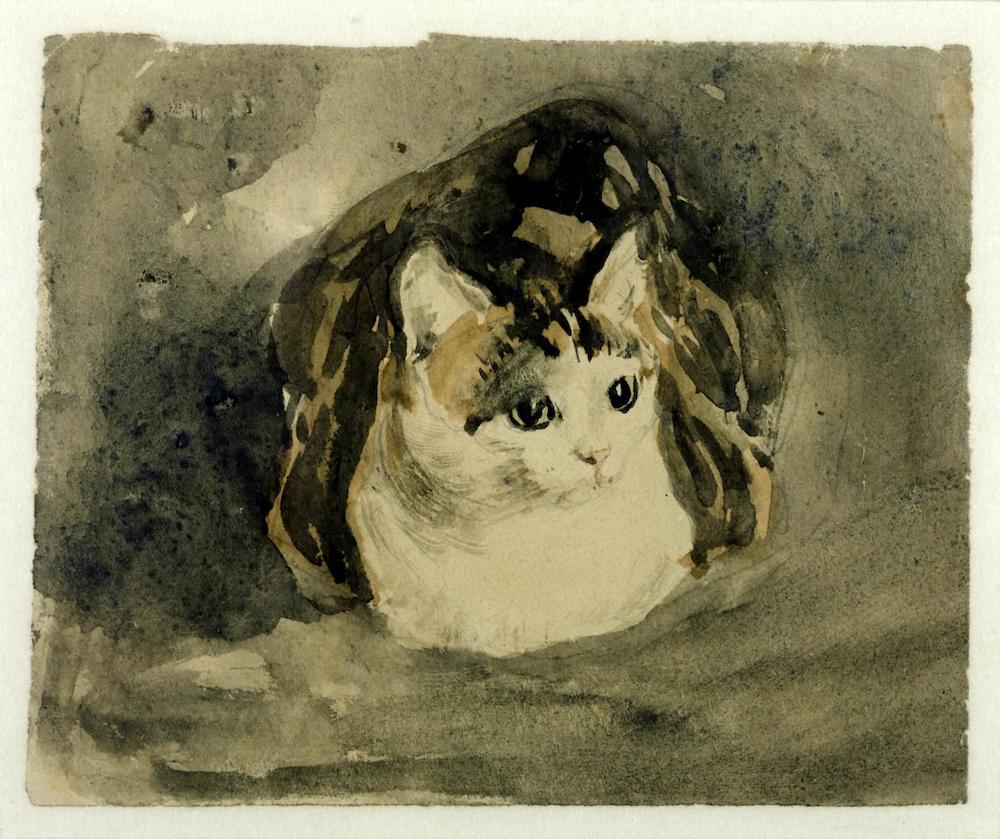 Gwen John's graphite and watercolour sketch of her tortoiseshell cat, Edgar Quinet (named after her address in Paris), 1904. Collection: Tate, N05154, kindly released on the Creative Commons CC-BY-NC-ND (3.0 Unported) licence.
In point of fact, "solutions" such as gypsy life and invalidism would have been well understood by earlier generations as well. Consider Reginald Basset, the "Bohemian bold" in Charles Reade's A Terrible Temptation (1871), and Margaret May, the saintly invalid in Charlotte Yonge's The Daisy Chain (1856). There is always something of the past even in the most radical new beginnings.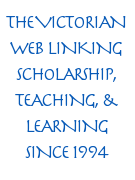 Related Material
Bibliography
"Gwen John and Augustus John." Tate Britain exhibition brochure, 2004.
Holroyd, Michael. Augustus John: The New Biography. London: Vintage, 1997.
Lambourne, Lionel. Victorian Painting. London & New York: Phaidon, paperback ed. 2003.
Manson, J. B. The Tate Gallery. London: T. C. and E. C. Jack, 1934. Internet Archive. Contributed by Robarts Library, University of Toronto. Web. 16 February 2021.
---
Last modified 16 February 2021