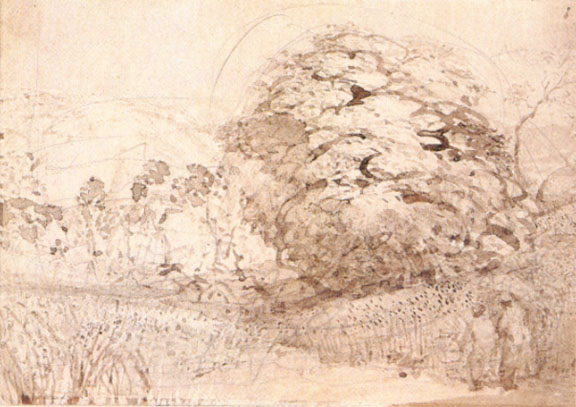 A Path Through a Cornfield by Samuel Palmer RWS (1805-1881). c.1832-3. Brown watercolour (wash and point of brush) on paper. Dimension: 3 1/2 X 5 inches, 9 X 12.7 centimetres.
Provenance: Mrs Bryan Hook. Miss Una Hook. N. W. Lott and H. J. Gerrish Ltd.
Exhibited: London, Victoria and Albert Museum, 1926, An Exhibition of Drawings, Etchings and Woodcuts by Samuel Palmer and other Disciples of William Blake, number 77. London, Faustus Fine Art Ltd, 1981, An English Vision, number 15.
Commentary by Hilary Morgan
This little watercolour was made towards the end of Samuel Palmer's Shoreham period and is a good example of the type of lightly painted brown watercolour he produced then. It represents an image of pastoral harmony. Reapers or gleaners with huge sheaves return to the tree-surrounded cottage in the valley through a path between rich cornfields. The thatched cottage itself has a similar sheltering form to the foreground tree and the hills behind. Yet it was produced at a time when Palmer found it increasingly hard to hold onto his belief in any idyllic relationship between human life and nature.
Riots and rick-burnings by farm labourers around the time of the passing of the first Reform Bill in 1832 caused him to develop a fiercely defensive conservatism, and within a few years he abandoned this type of harmonious powerful image, and developed a more realistic artistic style. This watercolour just precedes the stage in his evolution which entailed the loss of innocent, childlike visionary qualities, a loss which the Romantic sensibility saw as sadly inevitable. As Wordsworth wrote in his Ode: Intimations of Immortaliy from Recollections of Early Childhood.
'The Youth, who daily further from the east Must travel, still is Nature's priest
And by the vision splendid
Is on his way attended,
At length the Man perceives it die away
And fade into the light of common day.'
This watercolour was formerly in the possession of the family of Palmer's friend Bryan Hook, son of James Clarke Hook RA, the landscape and marine painter.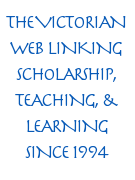 References
Grigson, Geoffrey. Samuel Palmer: The Visionary Years. London, 1947.
Lister, Raymond. A Catalogue Raisonne of the Works of Samuel Palmer. Cambridge: Cambridge University Press, 1988.
Morgan, Hilary, and Peter Nahum. Burne-Jones, the Pre-Raphaelites, and Their Century. London: Peter Nahum, 1989. Catalogue number 1.
Peter Nahum Ltd, London has most generously given its permission to use in the Victorian Web information, images, and text from its catalogues, and this generosity has led to the creation of hundreds of the site's most valuable documents on painting, drawing, and sculpture. The copyright on text and images from their catalogues remains, of course, with Peter Nahum Ltd.

Readers should consult the website of Peter Nahum at the Leicester Galleries to obtain information about recent exhibitions and to order their catalogues. [GPL]