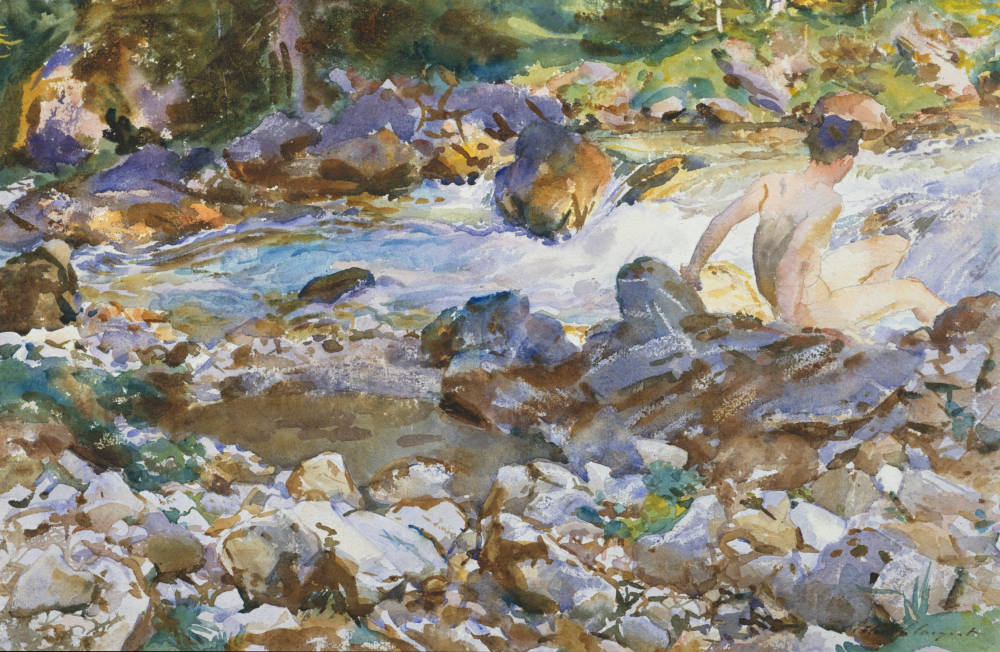 Mountain Stream. John Singer Sargent. c. 1912-1914. Watercolor and graphite on off-white wove paper, 13 11/16 x 21 in. (34.8 x 53.3 cm) Mat: 22 × 28 in. (55.9 × 71.1 cm) Framed (standard exhibition frame): 24 1/2 × 30 1/2 × 1 1/8 in. (62.2 × 77.5 × 2.9 cm). Courtesy of the Metropolitan Museum of Art, New York (15.142.2), Line:Purchase, Joseph Pulitzer Bequest, 1915. Click on image to enlarge it.
Commentary from the Museum website
"Mountain Stream" is one of Sargent's most dazzling images based on the theme of flowing water. This exhibition watercolor, which the artist sold to the Metropolitan, differs from his many anonymous views of streams in its inclusion of a bather, which suggests a specific time and place. However, its precise setting cannot be identified; in the early 1910s, when this watercolor was probably made, Sargent painted in the Alps of France, Italy and Austria.
---
Last modified 25 May 2016