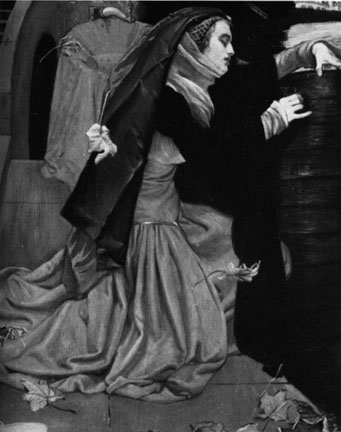 The Lady of Shalott
John Byam Liston Shaw
1898
Oil on panel
13 1/4 x 10 1/4 in. (33.7 x 16.2 cm.)
Lent by the Christian A. Johnson Memorial Gallery, Middlebury College
Exhibited: Ladies of Shalott: A Victorian Masterpiece and its Contexts (Providence, 1985)
Catalogue Entry by Miriam Neuringer
Byam Shaw's Lady of Shalott was first shown with thirty-eight other small oils on panel at Dowdeswell's gallery in 1899 in an exhibition entitled Thoughts Suggested by Some Passages from British Poets. This exhibition included works that illustrated three passages each of poems by Tennyson and Browning, two each by Rudyard Kipling and Dante Gabriel Rossetti, four by Shakespeare, and eleven by Christina Rossetti. He had painted many scenes suggested by the poetry of Dante Gabriel Rossetti in the early i89os, most notably The Blessed Damozel (1893), a large and ambitious work for the quickly maturing twenty-one-year-old artist. Byam Shaw's interest in Tennyson's poetry continued into the next decade; in 1905 he painted Sir Galahad, the hero-knight of Arthurian romance, which he based upon Tennyson's Idylls of the King. The artist venerated Tennyson in Act Drop; London Colliseum (exhibited at the academy in 1914), a machine in which Shaw presents the portraits of ninety characters in procession.
Contemporary reviews of the 1899 exhibition were generably quite favorable. Although Shaw showed his work at the academy, the similarities of his style to that of the Pre-Raphaelite painters was often noted. The reviewer for the Manchester Courier perceptively remarked that the chosen passages of poetry are "illustrated by exercises in bright color that would have gladdened the hearts of the pre-Raphaelites." Indeed, the saturated reds, greens, and blues of Shaw's Lady of Shalott, in addition to his meticulous rendering of minute details and textures, confirm this observation.
Shaw's painting illustrates the scene in Tennyson's poem in which the Lady, having descended from her tower, writes her name on the front of the boat that will take her to Camelot.
Down she came and found a boat.
Beneath a willow left afloat.
And round about the prow she wrote
The Lady of Shalott.
The falling leaves, symbolic of the autumn of the Lady's life, suggest the line "The leaves upon her falling light" that appears later in Tennyson's poem. Shaw paints Camelot, distantly ablaze in yellow and orange, at the top-right corner of the panel. — Ladies of Shalott, pp. 161.
References
Cabinet Pictures by Byam Shaw Suggested by Passages from British Poets. Chicago: Art Institute , 1900.
Cole, Rex Vicat. The Art and Life of Byam Shaw. London, 1932. p. 213.
Neuringer, Miriam. Ladies of Shalott: A Victorian Masterpiece and its Contexts, Ed. George P. Landow. Brown University: 1985. p. 161.
The Paintings, Water-colours, and Drawings from the Handley-Read Collection. Exhibition catalogue. London: Fine Art Society, 1974. No. 70.
---

Victorian
Web

Artists

John L.
Byam Shaw

Paintings

Next
Last modified 8 September 2015