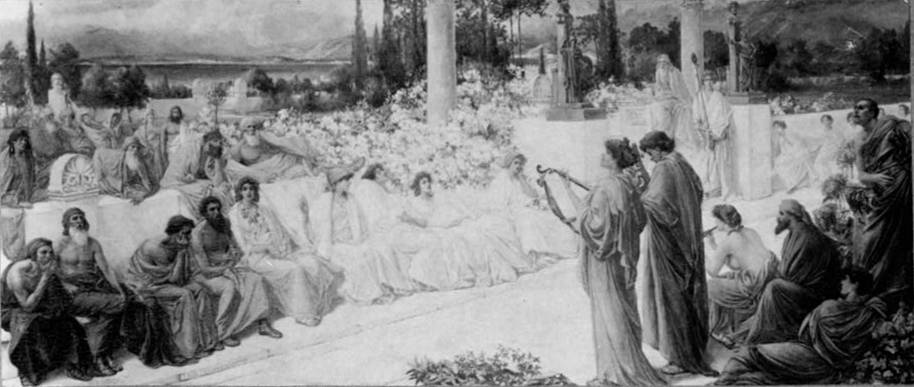 The Disciples of Sappho by Thomas Ralph Spence. 1896. Original, oil on canvas, height, 24.4 in.; width 59.3 in. Black and white film copy: Library of Congress reproduction number: LC USZ62-120246. Commentary by Jacqueline Banerjee. [Click on the image for a larger picture.]
Talking generally about Spence, Neil Moat explains that:
One of the artist's earliest artistic collaborations was to provide the illustrations for a children's picture-book (with verse text by W. J. Gordon), Perseus the Gorgon Slayer (1883), an elegant little exercise in Aesthetic Neoclassicism after the manner of Walter Crane.... Thereafter, Spence's regard for the lost glories of ancient Greece amounted almost to an obsession, and in his extended essays and lectures on the decorative arts he rarely failed to introduce some reference or other to Homer. Likewise, the subjects for many of his later easel-paintings were drawn from ancient Greek history and legend, with copious amounts of marble painting after the manner of Lord Leighton (1830-1896) and Alma-Tadema (1836-1912), the two contemporary artists he seems most to have admired. (169)
While there are no "copious amounts of marble" here (as there are for instance in Alma-Tadema's Sappho and Alcaeus), this painting is clearly an example of the classical revival in Victorian painting — and a successful one, at that. Spence's sweeping scene depicts Sappho performing outdoors, and conveys all the atmosphere of a performance in a vast landscape. The swathe of virginal white in the middle, whether from the moon or because of the women's robes, contrasts with the subtle hues of the natural setting in the background. More dramatically, it serves as a spotlight that throws the performer and her accompanists into sharp relief.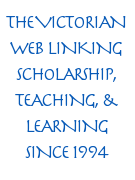 Bibliography
"The Disciples of Sappho." Artnet.com. Web. 3 March 2013.
Moat, Neil. A Theatre for the Soul: St George's Church, Jesmond: The Building and Cultural Reception of a late-Victorian Church. Newcastle University: Doctoral thesis, 2011.
---
Last modified 3 March 2013