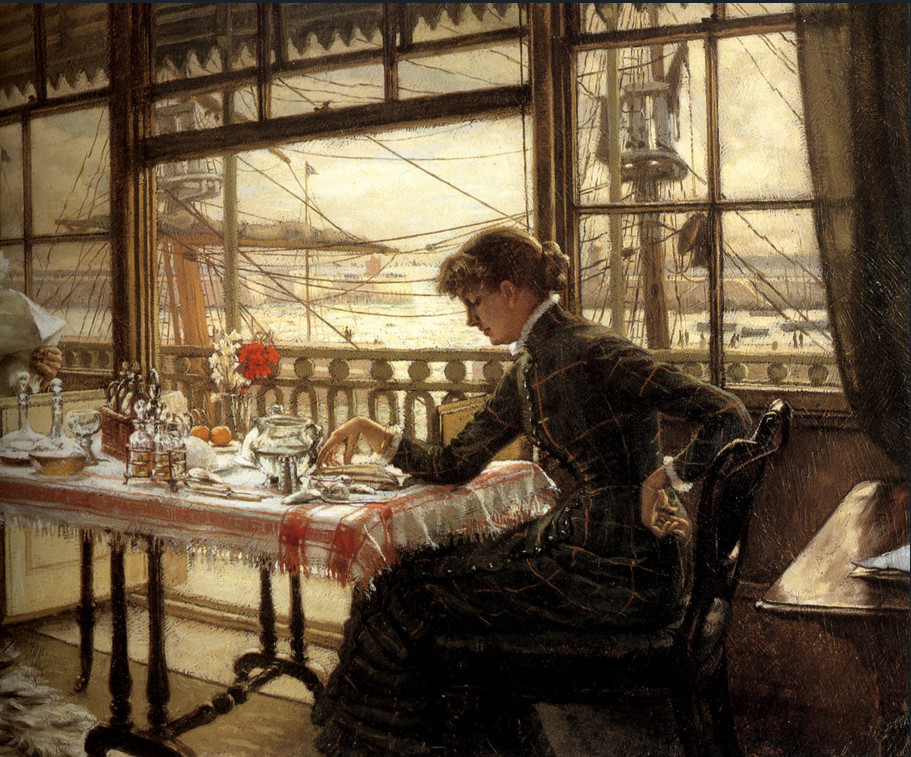 Room Overlooking the Harbour, by James Tissot (1836-1902). c.1878-79. Oil on panel. 25 by 33cm., 10 by 13in. These details about the size can be found on Sotheby's saleroom website: from the same source comes the following note: "We are grateful to Krystyna Matyjaszkiewicz for informing us that this picture is recorded in Tissot's notebook of sales as sold to the art dealer Thomas Miller McLean in 1879 as 'Sea-side (Albion Hot[el]. / Ramsgate)' for £80."
Here, Tissot depicts Kathleen Newton going about her business while an older man (who could be a servant accompanying the couple) gamely models as well. The picture has been held by the same family since 1933. In excellent condition, though needing to be cleaned and re-varnished, it was sold at Sotheby's on July 11 2019, for £400,000 (Hammer price). — Lucy Paquette
Formatting by Jacqueline Banerjee, who also added the information from Krystyna Matyjaszkiewicz on Sotheby's website. Image source: WikiArt, where it is described as being in the public domain. [Click on the image to enlarge it.]
Bibliography
Lot Details. Sotheby's. Web. 15 July 2019.
Paquette, Lucy. "On Holiday with James Tissot and Kathleen Newton." Web. 15 July 2019.
---
Created 15 July 2019