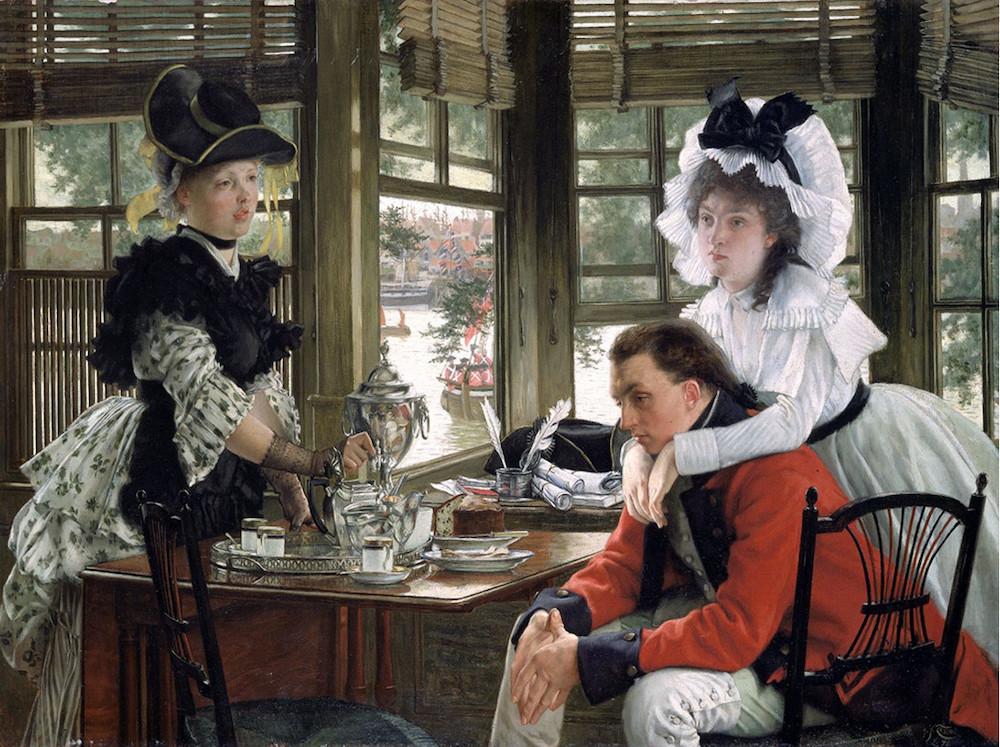 Bad News (The Parting), by James Tissot (1836-1902). 1872. Oil on canvas. 68.6 x 91.4 cm. Collection: Amgueddfa Cymru (National Museum of Wales, Cardiff). Acquired: 1882. Bequest: William Menelaus. Accession Number: NMWA 184. The museum's note on the painting explains that it is "one of a series of pictures inspired by eighteenth-century British art, which rearrange costumed models and props before a landscape viewed through a bay window. In 1874 Tissot had such a bay window installed in his London studio."
But what is so touching here is the repetition of sorrowful expressions on the three faces. While the young captain, ready in his uniform, slumps forward heart-struck at the prospect of imminent departure, his sweetheart rests her arms on his shoulders, as if looking sadly ahead to the many anxious days that must elapse until their reunion. The young woman making tea seems full of sympathy for them both. Through the window we catch a glimpse of other sailors going out to join their vessel. There will be no reprieve. Composition, costumes, colour — all these are perfect.
Text and formatting by Jacqueline Banerjee. Thanks to the National Museum Wales for permitting use of this image. [Click on the image to enlarge it, and click on the link below to visit the museum's own site.]
Bibliography
Art Collections Online. Amgueddfa Cymru (National Museum of Wales). Web. 16 July 2019.
---
Created 16 July 2019