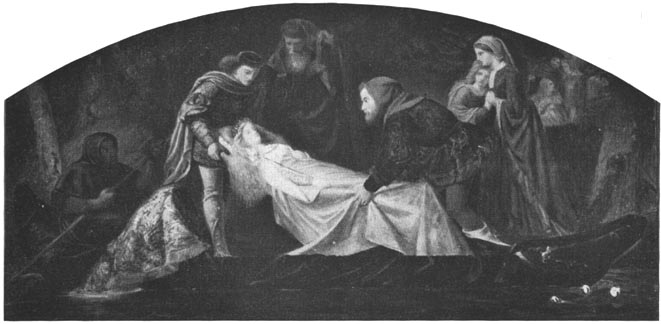 Elaine by Henry Wallis. c. 1861?, Oil on panel, 7 x 14 1/2 inches.
According to the Anthea Brooke, "This is a finished study for the picture exhibited at the RA in 1861 (492), which was also owned by Thomas Plint, and was in his sale (81)." The following text from Tennyson's Idylls of the King accompanied the painting:
In her right hand the lily, in her left
The letter; all her bright hair streaming down;
And all the coverlet was cloth of gold
Drawn to her waist and she herself in white
All but her face, and that clear featured face
Was lovely, for she did not seem as dead,
But fast asleep, and lay as though she smiled.
A standard view of Wallis is that, having inherited money from his stepfather in 1859, his art went into decline as a result of his passion for foreign travel and collecting ceramics, in which field he became an acknowledged expert. However this judgement is hard to support given so many of his later works are no longer extant. Certainly he continued to exhibit regularly at the Royal Academy and then at the Royal Watercolour Society.
Following his second major critical success in 1858 with The Stonebreaker Wallis only exhibited one picture at the RA in 1859, Back from Marston Moor, which neither Ruskin nor William Michael Rossetti chose to review, and in 1860 he failed to exhibit at all. Almost certainly this reflected his family situation — the birth of his son, Mary Ellen Meredith's illness, and his stepfather's death, although we know almost nothing concerning the last. He returned to the Royal Academy with two major exhibits in 1861 Elaine and Gondomar. An oil sketch for the former survives. Elaine was included in the sale of Thomas Plint's pictures in 1862 and, since he died on July 11 the previous year, it is almost certain that he was the original purchaser.
Elaine marks a change from Wallis's previously exhibited pictures both in its Arthurian subject matter and in its technique. Elaine of Astrolat, having died of unrequited love for Sir Lancelot, is shown floating down the river to Camelot accompanied by her mourning father and brother. The popularity of Arthurian subjects in Pre-Raphaelite and Victorian art makes it hard to identify Wallis's specific influences, though Arthur Hughes, who was friendly with Wallis, is one possibility. For example, Hughes's Knight of the Sun was competed in 1860. Elaine was accompanied by a quotation from Tennyson's Idylls of the King. Wallis had used Tennyson before; a brief quotation from Tennyson's "A Dirge" had accompanied The Stonebreaker. But the longer quotation together with the Arthurian subject matter suggests Wallis was aiming to create a mainstream Pre-Raphaelite picture.
The technique also differs significantly from Wallis's other works. Not only does he employ a richer colour but the surface of the picture is flattened and there is little recession as compared to his earlier works. Furthermore, the figures are arranged in a frieze like pattern with no single figure dominating. The general effect is reminiscent of Dante Gabriel Rossetti's work, and it is possible that this may have influenced Walls.
William Michael Rossetti's Spectator review was very hostile to Elaine, attacking both its use of colour and what Rossetti perceived as its false sentiment.
Mr. Wallis has a gorgeous assemblage of colours, but little good colour in "Elaine" (492). The faces are emotionless and commonly painted"
The best figure is the "dumb old servitor," a Charon-like boatman. There is wondrous imitation of brooade and black satin, but the utter want of heart is painfully apparent. In "Gondomar" (101), the Spanish ambassador watching from a window the execution of Sir Walter Raleigh on Tower-hill, Mr. Wallis is more himself. The figure, though turning its back to the gazer, is full of meaning, and the colouring rich without the garishness displayed in the "Elaine." [May 29 1861]
This criticism contrasts with the long ecstatic review he had given The Stonebreaker in his earlier review of Wallis's work. Rossetti clearly believed Wallis had taken a wrong turn after the social realism of his previous picture.
His praise for Gondomar is significant since it reflects the praise he had given the two historical subjects – Sir Walter Raleigh in the Tower and Henry Martin in Chepstow Castle — which Wallis had submitted along with The Stonebreaker. Gondomar was the Spanish ambassador during the reign of James 1 who had been suspected of engineering the execution of Sir Walter Raleigh. Given that (like Marlowe) Raleigh himself had been suspected of atheism, the subject may have appealed to someone with Wallis's radical political and religious views, and Rossetti's praise for the picture might reflect the fact that he shared these views. The following year Wallis exhibited a work portraying the death of Marlowe that he also approved in his Spectator review (May 10 1862).
Links to Related Material
References
Brooke, Anthea. Victorian Painting. Catalogue for exhibition November-December 1977. London: Fine Art Society, 1977.
The Fine Art Society, London, has most generously given its permission to use information, images, and text from its catalogues in the Victorian Web. This generosity has led to the creation of hundreds and hundreds of the site's most valuable documents on painting, drawing, sculpture, furniture, textiles, ceramics, glass, metalwork, and the people who created them. The copyright on text and images from their catalogues remains, of course, with the Fine Art Society. [GPL]
---
Last modified 17 June 2014