[This essay originally appeared in The Art Bulletin, 64 (1982), 646--55.]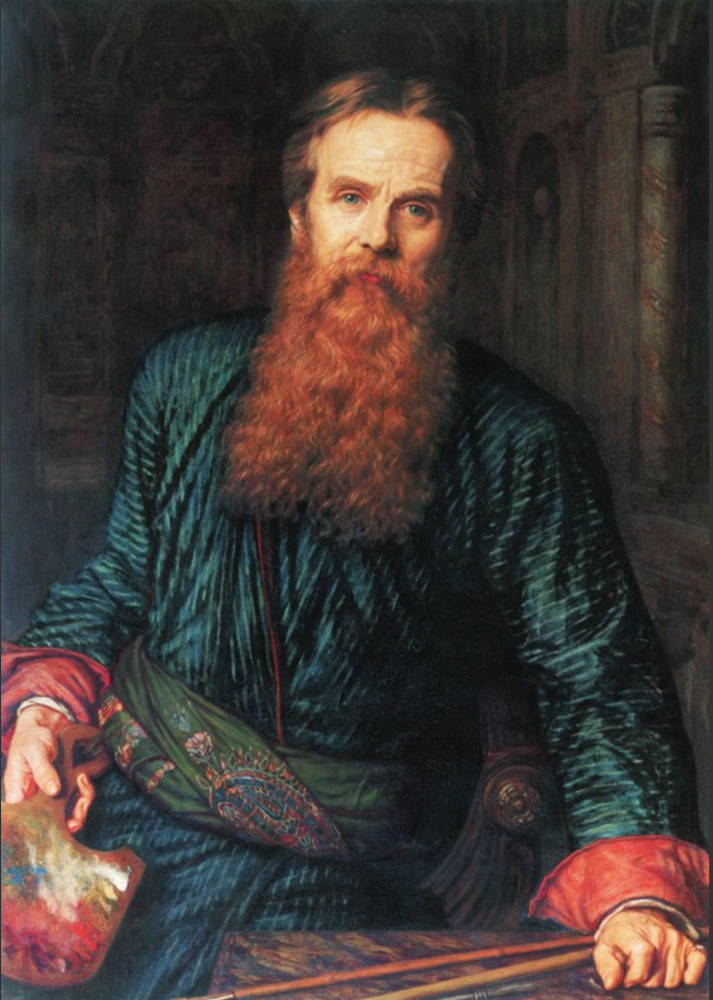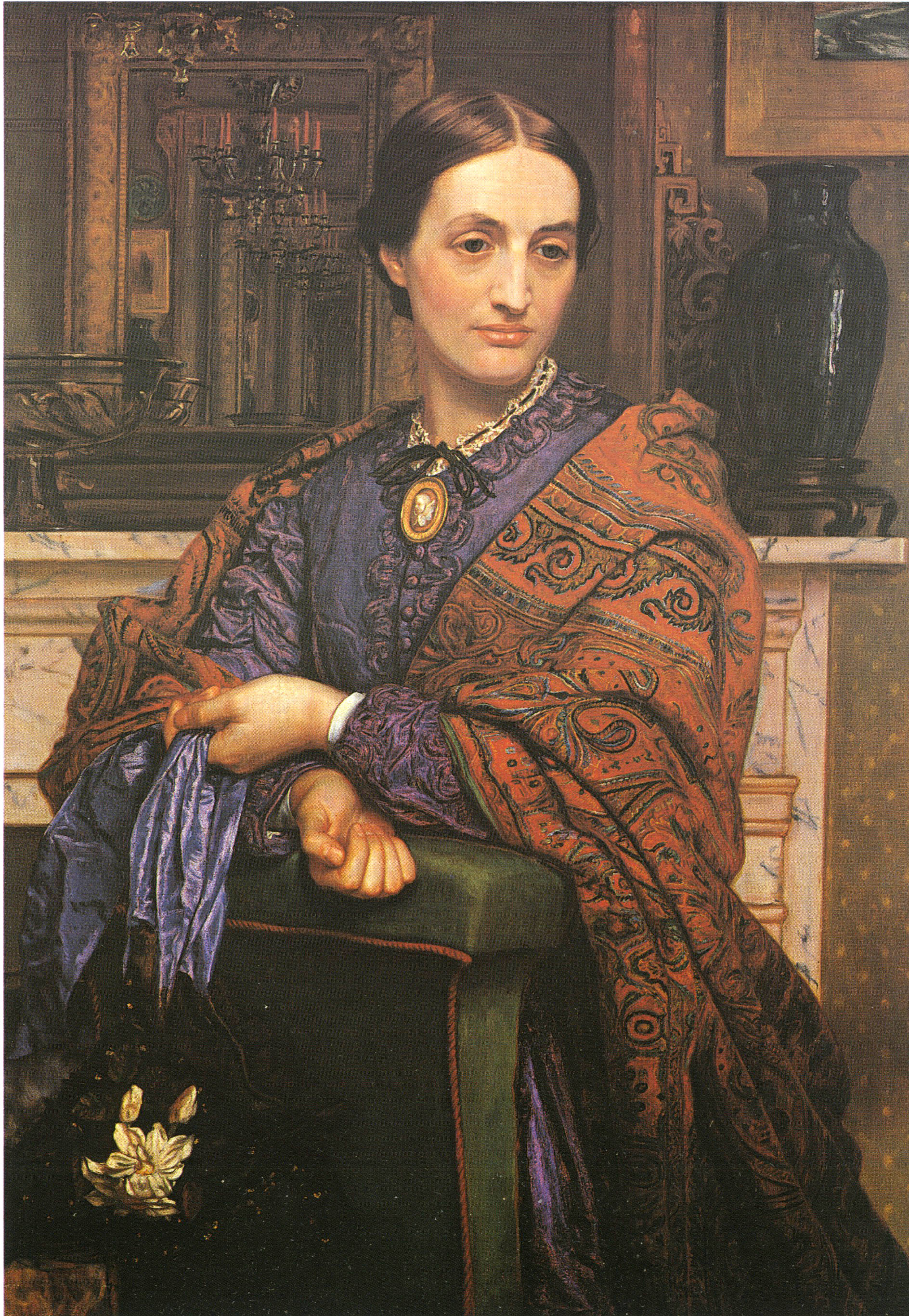 Left: Self-Portrait. Uffizzi Gallery, Florence, Italy. Right: Fanny Waugh Hunt 1854-1861, Oil on canvas, 40 ¼ x 28 ½ inches Toledo Museum of Art 1977.34. Purchased with funds from the Libbey Endowment, Gift of Edward Drummond Libbey) Click on images to enlarge them.
Hunt's manner of depicting himself in his Self-portrait embodies the kind of complex public and private meanings that characterize his major works. The painting's chief private meanings for the artist — what we may term his family program — derive from the fact that Hunt began it as a companion-piece to his portrait of his first wife, Fanny, who died in Florence on December 20, 1866, shortly after giving birth to their son, Cyril. The artist himself explained the relationship between these two works in a letter of November 19, 1867, which he wrote to his close friend, the sculptor, author, and Rugby drawing master John Lucas Tupper. After mentioning the portrait medallion of Hunt that Tupper had exhibited at the Royal Academy in 1865, he added:
I wish so much you had done one of my dear wife, that poor little Cyril, my baby, might have both father and mother to look at when another generation has found all of our places empty. I am busy here now principally to satisfy this desire, painting a portrait from a photograph done of the mother some weeks before her marriage. I hope to be able with some changes studiously made to make a good portrait of her, and I am painting a companion to it of myself from the looking glass.
In a postscript to a letter written a month later (December 19, 1867), Hunt told his friend: "Tomorrow in the morning at 10 a year will be completed from the time when my darling was taken away from me. It seems as tho she were receding still further from my power of knowing her" (Henry E. Huntington Library, San Marino, California. I would like to thank the authorities of the Huntington Library for granting me permission to publish manuscripts in its collections. When transcribing this and other manuscripts in this essay, I have tried to stay as close as possible to the spelling and punctuation of the original, but I have occasionally emended both for the sake of clarity.)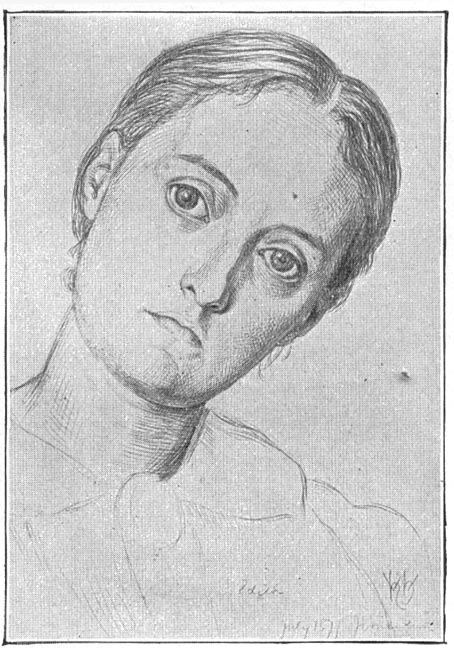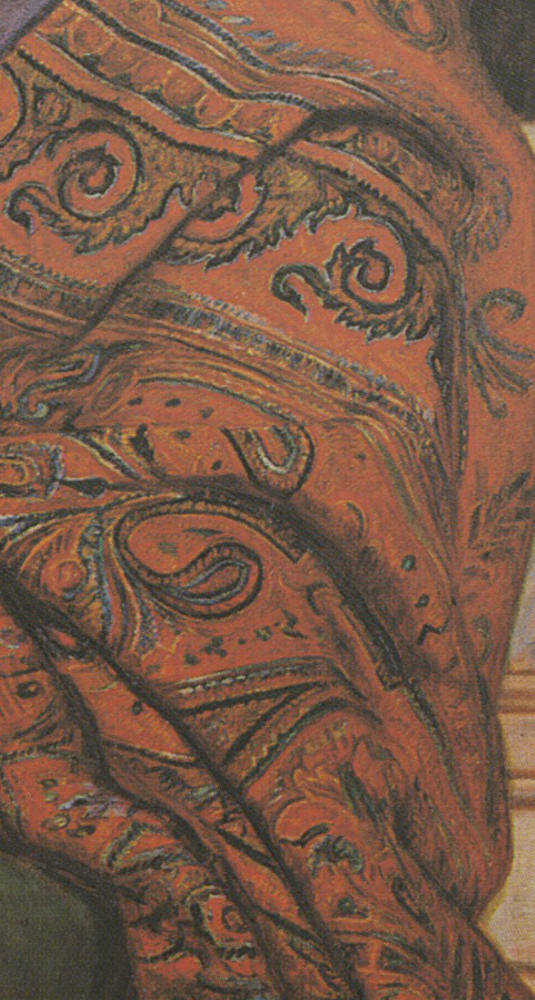 We also know from letters that Hunt wrote to W. J. Bunney, his studio assistant in Florence, that he reconstructed this memorial image of his wife with the same care and precision that he devoted to his major religious paintings. He took great care, for instance, to secure Fanny's own peacock shawl, the painting of which one contemporary reviewer took to be the "greatest tour de force of the exhibition" when it was shown at the 1869 Royal Academy. Robert St. John Tyrwhitt, a Ruskinian disciple, remarked that "Mr. Holman Hunt's portrait has a noble and intellectual face, and the painting of the peacock scarf is perhaps the greatest tour de force of the exhibition. We rather sigh over the intensity and gloomy laboriousness of his works — the results are great but he paints like a soul in pain" (Contemporary Review, 11 (1869): 363). On October 13, 1867, Hunt wrote to Bunney: "I have a particular reason for taxing your attention again so soon. I have begun the portrait of my wife, and I am at a stand-still for want of the shawl in which she stood for the photograph. This it seems must be in the box in the studio." [I would like to thank Miss Mary Bennett, Keeper of Foreign Paintings at the Walker Art Gallery, Liverpool, for helping me secure both a photocopy of this manuscript, which is in a private collection, and the permission to publish a portion of it.] Given Hunt's proclivity for elaborate pictorial symbolism and intricate associations, one assumes that the other objects in the portrait of his first wife probably also have personal significance.
Since Fanny died in Florence, a city in which the Hunts were forced to stop when an outbreak of cholera prevented their planned expedition to the Holy Land, Hunt's Self-portrait of himself in Eastern garb suggests one important private meaning present in this work. Hunt appears as the surviving spouse who resumed that interrupted voyage to the Middle East, but now he travels alone, a widower, in the lonely, demanding service of art.
---
Last modified 12 June 2007