The following poem, which is number 29 in the series entitled "Song for the Throng: or Versification for the Nation," appeared in the 26 July 1862 issue of Fun (p. 187), which was accessed in the online version provided by the Suzy Covey Comic Book Collection in the George A. Smathers Libraries, University of Florida. The illustration below appeared above the verses.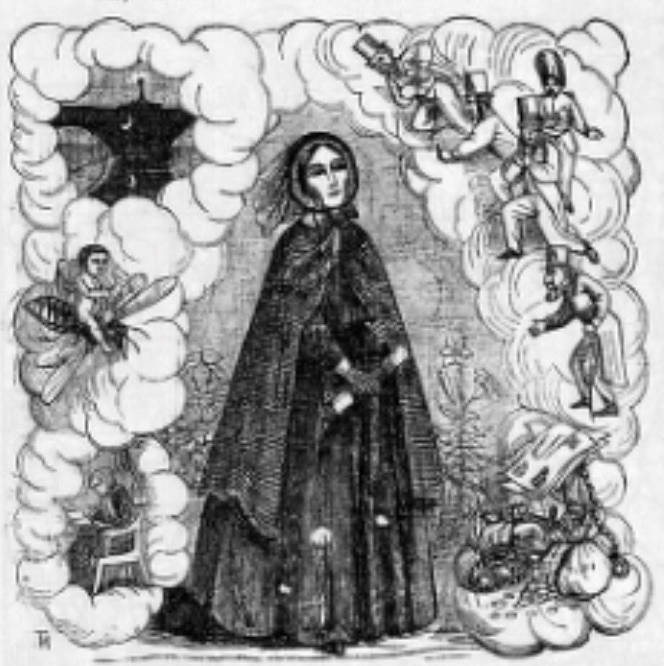 Although at first glance one might think the poem should be entitled "The Governess's Daily Trials," it in fact does concern those poor governesses who work only days rather than ones who live with a family. In other words, the subject of this rather dreadful poem, whose interest in more historical than literary, is not the kind of governess familiar from Jane Eyre and Agnes Grey but those employed by middle-class families, who, according to the author, "sin more in this [mistreatment of young women]/Than the upper classes do."
The poem's other main point is the vulnerability of these impoverished young women to seduction "whose end is a madden'd leap from the bridge/To the Thames's turbid stream!" The poet describes the kind of London suicide famously depicted in George Cruikshank's The Maniac Father and the Convict Brother are gone — the Poor Girl, Homeless, Friendless and Deserted, Destitute, and Gin-mad Commits Self Murder (image). — George P. Landow
My lady in silks and satins,
My lady in pearls and lace,
Be kind to that governess-girl of yours,
With pale and careful face.
As you love your curly darlings,
Whom you trust to that poor girl's care,
Her mother loved her — and little knew
Would the future bear.
That aged mother, waiting at home,
While the daughter earns the bread,
Which you can make sweet with a woman's tact
Or bitter with a slight instead.
Then be kind, my lady in silk and lace,
And my dame in merino too,
For your middle classes sin more in this
Than the upper classes do.
You little know of the pain and toil
Of her thankless, ill-paid work,
Or the cruel temptings, in fairest guise,
That about her pathway lurk.
For that poor pale face has a touch of grace,
And the heart of man is vile,
And her only safety is this — to believe
The whole world full of guile.
Oh bitter lesson for one so young,
That love is a fevered dream,
Whose end is a madden'd leap from the bridge
To the Thames's turbid stream!
Love — that brightens the darkest lot —
Is a comfort to her forbid:,
Ay! the heart's fond yearning for friendship's strength,
Those yearnings must o'en be shed.
* * *
Oh! Women in gowns of homely stuff,
Oh! Women in lace and pearl,,
For your children's sake, show some kindliness
To that lonely struggling girl.
Oh! men for mother' and sister's sake,,
Spare that friendless one, and weak,
Ne'er bring a tear of shame to her eyes,
Or a blush to her poor pale cheek.
The Governess in Victorian Literature and Art
[You may use this image without prior permission for any scholarly or educational purpose as long as you (1) credit the University of Florida library and (2) link your document to this URL in a web document or cite the Victorian Web in a print one. — George P. Landow]
---
Last modified 23 May 2018