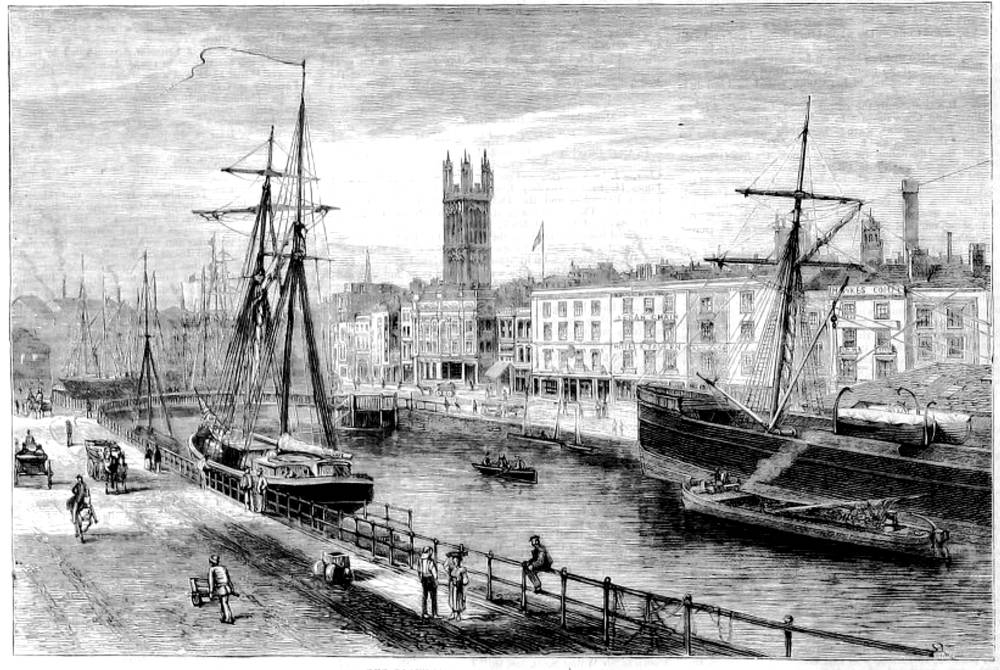 The Drawbridge and St. Stephen's Church. Source: "Bristol Illustrated" in The Graphic of 20 July 1878, p. 70. Click on image to enlarge it.
Commentary from
The Graphic
St. Stephen's Church, with its stately tower, might alone give ecclesiastical character to Bristol. The body of the present structure belongs to the latter half of the fifteenth century, and was built at the joint expense of the parishioners and the Abbot of Glastonbury. The tower, with its latticed pinnacles and battlements, was built at the sole expense of John Shipward, Mayor of Bristol, in 1455. He is buried within the walls of the church, and this magnificent trophy over his urn, like Absalom's pillar in the king's dale, reared up in his lifetime is worthy to commemorate a prince, and these old merchants were princes. It is 133 feet in height, and is confessed to be one of the handsomest parish steeples in England. "This tower," says Mr. Freeman, "is remarkable for having aesthetically dispensed with buttresses, those which it has having so slight a projection as hardly at all to influence the general effect. It has, indeed, almost the appearance of a Gothic version of the old Italian campanile. However this may be, its idea, which is one quite peculiar to itself, though it may not altogether approve itself to our preconceived notions must be allowed to be, in point of fact, magnificently worked out." The absence of buttresses seems to rank this with Mr. Ruskin's ideal class of towers, in all of which he requires it to be a
point of chief necessity, that they shall seem to stand, and verily shall stand, in their own strength, not by help of buttresses nor artful balancings on this side or on that. Your noble tower must need no help, must be sustained by no crutches, must give place to no suspicion of decrepitude. Its office must be to withstand war, look forth for tidings, or to point to Heaven; but it must have in its own walls strength to do this; it is to be in itself a bulwark, not to be sustained by other bulwarks; to rise and look forth, 'the towers of Lebanon that looketh towards Damascus,' like a stem sentinel, not like a child held up in its nurse's arms &c.
When the late Prince Consort visited Bristol, and came within full view of St. Stephen's tower, he was observed to impulsively raise his hat in homage to its majesty. The south porch is roofed with elaborate fan tracery, and for general beauty is worthy of the rest of the structure.
By will dated 25th May, 1398, John Wyett, Mayor in 1398, bequeathed "to the Church of St. Stephen, one ring, in which was set a stone, part of the very pillar to which Christ was bound at the scourging, to be kept among the relics for ever." [70]
[You may use these images without prior permission for any scholarly or educational purpose as long as you (1) credit the Internet Archive and the University of Illinois library and (2) link your document to this URL in a web document or cite the Victorian Web in a print one. —  George P. Landow]
Bibliography
"Bristol Illustrated." The Graphic (20 July 1878): 60-77. Internet Archive online version of a copy in the University of Illinois Library. Web. 16 August 2018.
---
Last modified 16 August 2018