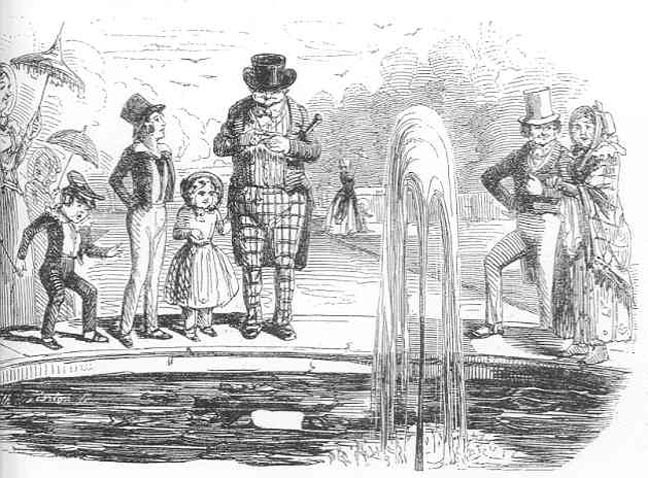 Holiday Group — Hampton Court Gardens. 1843. The Illustrated London News. Text and scan by Philip V. Allingham.
Chilly and uncongenial as the weather of late has been voted by those reared in a drawing-room atmosphere, the Whitsun holidays have not failed to draw thousands from their brick-and-mortar Babylon to the picturesque ruralities of Hampton Court. . . .
Hampton Court is, unquestionably, our most popular holiday resort. Formerly it was an aristocratic and expensive place: the palace could only be in part seen, and then by payment of a fee, and the number of visitors was comparatively few. Now the public are admiited gratuitously; and on a fine Sunday 1000 persons pas through the palace per hour, for the fidgetty housekeeper and her tinkling keys have disappeared, and the doors are really thrown open, to remain so. "A visit to Hampton Court Palace," says William Howitt, "is one of the bravest pleasures that a party of happy friends can promise themselves. Especially it is calculated to charm the thousands of pleasure-seekers from the dense and dusty vastness of London. — "Hampton Court Palace," p. 402.
Related Material
References
"Hampton Court Palace" The Illustrated London News (10 June 1843): 402.
---
Last modified 11 October 2006