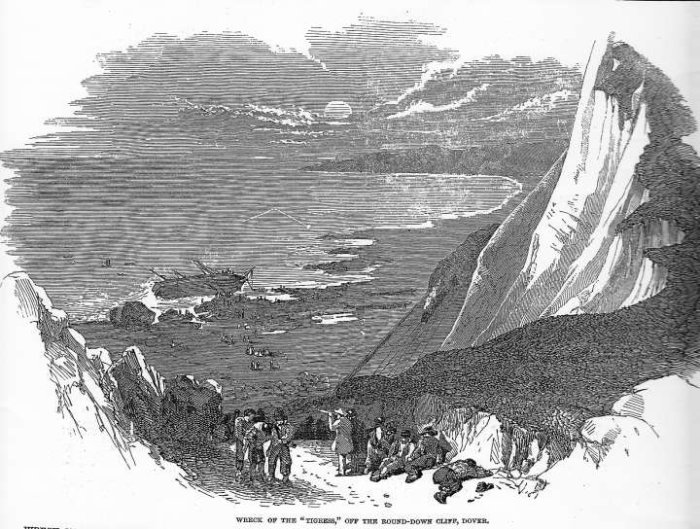 The wreck of the "Tigress," off the Round-Down Cliff, Dove. 3 February 1849. Illustrated London News. Scanned image, bibliographical information, and text by Philip V. Allingham. You may use this image without prior permission for any scholarly or educational purpose as long as you (1) credit the person who scanned the image and (2) link your web materil to this URL or mention in a print document.]
On Sunday night week, the East Indiaman the Tigress, went on shore to the westward of the Shakespeare Cliff, Dover; in a few days she became a total wreck, and portions of her cargo strewed the beach as far as the South Foreland. The prospect of booty attracted hundreds of the lower orders, men, women, and children, to the shore, eager to possess themselves of floating pieces of the wrecked ship, spices, cocoa-nuts, or anything else that came in their way, to make lawful prize; and, unfortunately, in one or two instances, despite the vigilance of the officers of customs and coast-guard boatmen, casks or puncheons of rum, which had been washed ashore, were stove in, and the contents carried off in the crows of hats, in boots, or any available article at hand; and a disgusting scene of drunkenness ensued — men, women, and children lying on the beach, huddled together in the worst state of intoxication so that many of them were nearly drowned by the rising of the tide, whilst others were rendered so insensible through the drink, that they were removed on shutters. [77]
Related Material about Victorian Shipwrecks
References
The Illustrated London News. (3 February 1849): 77.
---
Last modified 10 October 2006