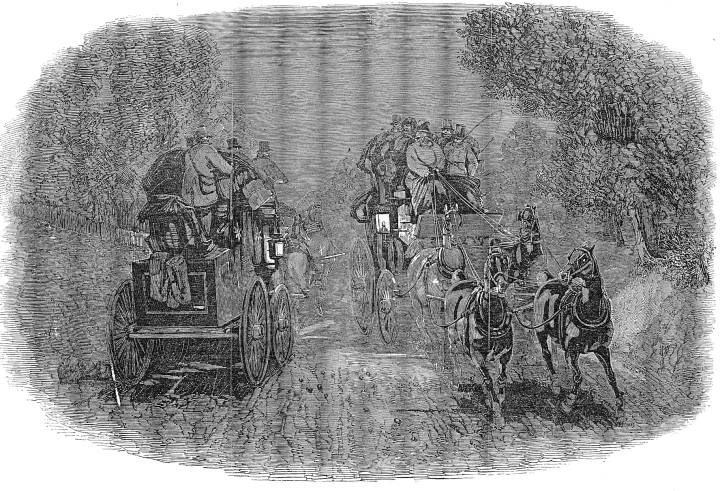 Old Style — The Mail Coach — from a Picture by Henderson from The Illustrated London News. (6 January 1849): 9. Scanned image, and text by Philip V. Allingham. You may use this image without prior permission for any scholarly or educational purpose as long as you (1) credit the person who scanned the image and (2) link to this URL or include it in a print document.]
The Mail Coaches
(From "Legends of the Isles and other Poems," by Charles Mackay.)
O LUXURY of travel! joy refined!
To fly, steam harness'd, in the ponderous train
And feel the victory of the mighty mind
O'er space and time, for uses not in vain!
Yet ever in this world must loss and gain
Balance each other. Is it speed we prize?
'Tis edged with danger, equipoised by pain
And aids our business but to cheat our eyes. The' unsocial Rail affords no varied pleasure Like yours, ye coaches of a former day: Apt for our haste, delightful for our leisure, We miss the cantering team, the winding way, The road-side halt, the post-horn's well-known air, The inns, the gaping towns, and all the landscape fair.
Related Material
References
"Old Style — The Mail Coach — from a Picture by Henderson" from The Illustrated London News. (6 January 1849): 9.
---
Last modified 12 July 2010