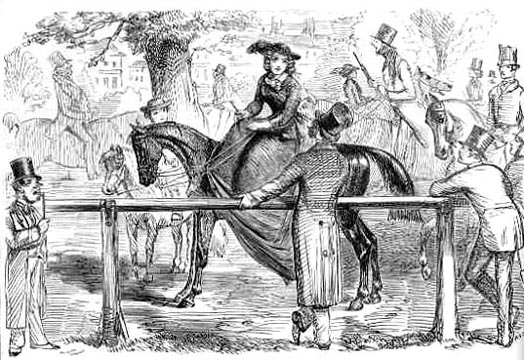 "The New Purchase." Punch (14 July 1855): 16. [The background is probably The Ring at Hyde Park.]
Blanche (who dotes upon horses). "THERE, Frank. Isn't she a pretty creature? Papa gave her to me this Morning — she is so good tempered! And what a nice head and neck she has! Hasn't she now? She's quite young too — and such a beautiful mouth! — Now, what do you say, Sir, eh! — "
Frank (who is so absurd). "H'm! Let's see, Pretty Creature? — Good Tempered! — Nice head and neck! — Yours! — And a Beautiful Mouth! — Why, I say, you make a Capital Pair!"
See also other Punch cartoons about "Unlucky Speeches," "Ill-Considered Utterances," and "Things One Could Wish to Have Expressed Otherwise."
Other
Punch

cartoons set in Hyde Park
---
Last modified 13 April 2004