[The images and text from Punch come from the Internet Archive's online version of a copy in the University of Toronto Library. — George P. Landow]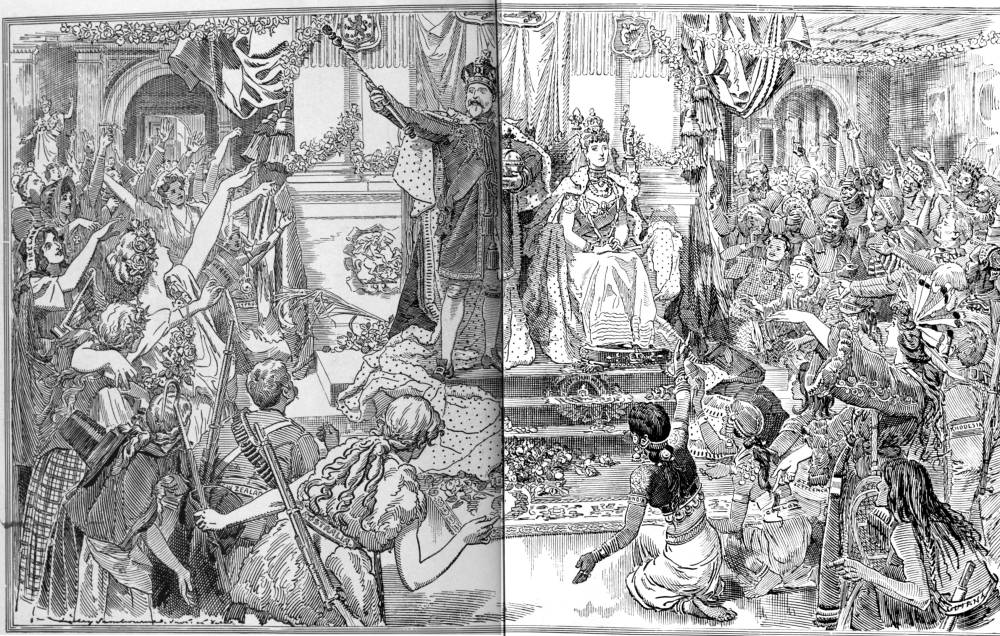 Linley Sambourne's allegorical representation of the newly crowned King Edward VII as emperor greeting the various parts of the British Empire, many of which appear as female figures. An unlabeled Wales appears in national costume at lower left next to Scotland (wearing a plaid skirt) and England. A female figure whose head band reads "Ireland" is at the left margin, and above her Malta. At the bottom left we see New Zealand and Australia and abve them Jersey and Cyprus.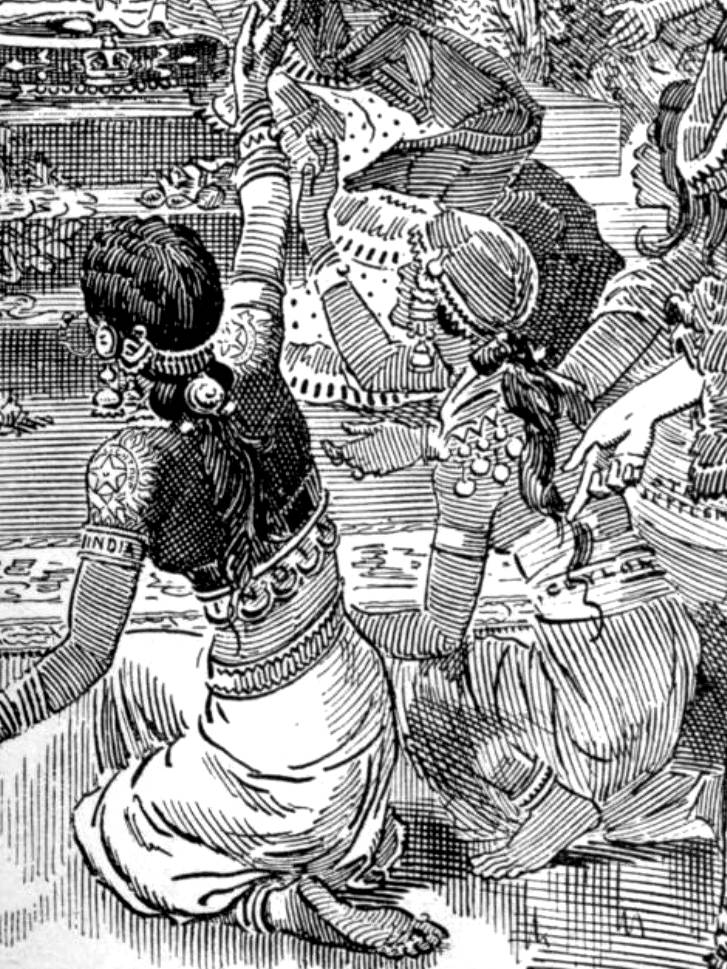 Left: India (which now has divided into India, Pakistan, and Bangladesh) kneels prominently at left next to Ceylon (Sri Lanka). Right: The prominent female figure with a feather headdress and holding snowshoes is obviously Canada, and in front of her, kneeling next to Ceylon is a woman representing the St[raits] Settlement[s] (now Malaysia and Singapore). Above here are Burma (Myanmar) and Hong Kong, and in the top row appear three parts of present South Africa — Transvaal, the Orange Free State, and Cape Coast [?], which is quite a distance from Rhodesia (Zimbabwe) nestled in the lower right corner. East Africa appears just above Jamaica, New Guinea above Central Africa), and Borneo beneath the gesticulating hand of a man who might represent Bermuda, which I haven't otherwise found.
King Edward VII and Queen Alexandra Coronation Medals. Left two by by George William De Saulles. Right two: Sir George Frampton, R.A. Both from private collection. [Click twice on images to enlarge them.]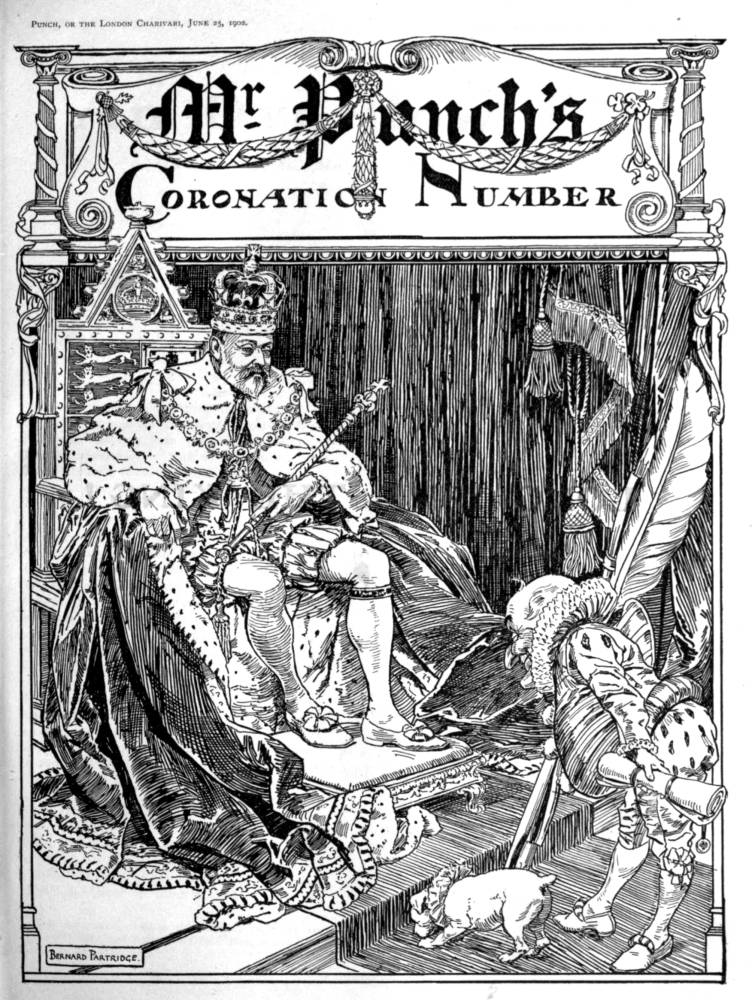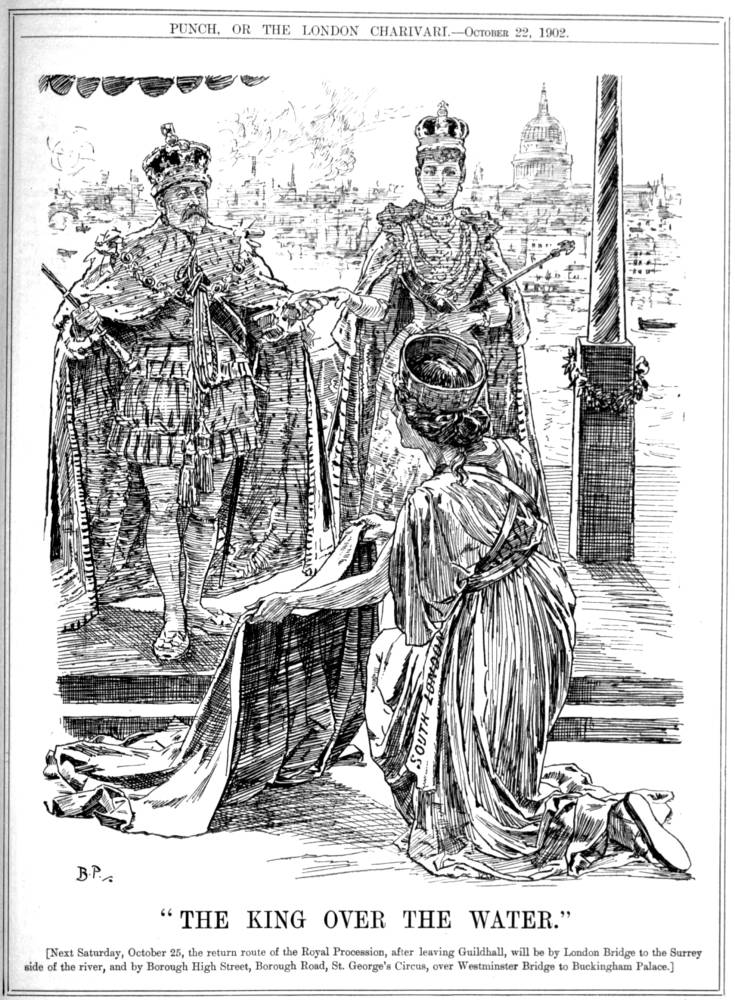 Two by Bernard Partridge. Left: Punch bows before the new sovereign on the cover of Mr. Punch's Coronation Number (25 June 1902). Right: "The King over the Water" (22 October 1902).
The caption explains, "Next Saturday, October 25, the return route of the Royal Procession, after leaving Guildhall, will be by London Bridge to the Surrey side of the River, and by Borough High Street, Borough Road, St. George's Circus, over Westminster Bridge, to Buckingham Palace.]"
---
Last modified 5 June 2017