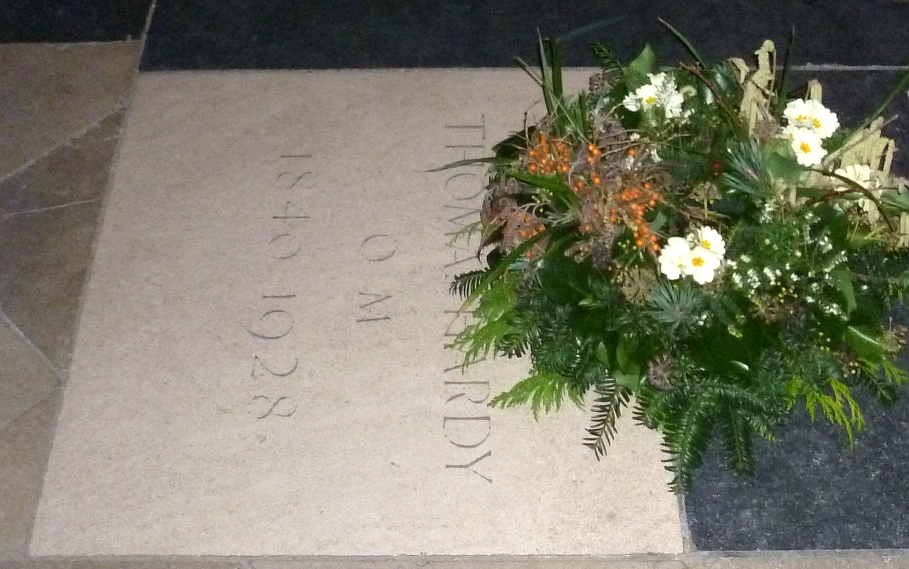 Thomas Hardy's Grave in Poets' Corner, Westminster Abbey. Photograph and following commentary by Philip V. Allingham, 2017. [You may use this image without prior permission for any scholarly or educational purpose as long as you (1) credit the person who scanned the image and (2) link your document to this URL.] [Click on image to enlarge it.]
The literary tourist may encounter Hardy in a slightly larger than life effigy at the Top o' the Town in Dorchester and visit his grave in the Stinsford churchyard. But another memorial to Hardy, granting him one of the highest honours that a grateful nation can confer upon a literary personage, is a marker on the floor of Poets' Corner, Westminster, where he lies buried far from his beloved "Wessex." Here Hardy had wrestled with his agnosticism at a morning service on 1865, and had subsequently attended the state funeral of Viscount Lord Palmerston (1865) and of Alfred, Lord Tennyson (1892).
Strangely enough, Hardy had two simultaneous funerals. He received a memorial service at St. Peter's Church, opposite the Corn Exchange, in Dorchester, shortly after his death on 11 January 1928. His body was cremated and placed (probably against his will) in Poet's Corner (image) in Greater London's Westminster Abbey, the resting place of many of England's greatest writers, beginning with Geoffrey Chaucer. The official funeral was attended by the heads of Oxford and Cambridge colleges, where Hardy was an honorary fellow, and some outstanding literary and political figures who served as his pallbearers: the Prime Minister, Stanley Baldwin, and the Leader of the Opposition, Ramsay MacDonald, playwright George Bernard Shaw, Sir James Barrie, Edmund Gosse, A. E. Housman, and Rudyard Kipling. A shovelful of Dorset loam was sprinkled on the casket. At exactly the same time, Hardy's heart was buried alongside his first wife in Stinsford churchyard, Dorchester. The private service at Stinsford Church was attended by his brother Henry and local people who resembled characters from Hardy's novels. Hardy left an estate of nearly 100,000 pounds, which was divided among his second wife (Florence), relatives, various libraries, museums, and charities. As Evelyn Hardy wrote:
Hardy's life was not primarily one of action. He was by nature a scholar and a writer: it is what goes on in the mind that holds us, and Hardy's was rich with stored impressions. [2]
In "Afterwards," in Thomas Hardy: A Biography Revisited, Michael Millgate recounts in detail what happened after Hardy died at 9:05 P. M. on 11 January 1928, including his face's being shaved and his body washed in preparation for burial. Sydney Cockerell, one of the executors, assisted Eva Dugdale (a trained nurse), Hardy's sister-in-law, in fitting his scarlet doctoral robe over the nightshirt in which he had died at Max Gate. Cockerell and Sir James Barrie asserted their authority over the exhausted Florence, winning their point that, despite the novelist's expressed wish to be buried in Stinsford churchyard, the proper place for him was Westminster Abbey, as would become a towering figure of great national and literary importance.
Barrie, who had returned to London on 10 January, rapidly marshalled the support of Stanley Baldwin, the Prime Minister, and Geoffrey Dawson, the editor of The Times, in order to secure for Hardy a privilege that no novelist had been granted since Dickens, no poet since Tennyson, and that had been consistently denied to a long series of distinguished agnostics. Following [George] Meredith's exclusion from the Abbey in 1909, Hardy himself, in a letter to Gosse, had only half-jokingly proposed the creation of 'a heathen annexe . . . strictly accursed by the Dean and clergy on its opening day, to hold people like Meredith, Swinburne, [Herbert] Spencer, &c. The Abbey itself is, as [T. H.] Huxley said, a Christian temple after all.' Such, however, was Hardy's fame and national standing that by the late afternoon of the 12th the Dean of Westminster had already given the necessary permission. [534]
His body was taken by carriage to Woking for cremation on Saturday, the 14th, accompanied by Barrie, and English literature's "most eminent figure" (to quote his obituary in The Times on 12 January) received a funeral service that, with both British and foreign press coverage, on Monday, 16 January, was both a national and international event, although attended by no member of the royal family.
Bibliography
Gittings, Robert.Thomas Hardy. London: Penguin Books, 2001.
Halliday, F.E.Thomas Hardy: His Life and Work. London: House of Stratus, 2001.
Hardy, Evelyn.Thomas Hardy. A Critical Biography. London: The Hogarth Press, 1954.
Millgate, Michael. Thomas Hardy: A Biography Revisited. Oxford: Oxford University Press, 2004.
Page, Norman, ed. Oxford Reader's Companion to Hardy.Oxford: Oxford University Press, 2001.
Tomalin, Claire. Thomas Hardy: The Time-Torn Man.New York: Penguin Press, 2007.
Turner, Paul. The Life of Thomas Hardy. Oxford: Blackwell Publishing, 2001.
Wright, Sarah Bird. Thomas Hardy A to Z: The Essential Reference to His Life and Work. New York: Facts On File, 2002.
---
Last modified 8 February 2017