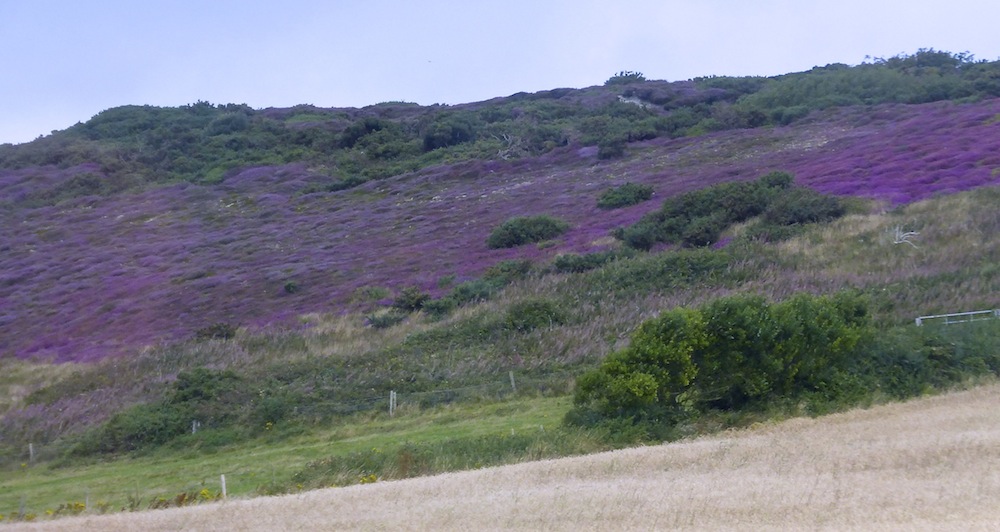 Scenery near Tennyson Down, Freshwater, on the Isle of Wight. The Isle of Wight has a surprising number of heather-covered gradients: "it is possible in places to walk several miles along heather-clad slopes, rivalling in beauty, though of course not in elevation or extent, the heights of North Wales and the Highlands" (Section III: 93). A year before he died, Tennyson, who lived in Freshwater, wrote this touching poem as a form of dedication to his wife, for the opening of his last (in fact, posthumously published) volume of poetry, and it is included among "Songs and Occasional Pieces" in a selection of his work by W. H. Auden:
THERE on the top of the down,
The wild heather round me and over me June's high blue,
When I look'd at the bracken so bright and the heather so brown,
I thought to myself I would offer this book to you,
This, and my love together,
To you that are seventy-seven,
With a faith as clear as the heights of the June-blue heaven,
And a fancy as summer-new
As the green of the bracken amid the gloom of the heather. [275]
There is an implicit recognition here of seasonal change: the heather that looks brown in June will bloom later in the year, when, of course, the bracken will turn to a crisp russet. Everything changes, and a new cycle will start again. But his wife's faith and "fancy" have not changed even with advancing age, and nor has his love for her. These are all proof against the usual workings of nature.
Bibliography
A Pictorial and Descriptive Guide to the Isle of Wight in six sections: with walks and excursions by road, rail and steamer from each centre.... 18th ed. revised and enlarged. London: Ward, Lock and Company, Ltd, 1915. Internet Archive. Contributed by Robarts — University of Toronto.
Tennyson, Alfred Lord. Tennyson. Introduced and selected by W. W. Auden. London: Phoenix House, 1946. Internet Archive. Contributed by University Library Allahabad, India. Web. 4 December 2017.
---
Created 1 December 2017