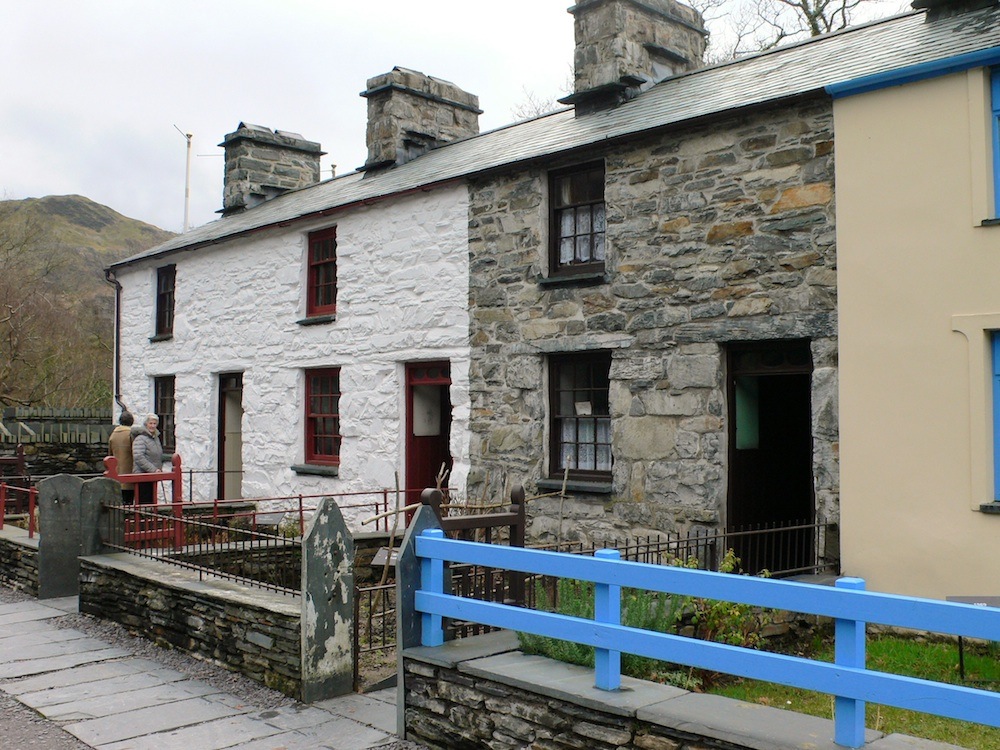 Quarrymen's cottages from Fron Haul in Tanygrisiau, near Blaenau Ffestiniog, North Wales. Many quarrymen lived in this area: "The town possesses no attractions for tourists, except such as wish to explore quarries," says a late Victorian guidebook dismissively. It also mentions the "colossal slate-heaps" there at that time (Baddeley and Ward 128, 168). In more recent days, these typical two-up, two-down cottages were condemned in situ as no longer inhabitable, and then moved and rebuilt in the late 1990s as representative workers' housing at the National Slate Museum in Llanberis. Each house is decorated in the style of a different period of the quarrying industry, but the row as a whole was first recorded in the census of 1861.
Before deploring the lot of the workers who lived in these cramped conditions, it is worth considering another view of these dwellings: "the Welsh quarryman is a thrifty soul, and a man of two interests ... his hereditary love of the land has not been lost amid the sunless caverns of Snowdonia. A cottage and a piece of land seem necessary to his happiness and ambition, and to the latter he devotes his leisure hours with meritorious assiduity" ( 257-58). There is a charm and poignancy about these simple stone houses, with their little gardens, to which many a Welsh heart will still respond.
Photograph by Bob Morgan; thank you as well to Eve Morgan, who provided a copy of the "Fron Haul: Quarrymen's Houses" leaflet from the Welsh National Slate Museum. Text by Jacqueline Banerjee. [You may use this image without prior permission for any scholarly or educational purpose as long as you (1) credit the photographer or source and (2) link your document to this URL. Click on the image to enlarge it.]
Related Material
Sources
Baddeley, M. J. B., and C. S. Ward. North Wales: Part I. 3rd ed. London: Dulau & Co., 1889. Internet Archive. Web. 12 April 2014.
Bradley, A. C. Highways and byways in North Wales. With illustrations by Joseph Pennell and Hugh Thomson. London: Macmillan, 1898. Internet Archive. Web. 12 April 2014.
"Fron Haul: Quarrymen's Houses" (leaflet available from the National Slate Museum).
---
Last modified 12 April 2014