[The following illustration and text follows the article from the August 1850 Illustrated London News in which the anonymous author argues that since Jews already have the right and duty to serve on juries and cast ballots, they should also be able to serve in Parliament as well. Using ABBYY FineReader software, I have produced the text from the page images in the Hathi Digital Library's web version of the original volume in the University of Michigan Library. Thanks to both of them! — George P. Landow]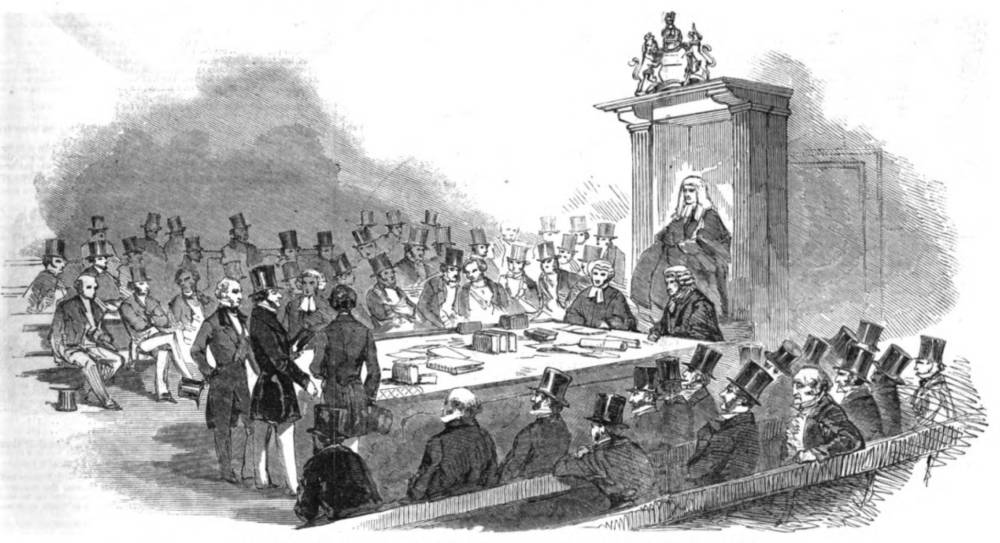 Baron Rothschild at the Table of the House of Commons — taking the oath. [Click on image to enlarge it.]

The Engraving on the front page [seen immediately above] epresents the extraordinary scene in the House of Commons, which will be found described under oar Parliamentary report of Tuesday.
It Is one of the moat curious of the episodes in the history of the struggle for the complete establishment of civll and religious liberty in this country; and, though neither the enthusiasm nor the theological hate which characterised the different phases of the contest in days gone by, were conspicuous, the occasion was, nevertheless, one of very remarkable interest.
The present state of the case is, that Baron Rothschild's claim to sit in th« House of Commons without taking the oath of abjuration, according to the form which retains the words "on the true faith of a Christian," remains undecided.
The debate on the resolutions submitted to the House by the Government [is continued to] Monday next, whan it is expected a final result will be arrived at in this vexed question.
Related Materials
Bibliography
"Baron Rothschild taking the oaths in the House of Commons." Illustrated London News 17 (3 August 1850): 94; (image 93).
"The Jewish Question." Illustrated London News 17 (3 August 1850): 93-94.
---
Last modified 3 December 2015