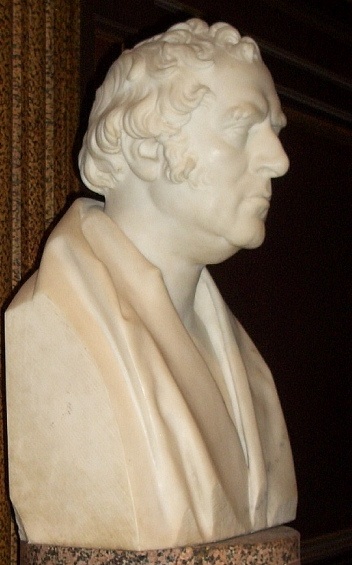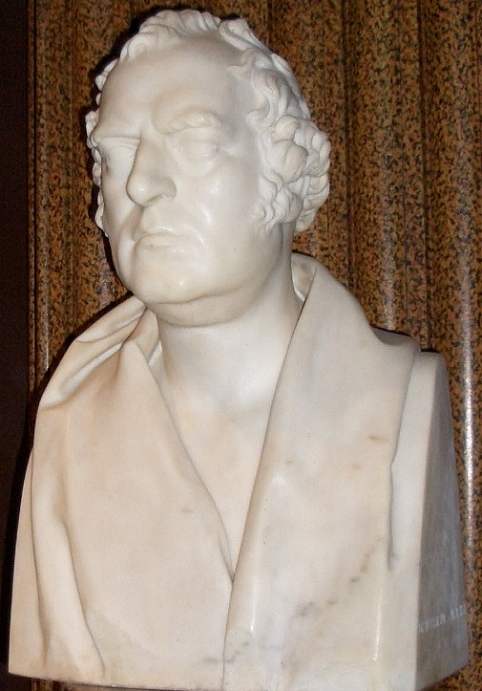 William Wilkins. E. H. Baily, RA, Sculptor. 1830. Marble. Courtesy of the Fitzwilliam Museum, Cambridge. [Click on images to enlarge them.]
The architect William Wilkins was at the height of his career when this was modelled. He had completed important commissions at Downing, King's, Trinity and Corpus Christi Colleges, and was currently supervising the construction of University College London, as well as working on the National Gallery and Royal Academy project for Trafalgar Square (these both opened in the late 30s, the Royal Academy remaining in the eastern part of the gallery until 1868).
Baily has brought out all that was set and dignified in his distinguished sitter, reminding us that Wilkins was a deeply scholarly man who was an antiquary as well as an architect. He was to be elected Professor of Architecture at the Royal Academy in 1836. From the side, however, the likeness tells a slightly different story: Wilkins appears more thoughtful and kindly, his head inclined somewhat as if listening to someone. R. Windsor Liscombe confirms this "reading" of the sculpture when he relays comments from Wilkins's obituaries on the sitter's "gregarious, amiable, and inoffensively ambitious personality, matched" by a commanding stature and bluff good looks."
Photographs by Jacqueline Banerjee (2008).
Bibliography
Liscombe, R. W. "William Wilkins (1778-1839)" The Oxford Dictionary of National Biography. Online ed. Viewed 4 July 2008.
Speel, Bob. "William Wilkins (1788-1839)." Viewed 4 July 2008.
---
Created 27 May 2008

Last modified 20 January 2020